Dunkin' Ghost Pepper Donut Release Date, Where to Buy and Price Details
Dunkin' is going to scary new places this Halloween with its latest addition—the first ever ghost and cayenne pepper donut.
According to the company's news release, the pepper-packed donut, which officially launched yesterday (October 14), will be served nationwide until December 2020. The Spicy Ghost Pepper Donut is a classic ring topped with a strawberry-flavored icing that features a blend of cayenne and ghost pepper and is finished with red sanding sugar for a sizzling look.
To help launch the donut, Complex Networks' hit First We Feast series "Hot Ones" will host a special episode on October 19, 2020. Host Sean Evans will challenge himself to answer hard-hitting questions while trying the Spicy Ghost Pepper Donut, complemented by a variety of hot sauces ranging from sweet to scalding from the show's famous arsenal.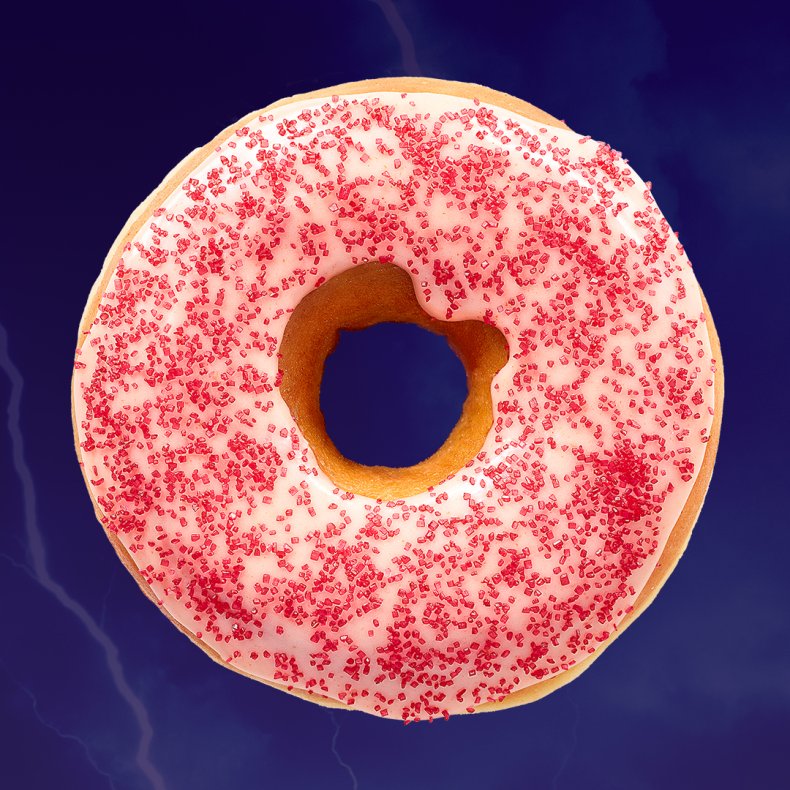 On Twitter, Dunkin' is encouraging fans to surprise their friends with the spicy special and capturing and posting the reactions on social media using #DunkinSpicySide—the ultimate burn.
"Halloween looks a little different this year, and so do our donuts," says Jill Nelson, vice present of marketing strategy at Dunkin'. "While our classic bakery offering has plenty of crave-worthy treats, we're excited to show our spicy side with a donut that packs a touch of heat with something sweet and can be enjoyed any time of day."
However, some fans are disappointed that their local Dunkin' doesn't have the peppery donut available. On Twitter, Andrew Gonzalez messaged the brand: "A few minutes ago... I excitingly see the post and rush as fast as I can to Dunkin' Donuts to get my ghost pepper donut. Only to find out they won't have it till Friday. I still made a purchase but my heart is broken."
The brand is also launching its Halloween DIY Dunkin' Donut Decorating Kits to help non-spicy fans celebrate Halloween. Each kit will feature plain yeast or Old Fashioned cake donuts, with pre-packaged icing in orange, white, and black varieties, and three sprinkle blends. The kits are available for purchase in two sizes, small (4-count donuts) and large (9-count donuts).
As if that wasn't enough, the creepy-crawly Spider Donut is back on the menu. This donut features a classic ring with orange icing, topped with a glazed chocolate Munchkins donut hole treat, chocolate drizzle for the spider legs and white icing for the eyes to create the sweet eight-legged donut creature.
Both products are also available at participating Dunkin' restaurants for a limited time only and while supplies last. "With our scary-good lineup of the Spicy Ghost Pepper Donut, Halloween DIY Dunkin' Donut Decorating Kits and fan-favorite Spider Donut, Dunkin' is here to help our guests keep their Halloween spirit alive this season," says Nelson.