Dunkin' to Launch Beyond Sausage Sandwich in 9,000 locations Across U.S.
Dunkin' and Beyond Meat have joined forces to bring customers the vegetarian Beyond Sausage Sandwich, and after a successful test launch in New York City, the sausage sandwich will soon launch nationwide.
On November 6, the sandwich, made with Beyond Meat plant-based protein, will be available in 9,000 Dunkin' locations nationwide. Customers can also sample the Beyond Sausage Sandwich for free on November 8 and 9, between 8 a.m. and 10 a.m. at participating Dunkin' locations.
The Beyond Breakfast Sausage patty is served on an English muffin and is served with egg and American cheese. It has 29 percent less total fat, 33 percent less saturated fat and fewer calories, cholesterol, and sodium than a traditional Dunkin' Sausage, Egg and Cheese Breakfast Sandwich on an English muffin, according to Dunkin'.
According to CNN, the sausage sandwich was due to launch in January, but the tests in Manhattan were so successful that Dunkin' and Beyond Meat accelerated the nationwide launch. It is the second-best-selling product in Manhattan, after the bacon, egg and cheese bagel, and sales were twice as high as expected.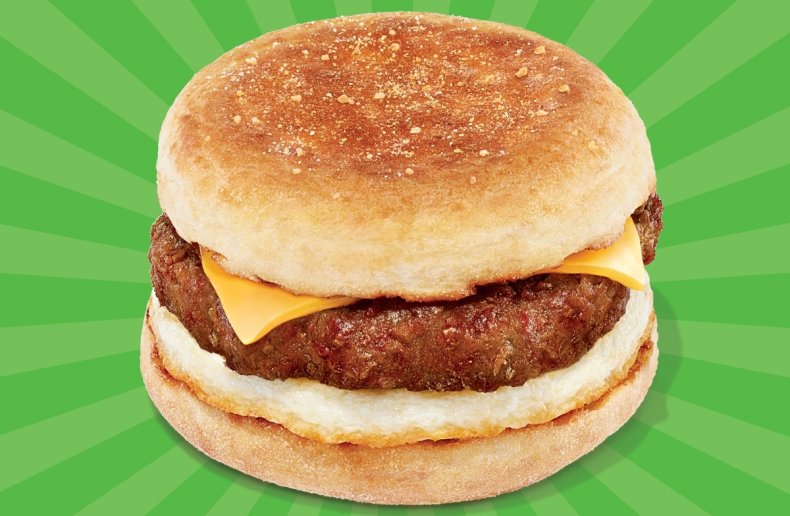 Dave Hoffmann, Dunkin' Brands Chief Executive Officer and Dunkin' U.S. President, said in a statement: "We are extremely proud of our partnership with Beyond Meat and thrilled to be the first U.S. quick-service restaurant to offer Beyond Breakfast Sausage nationwide. Dunkin' is the brand that democratizes trends for America, and this latest addition to our menu gives consumers more choice to meet their evolving needs.
"As we continue to transform our brand, we're proud to use our platform to give everyone the opportunity to enjoy the great taste and benefits of plant-based protein."
Ethan Brown, founder and CEO of Beyond Meat, added: "We're excited to introduce the Beyond Sausage Sandwich nationwide and in doing so, offer an option with fewer calories, less total fat, saturated fat, cholesterol, and sodium while delivering more protein and iron than a comparable pork sausage sandwich.
"We are excited that everyone who runs on Dunkin' now has the option to make a delicious plant-based sausage sandwich part of their day."
Currently, the breakfast sandwich options Dunkin' offers include Bacon, Egg, and Cheese, Turkey Sausage, and Ham, Egg and Cheese. The vegetarian options are Egg and Cheese, and a Veggie Egg White.
Beyond Meat is a plant-based protein company producing burgers, sausage, and crumbles. Beyond Meat products can be bought in grocery stores, and are used in more than 15,000 restaurants, such as McDonald's, Subway, Del Taco, and Carl's Jr.