Duran Duran Photographer Shares 'Memories' of the Band's 1984 Tour
For a photographer, covering the biggest rock band on the planet is not entirely an easy feat especially when it comes to encountering that group's young rabid fans. That was certainly the case for renowned British photographer Denis O'Regan, who had unprecedented access to Duran Duran on their Sing Blue Silver tour in 1984.
For instance, the band—Simon Le Bon, Nick Rhodes, John Taylor, Andy Taylor and Roger Taylor—would be holed up in hotels under aliases and stalked by their predominantly female fans camping downstairs. It got to the point where O'Regan himself received phone calls in his hotel room from those fans hoping to connect with a band member.
"If you wanted to find the band, you'd phone the top few hotels and you asked for me," O'Regan recalls to Newsweek with a laugh. "So I'd get a phone call in the middle of the night: 'Oh, how's John?' 'Well, thanks for waking me up. But as far as I know, he's fine.' That was interesting in New York, having to move around all the time. So a lot of that sort of stuck."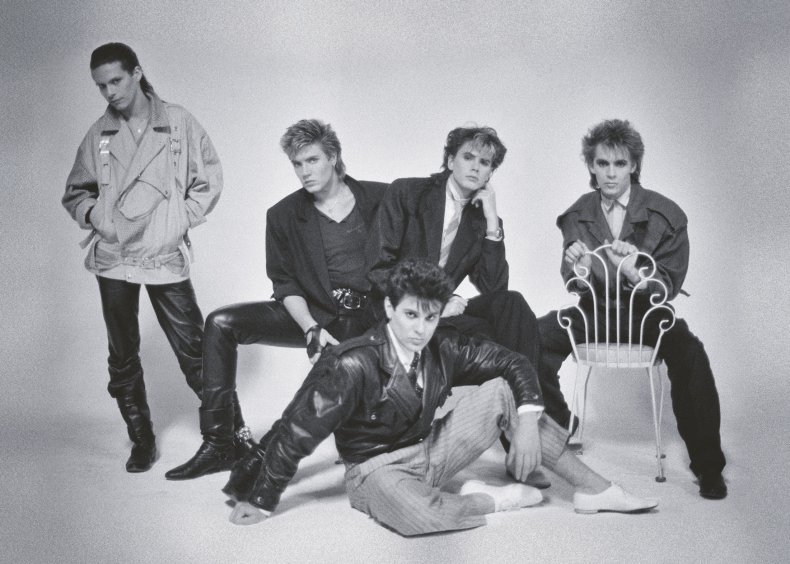 That's just one of the unique moments that O'Regan—who has shot such rock luminaries as the Rolling Stones, David Bowie and Queen throughout his career—remembers about photographing the 1984 tour, which is the subject of his latest photo book Duran Duran: Careless Memories. First published in 2015 as a high-end limited edition book and now reprinted as a mass-market release, Careless Memories features O'Regan's fly-on-the-wall images capturing the British band at the peak of their popularity.
"It's really for the fans," O'Regan says of the new edition, "and the band's really, really pleased about the idea as well because it's an affordable version for people who couldn't buy the special limited edition. So it's made everyone happy, including myself."
Going into 1984, Duran Duran were global superstars, having taken the world by storm with such hits as "Hungry Like the Wolf," "Rio" and "Is There Something I Should Know" and their innovative music videos. Prior to joining Duran Duran on the road, O'Regan had just come off a stint photographing David Bowie's 1983 Serious Moonlight tour.
"David thought I was insane," O'Regan remembers. "He said, 'What are you doing after the tour?' I said, 'I'm going on tour with Duran Duran.' He said, 'You're mad.' What happened was I was friends with the band. They probably loved the fact that I had just toured with David, who is their hero.
"Towards the end of the Serious Moonlight tour, we were in Australia, which is where Duran Duran were recording Seven and the Ragged Tiger. They came over to the hotel. A lot went on that night, and they asked me to go on tour. The Bowie tour ended after the Duran Duran tour began. Of all places, the bit that I missed was the U.K. [dates], but then I joined them as soon as I could after that. It was either do this tour or not."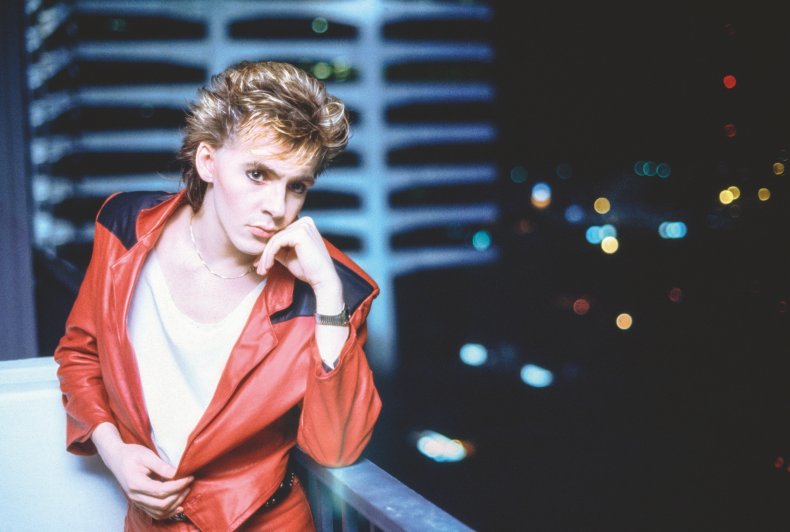 O'Regan's timing to photograph the Sing Blue Silver tour was impeccable as Duran Duran were conquering America, very similar to what another British rock band did two decades earlier.
"They became huge during that tour because they arrived really as MTV stars," O'Regan says of Duran Duran. "MTV had just begun, and the girls went insane when they arrived in America, which is what everyone expected. The band didn't realize it was gonna be like that exactly 20 years after the Beatles. It was a new type of Beatlemania. And for me, it was great to have been inside that while it was happening. So that part was really good fun."
In Careless Memories, O'Regan's photos of the band onstage document the energy and excitement of a Duran Duran show from that tour, which is symbolized by a photo of John Taylor staring at the camera with a broad smile on his face. Additionally, the book features many candid shots of the band backstage as well as in hotel rooms and limos —all of which present the musicians in lighthearted and contemplative moments previously unseen by the public.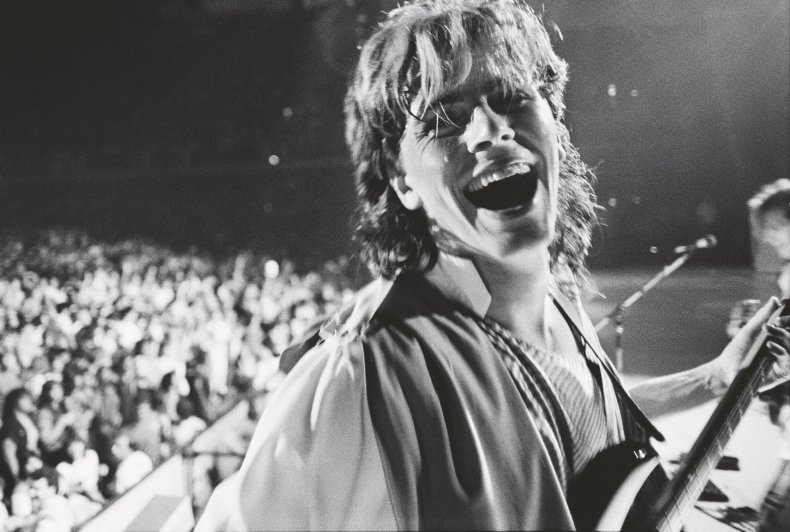 "When I've been on tour and spending a lot of time documenting a band," O'Regan explains, "my objective in my mind is to do a book at some point anyway. So that's how I see a lot of the pictures, even though I'm producing pictures to go out to the press at the time—which is very handy for the band because when they weren't in the U.K., the pictures were being supplied back to the U.K. to maintain the presence."
O'Regan's up-close and intimate photos paint a portrait of Duran Duran having the time of their lives, even though the band members were living in a bubble under the intense glare of the media and their fandom.
"There's a picture of John Taylor's feet on the table in the dressing room with a champagne bottle next to [them]," says O'Regan. "And to me, that kind of summed up of being on tour with Duran Duran. So I took that picture, but that was never going to be a press picture. That was always going to be in a book. So that's why a lot of the pictures were taken in the first place."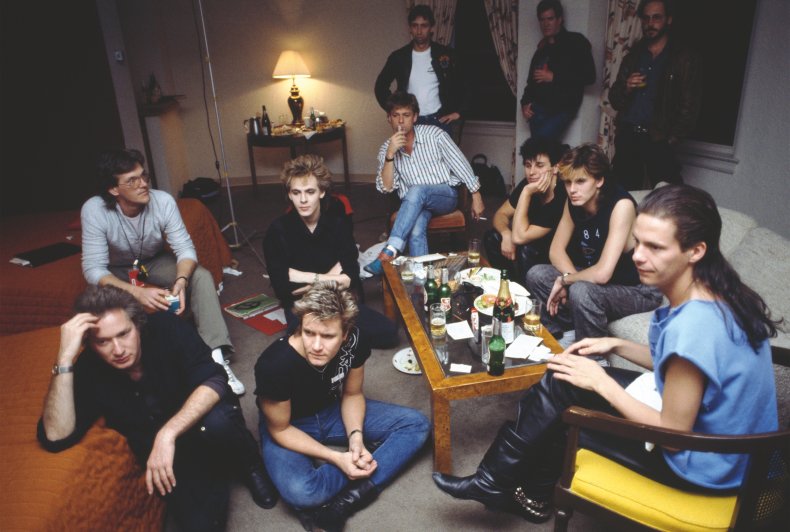 Aside from being musically talented, the members of Duran Duran were extremely photogenic.
"It wasn't some grizzly old rock roll band," O'Regan says. "It was five great-looking, fashionable, popular people. So they were a joy to photograph. The morning after when you're at the airport, everyone doesn't look quite glamorous. So you get both sides of it. You never know how a tour is going to be."
O'Regan's friendship with Duran Duran goes back to 1981 when he first photographed the group at their show in their native U.K. for a German magazine. He had a fan in John Taylor who was already familiar with O'Regan's photos for the British music press.
Says O'Regan: "So I went along to the show and afterward went to their dressing room. I met them all. John said: 'Denis O'Regan? I know you. You did these pictures in NME and you had this picture on this page.' So we had this connection."
Another important element of O'Regan's book is the photos of Duran Duran's female fanbase, who have played a huge part in the band's history. And like Duran Duran, O'Regan himself was in that eye of the storm.
"I was with a police escort," he remembers. "The security was well thought out. It was the old story of having to meet the car in the underground car park and then come out to the hotel that way because if we went in through the lobby there would be carnage. And in one place, we went through the kitchen. It was just ridiculous."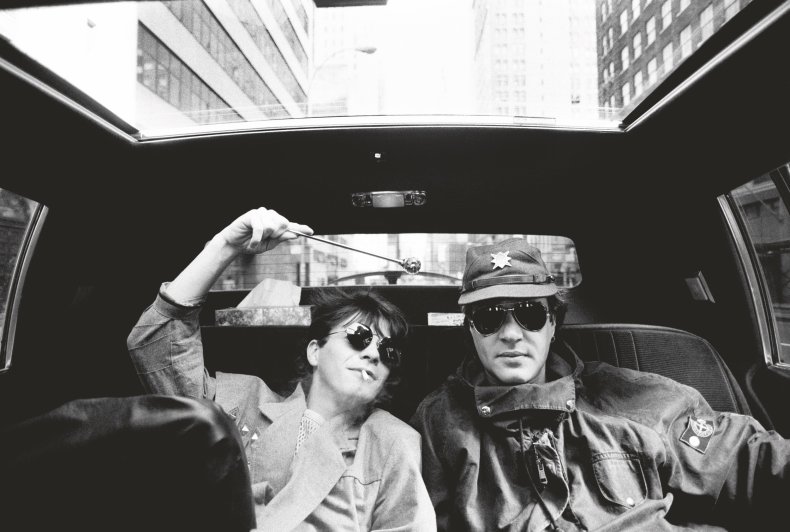 O'Regan recalls one particular night in New York where he and John Taylor decided to go out by themselves, which didn't turn out to be a great idea.
"Of course, suddenly fans appeared from nowhere. So it was a bit like a scene from A Hard Day's Night with the two of us running down the road with all these girls running after John, and me going, I think I'll go to dinner on my own next time. (laughs) The fans at the shows are what make these events. And some of those pictures of girls were taken through limo windows, so you get the real reaction."
With this new reprint of Careless Memories, O'Regan says he hopes Duran Duran fans will get an insight into their heroes. "I want each photograph to say something, and you could look into the background and you can look at them, and think that's what it was like. You can piece all those pictures together and get a chunk of their life in that one four-month period or whatever it was.
"It was a big moment for the band's career. I like people to see those insights, and it's why I take the pictures, really. I needn't take so many documentary off-stage pictures. But I do because eventually, I want people to be able to see them, and so do the band."
Duran Duran: Careless Memories by Denis O'Regan, published by ACC Art Books, is out now.