But Zacchaeus stood up and said to the Lord, "Look, Lord! Here and now, I give half of my possessions to the poor, and if I have cheated anybody out of anything, I will pay back four times the amount." -Luke 19:8
During the holiest week of the year for Christians, churchgoers across the country are hearing the language associated with Jesus' suffering and death: atonement. This message mirrors one that we are now hearing from Congress around reparations for Black Americans because of the United States' egregious human rights violations against them, from slavery to lynchings to Jim Crow Laws.
There is enough momentum in the House of Representatives to pass H.R. 40, which would establish a commission to study and develop reparations proposals. During Easter—and after this holiday ends—Catholics will continue to push our members of Congress to live up to their commitment to dismantling systemic racism and advancing racial equity by establishing this commission. But considering the reality of Senate dynamics we are also calling on President Joe Biden to establish this reparations commission by executive order.
The legacy of slavery and the sanctioned discrimination that has followed continues to deeply harm Black communities. It is past time we make investments that put an end to economic and employment inequality, an unjust health care system, housing segregation and state-sanctioned police violence. The sinful legacy of white supremacy and the enduring racial wealth gap must no longer be allowed to deny Black people good health, educational and economic outcomes. Reparations is the place we must start.
H.R. 40—the Commission to Study and Develop Reparation Proposals for African Americans Act—is legislation currently pending in Congress and was first introduced more than 30 years ago by Representative John Conyers (D-Mich.). This legislation has been introduced in every Congress since, most recently by Congresswoman Sheila Jackson Lee (D-Texas). In a historic first, H.R. 40 was successfully voted out of the Judiciary Committee last year.
Passing H.R. 40, which now has more than 180 congressional co-sponsors, would be our country's first real step in accounting for the role of the federal government and U.S. institutions in the atrocity of slavery and the legalized discrimination that followed. By commissioning a report on the harmful impacts of white supremacy, H.R. 40 lays the groundwork for choosing to take action at the federal level that moves us toward long overdue, long needed repair.
The good news is that there are two paths to making repair a reality: Regardless of whether Congress does the right thing on H.R. 40, President Biden has the power to create an H.R. 40-style commission by executive order.
This kind of commission is not without precedent, and it is not a new movement. The U.S. government considered and honored reparation claims made by other communities, including Native American tribal communities and Japanese Americans interned during World War II. In reality, we are not that far removed from the evils of legally protecting human enslavement in the United States and the profits that accrued from stolen labor, knowledge and skills. Some of today's youth are only a few generations removed from ancestors who were enslaved or ancestors who were enslavers.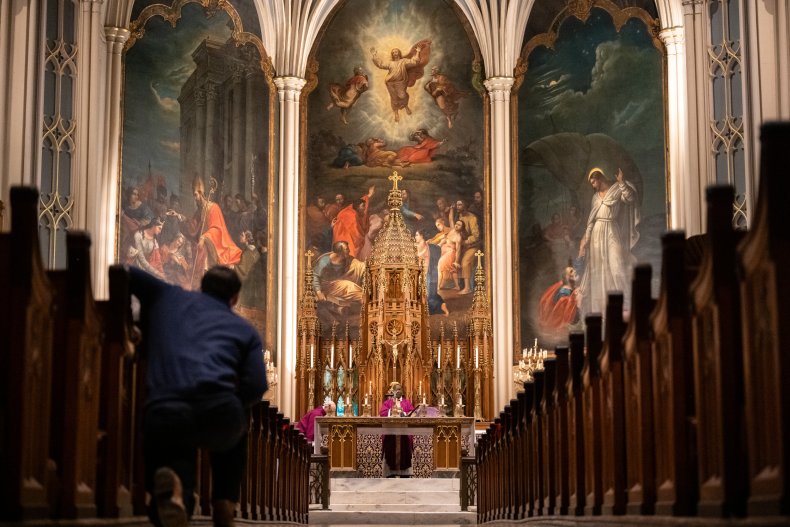 The time is now to address this political, economic and social wrong and its enduring legacy. During this Easter season, we must ask ourselves, how are we going to atone for the systemic evils that oppressed so many people in this country for centuries? How can we always keep this lesson of Easter before us?
Catholic teaching is clear in its call to name the evil of slavery and work toward repair, and people of faith from many faith traditions continue this call to repair wrongs today. Last year, 180 faith organizations and leaders, including my organization NETWORK, as well as the African American Ministers in Action, the American Muslim Empowerment Network, the Leadership Conference of Women Religious and the Union for Reform Judaism, sent a letter to House leadership asking for their support of H.R. 40.
Slavery is often referred to as America's "original sin." We have not properly atoned for that sin, but we still can. People of faith have led moral movements to advance justice and peace in our country time and time again. Now is the time for Catholics and others in the faith community to continue to push Congress to take action.
Creating a federal reparations commission is a central way that we name, understand and address our past and build anew. It embodies the cornerstones of our political advocacy: dismantling systemic racism, cultivating inclusive communities, rooting our economy in solidarity and transforming our politics. Paraphrasing Zacchaeus, this is the time for Black Americans to receive recompense in as many ways as necessary for there to be justice. I urge President Biden to create a commission to address the ongoing impact of slavery and its vestiges now.
Mary J. Novak is the executive director of NETWORK, a national voice for Catholic Social Justice with more than 100,000 supporters across the country. Mary is a lawyer, educator, chaplain and spiritual director, restorative justice practitioner and activist. She is an associate of the Congregation of St. Joseph and was named a Faith Leader to Watch in 2021 by the Center for American Progress.
The views expressed in this article are the writer's own.