During Gosar Censure Hearing, Rep. Boebert Calls Ilhan Omar a Member of the 'Jihad Squad'
Representative Lauren Boebert called Representative Ilhan Omar a "Jihad Squad member" while the House considered censuring Congressman Paul Gosar on Wednesday.
The Colorado Republican made the remarks before the House voted to censure Gosar for sharing a doctored anime video on social media that showed him slaughtering New York Congresswoman Alexandria Ocasio-Cortez with a sword before turning the weapon towards President Joe Biden.
Ocasio-Cortez and Omar, who is a Muslim, are both core members of the group of progressive lawmakers that is commonly referred to as "the Squad." Omar, a Minnesota Democrat, is a naturalized U.S. citizen, having arrived in the country as a child after her Somali family was granted asylum in 1995.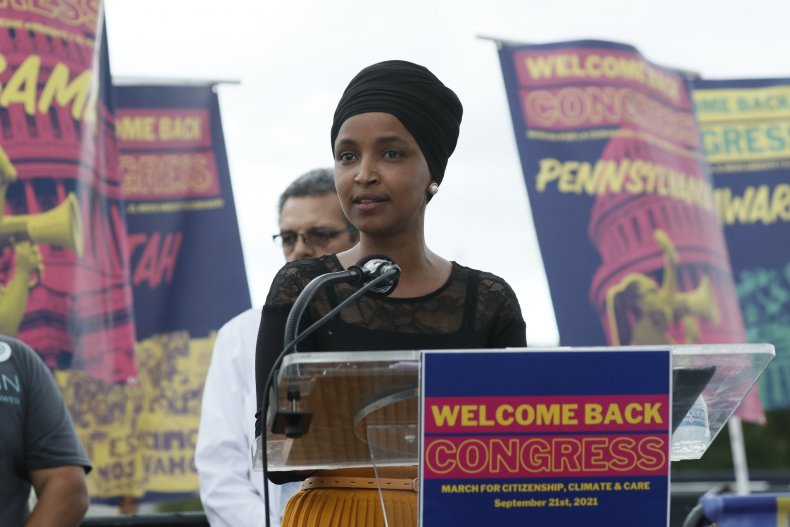 "The Speaker has designated the floor to discuss members' inappropriate actions," Boebert said during the House hearing. "The Jihad Squad member from Minnesota has paid her husband, and not her brother husband—the other one, over a million dollars in campaign funds. This member is allowed on the Foreign Affairs Committee while praising terrorists."
Boebert was referencing Omar's campaign paying E Street Group, a political consultancy firm co-owned by her husband Tim Mynett, $2.9 million to work on her 2020 re-election campaign. She also referenced an unsubstantiated claim that Omar married her brother for immigration purposes, as well as controversial remarks the congresswoman has made regarding Israel and Palestine.
Omar's office declined to comment on Boebert's remarks when contacted by Newsweek. However, Omar herself issued a scathing condemnation of Boebert on Twitter shortly after the censure vote was completed.
"Luckily my dad raised me right, otherwise I might have gone to the floor to talk about this insurrectionist who sleeps with a pervert," Omar tweeted. "I am grateful I was raised to be a decent human and not a deprived person who shamefully defecates & defiles the House of Representatives."
House Minority Leader Kevin McCarthy also lashed out at Omar over her comments on Israel during the hearing, while hinting that she and other Democrats could be stripped of committee assignments if Republicans take control of the chamber after next year's midterm elections.
Omar denounced McCarthy and other Republicans for attempting to shift the focus of the hearing to Democrats rather than the behavior of Gosar while calling the Arizona Republican an example of the "racist misogyny endemic" in the GOP.
"Their response to open depictions of political violence against women of color is attack and smear and attack other women of color," Omar tweeted. "Paul Gosar is not the exception. He is representative of the racist misogyny endemic in the Republican Party."
The House voted along largely party lines to censure Gosar. The only two Republicans who joined Democrats, Representatives Liz Cheney of Wyoming and Adam Kinzinger of Illinois, have been widely derided within the party since speaking out against former President Donald Trump and joining the January 6 Committee. Ohio Representative David Joyce was the lone abstention.
Gosar removed the controversial video from his social media accounts but did not apologize to Ocasio-Cortez. The congressman instead insisted that the video had been "mischaracterized" by critics. He later compared his censure to the 2015 Charlie Hebdo massacre in France and urged "right-thinking people" to "condemn the Democrats now for their violation of free speech."
Update 11/17, 6:51 p.m. ET:This article has been updated to include a tweet from Representative Ilhan Omar.