During Senate Impeachment Acquittal Speech, Trump Says America Is Respected Again—But Polls Say Differently
President Donald Trump reiterated his claims of innocence Thursday in a speech on his impeachment acquittal by the Republican-controlled Senate the day before. In his conclusion, he argued that under his leadership the U.S. has become "respected" again.
"Our country is thriving, our country is just respected again, and it's an honor to be with the people in this room," Trump said at the end of his remarks.
Despite the president's claim, international polling presents a starkly different picture. Trump's actions are widely been seen by analysts as upending traditional allied relationships through trade disputes and withdrawal from international agreements. Multiple international surveys show that people around the world have less confidence and far more concern about American leadership under the current administration.
A poll released by the Pew Research Center in January showed that a sizable majority of people around the world said they have "no confidence" that Trump will "do the right thing." With 64 percent of respondents lacking any confidence in the U.S. president, Trump performed worse than Russian President Vladimir Putin, at 57 percent, and Chinese President Xi Jinping, at 43 percent. Only 29 percent said they had confidence in Trump, while slightly more, 33 percent, said the same of Putin.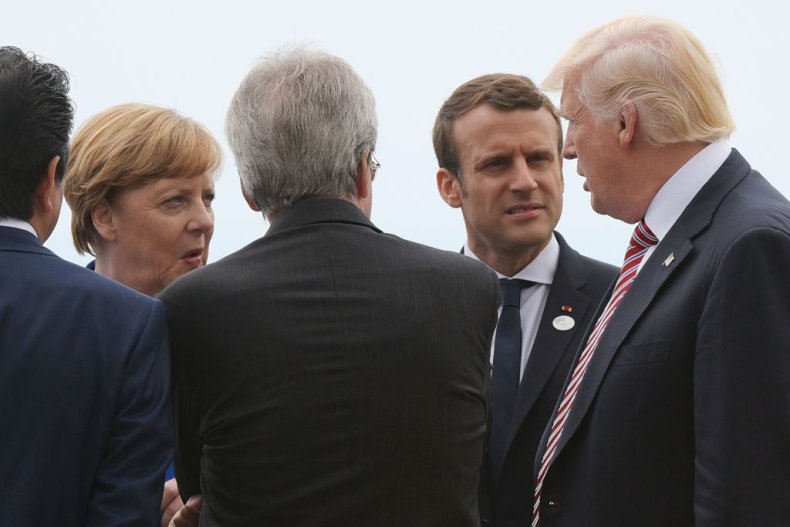 Conducted between May and October of 2019, the report surveyed 37,000 people in 33 countries. The data also showed that the majority of respondents disapproved of the president's decisions to allow fewer immigrants into the U.S. and to withdraw from the Iran nuclear deal. Furthermore, the president's decisions to build a wall on the Mexican border, withdraw from the Paris climate accord and increase tariffs on imports were viewed disfavorably by 60 percent or more of those polled.
International confidence in the U.S. presidency dropped substantially after Trump took office, based on the latest Pew survey results compared with 2017 data. After Trump took office, confidence in the U.S. president plummeted from 64 percent at the end of Barack Obama's tenure to just 22 percent. Based on a comparison of year-over-year polls, Trump has managed to increase international confidence by 7 percent, but that is still less than half the level Obama had when left office.
The Pew Research data aligns with Gallup's annual Rating World Leaders report, which has shown approval of U.S. leadership in the world declined dramatically in 2017, Trump's first year in office. While it hovered at 48 percent in 2016, Obama's last year, it declined to just 30 percent in 2017. Global approval of U.S. leadership under Trump remained low in 2018, rising to only 31 percent. That was lower than China, which enjoyed 34 percent approval around the world.
Meanwhile, a poll released in December by YouGov found that 41 percent of Germans believe Trump is the greatest threat to world peace. This was more than the combined total for Russian President Vladimir Putin (8 percent), North Korean dictator Kim Jong Un (17 percent), Iranian Supreme Leader Ali Khamenei (8 percent) and Chinese President Xi Jinping (7 percent).