LGBT Movement Commemorated in Philadelphia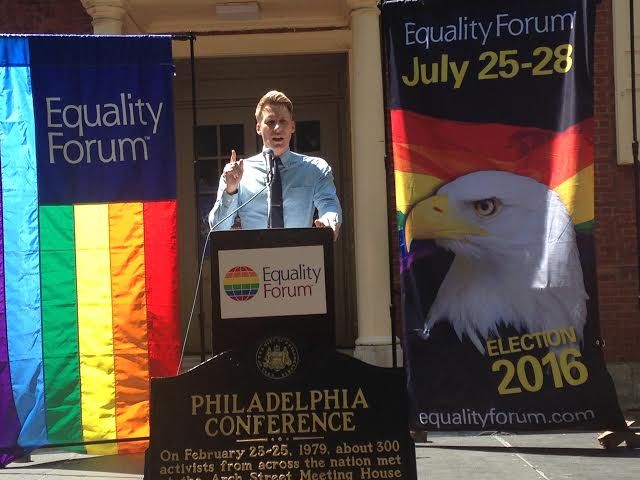 Screenwriter Dustin Lance Black, who is known for the 2008 Harvey Milk biopic Milk, said he first visited Philadelphia as a "closeted student," and while there he came to the realization that the U.S. Constitution probably wasn't written for people like him. Decades later, the Academy Award winner returned to the city of brotherly love and sisterly affection during the 2016 Democratic National Convention to unveil a historical marker to recognize the LGBT movement and its leaders.
"History is about course correction…where we find power," he said at the dedication ceremony Wednesday morning. "[History] shall never be robbed from us again."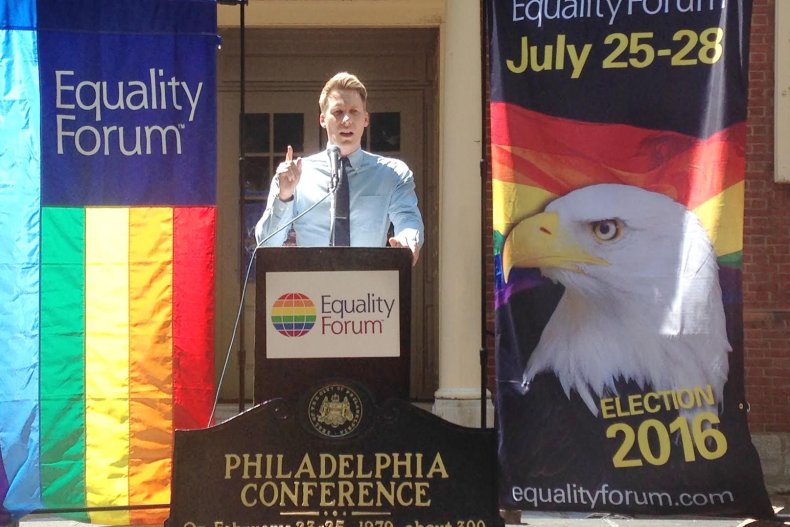 At the Arch Street Meeting House in the Old City section of Philadelphia, local leaders commemorated a gathering of about 300 LGBT activists that took place 37 years ago. It was there that between February 23 and February 25, 1979, they organized a national march on Washington. During the march, which took place eight months later, on October 11, approximately 100,000 demonstrators gathered in an effort to propel a national civil rights movement.
The Equality Forum, the country's premier LGBT civil rights summit, had called for the dedication to occur during the four-day DNC, and during the ceremony on Wednesday the group's founder and executive director, Malcolm Lazin, credited Philadelphia as being the birthplace of the LGBT movement. It's a city, he said, "where love trumps hate."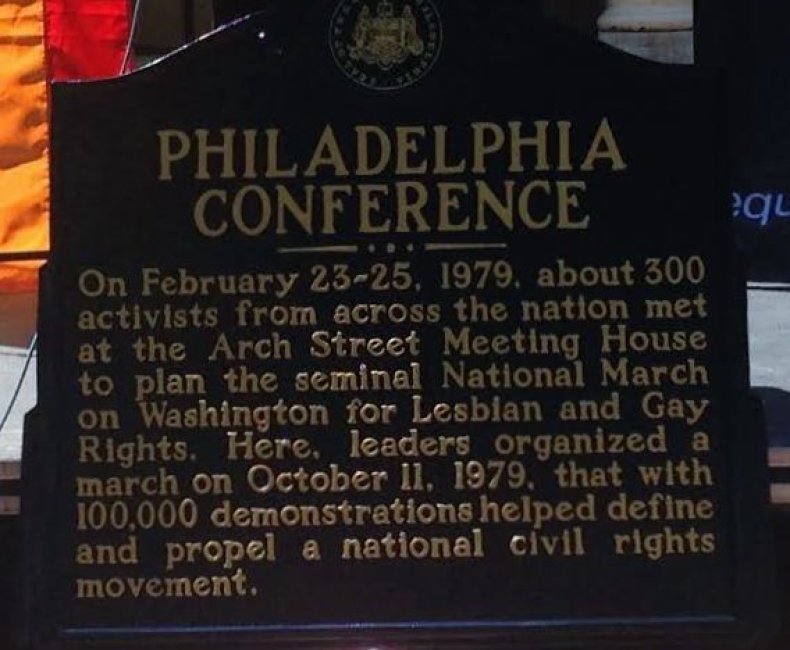 The Philadelphia Conference of activists will be remembered "as the Seneca Falls of the LGBT civil rights movement," said Philadelphia City Councilman Mark Squilla, referencing the first women's rights convention, which took place in the summer of 1848.
The meeting house was built in 1804 on a burial ground granted by William Penn, an early Quaker and the founder of the Province of Pennsylvania. Now, the building is a national historical landmark that is used as a place of worship and center for activities of the Philadelphia Quakers.
The Philadelphia Conference marker stands at the corner of Fourth and Arch Streets. Other landmarks are nearby, including the Betsy Ross House and Christ Church Burial Ground.
"This plaque is a beginning, not an end," Black said.
On Tuesday, the Equality Forum dedicated a marker for the house of Barbara Gittings, whom many regard as the mother of the LGBT civil rights movement.