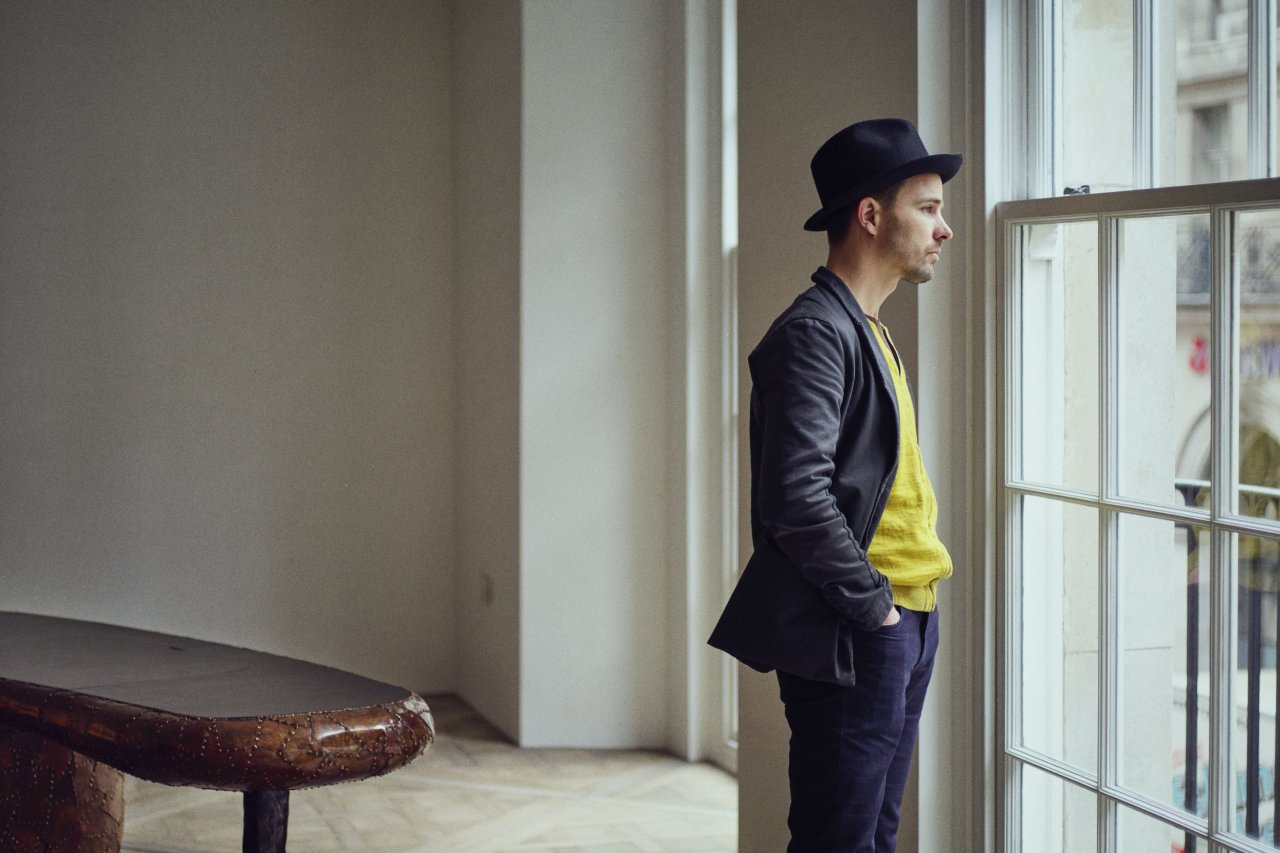 Setting your degree show on fire is not, perhaps, a smart move. But that's exactly what the Dutch designer Maarten Baas did in 2002, at the end of his last year at the Netherlands' world-renowned Design Academy Eindhoven. For his degree-show collection, which he titled Smoke, Baas took "a blowtorch to pieces of secondhand furniture—which included some serious Baroque antiques alongside flea market junk—then he painted the charred results with epoxy resin. Half usable pieces of furniture, half art, Smoke was an instant success with the industry: In 2003, the Dutch furniture manufacturer Moooi began producing versions of three chairs and a candelabra, which it still sells today. Before long Baas was torching grand pianos, high-back chairs by Charles Rennie Mackintosh and the classic "zigzag" chair by Gerrit Rietveld, and high-end dealers were keen to sell his limited editions. Now 39, Baas has been breaking rules ever since—as his first major retrospective, which opens in February at the Groninger Museum in the Netherlands, will attest.
Despite being one of the design industry's most recognizable and collectible names—his pieces are featured in the collections of the Victoria & Albert Museum in London, the Museum of Modern Art in New York and the Rijksmuseum in Amsterdam—Baas doesn't act obviously high status. Sitting in the sleek showroom of Carpenters Workshop Gallery, his London dealer, he talks quietly, with frequent pauses. He's wearing a slightly squishy-looking hat and his clothes—midnight-blue jacket, mustard waistcoat—are sharply styled but muted in color. You sense he'd rather be back in the studio welding metal than here, in a ritzy Mayfair gallery. And he wants to talk about beauty.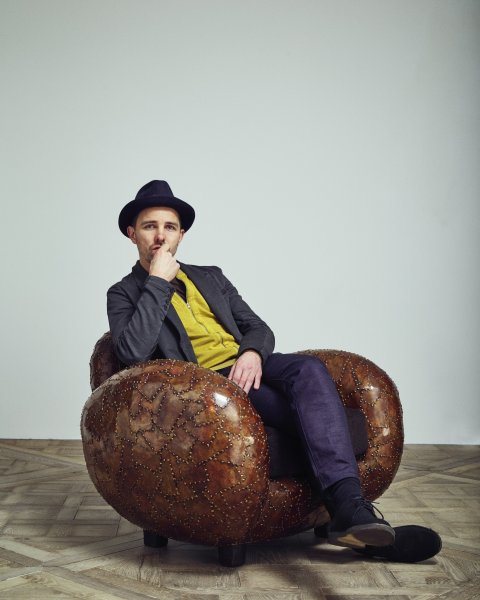 Like every Baas collection that followed it, Smoke began life as a broad intellectual concept—finding beauty in change, held in tension with permanence—that slowly took form in three dimensions. "Designers are supposed to make beautiful things," Baas says, "but what is beauty? There are two ways to consider what we believe is beautiful: perfection—like cars, which are very smooth and aerodynamic—or nature, where everything is in flux. In nature, nothing stays forever." By using resin to coat his burned pieces of furniture—their structures blackened and reduced, all surface decoration scorched away—Baas sought to first heighten, then preserve an imperfect, natural beauty. "[The collection] gave some fresh air to the design world, it was meant as a big statement on how everything has been done and how we need to make space for new things," he says.
Outside of his one-off projects—like the chair he designed for Amnesty International, as a response to the jailing of the Nobel Peace Prize winner Liu Xiaobo, or a folding travel seat he made for Louis Vuitton—Baas's career to date splits into four main collections; superficially at least, it's tricky to identify any one style that unifies them. After Smoke , he produced Clay, in 2006, a series of stools, chairs and tables made of synthetic clay over a metal frame with frail-looking legs, and painted in bright, primary colors. Their wonky, almost infantile look was at odds with the forceful statement made by Smoke . "I like that Clay came after Smoke," Baas says. "It's like burning the fields on which you are going to grow new plants: Clay was, almost literally, a young plant coming out of the ground."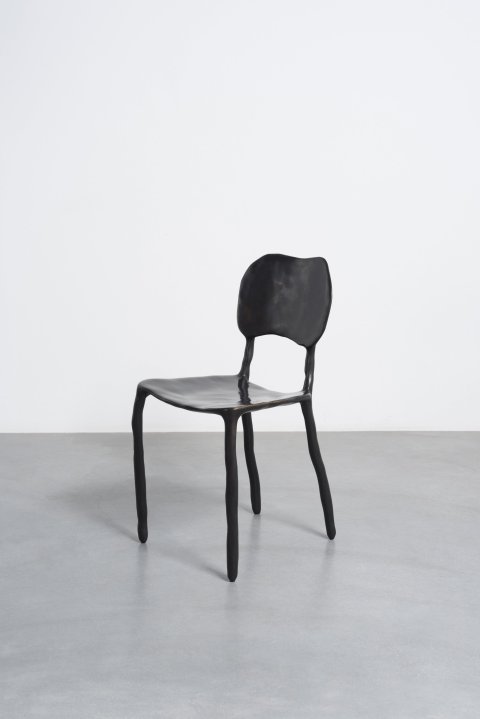 After Clay, came Real Time. He launched the collection in 2009 with a series of 12-hour videos of men in blue overalls alternately painting on, and then wiping out, the hands on a partially transparent clock face. The collection included free-standing, grandfather-style clocks, with the video footage projected where the face would traditionally be. It reached its apogee in 2016, when Schiphol Airport in Amsterdam commissioned an outsize version of a Real Time clock face to hang from the ceiling of the arrivals hall—the illusion was so complete it even featured a ladder for the imaginary worker to climb up.
Carapace, Baas's newest collection, is named after the hard shell of a tortoise or beetle. Each piece— including an armchair, sideboard cabinet and desk—is made of many hand-size bronze sheets welded together to form a surface that looks a little like it was beaten together out of studded Viking shields—though it was in fact inspired by 1950s refrigerators. Their hard, industrial nature conceals the craft behind them: Everything down to the hinges is hand-made. "In a way, you could say that Clay is the very opposite of Carapace ," Baas says, "because the Clay pieces looked very vulnerable and very exposed. [The two collections are] like the inside and the outside; both need each other."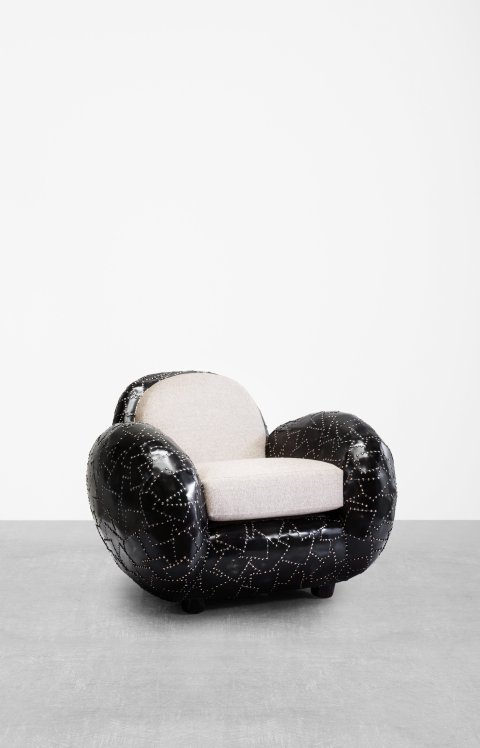 This is typical of Baas: He talks considerately and evocatively about his work, and takes an overall view of his practice. Few other designers can or will do this—most are keener to discuss their latest pieces on the market, rather than previous work. It might be one of the reasons why Baas has so often been labeled as an artist rather than a designer. Then too there is the fact that he generally sticks to producing limited-edition works instead of partnering up with major design brands on mass-produced furniture. And although he still lives in the middle of the slightly cliquey design community in Eindhoven, he seems happiest slightly outside it. Instead of having his studio in Eindhoven, he's set it up on a farm an hour's drive northwest of the city. "I like to be on the periphery. I like to stand outside and do my own thing there," he says. Aptly enough, his retrospective at the Groninger has the title "Hide and Seek."
In 2014, after a five-year break from showing at Salone del Mobile, the design world's annual summit in Milan, Baas returned with a solo exhibition. "Baas is in Town" was a circus—an actual circus, with funhouse mirrors and chairs presented on carousels to a trumpet fanfare. Baas made it clear that the display was a commentary on the nature of the design world, and the design world smiled; his show won that year's Milano Design Award for best impact. Trophy or no, it was a brave decision—Salone del Mobile is a place where one misjudged move can kill a career. But Baas likes to swerve. His limited-edition Real Time grandfather clocks cost thousands of euros, so you can imagine how pleased his high-end customers were when, in 2010, Baas released an app version. For the iPhone. Which cost .99 euros. He smiles when I raise this. "I always like to throw some meat to the dogs," he says.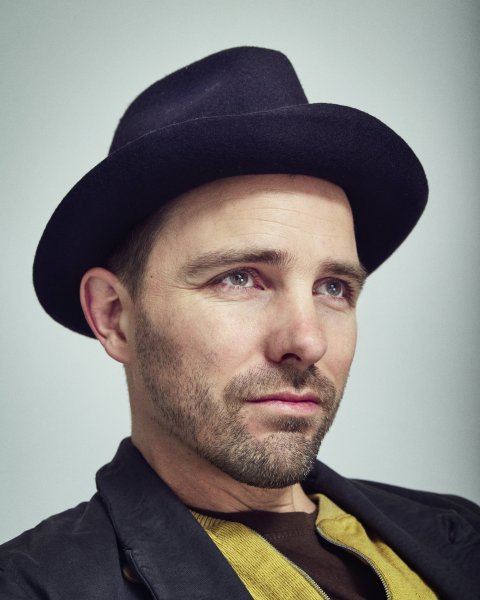 He is not entirely happy with being seen as the industry's non-conformist. "I've often been called a rebel or enfant terrible and I don't agree with it. A rebel just sticks up his finger and doesn't add anything," he says. "I try to make something. The burned furniture is not a middle finger, it's a genuine search for beauty; I hope that comes across." Nonetheless, at this year's Salone del Mobile in April, he'll be rebelling just a little bit—his next collection is a venture into the mass market. "I am working on a series of chairs that are mass produced," he says, "but every piece is slightly different."
After 15 years of being "slightly different," the coming retrospective has offered an opportunity for Baas to reflect. What has that been like? "It feels strange because I'm still playing, I still feel like a child," he says. "I'm always curious for the next step." Whatever direction that takes him, the industry—and his customers—will be watching.
Maarten Baas: Run & Hide: Carpenters Workshop, London, to Mar.3; CARPENTERSWORKSHOPGALLERY.COM Hide & Seek: Groninger Museum, Netherlands, Feb. 18 to Sept. 24; GRONIGERMUSEUM.NL