Jews Were 'Driven to the Gas Chambers Just Like Meek Little Lambs' During Holocaust, Says Dutch Right-Wing Politician
A far-right senator in the Netherlands been forced to retract statements, published in a Dutch newspaper, in which he claimed during the Holocaust Jews had been driven to the Nazi gas chambers "like meek little lambs."
The Dutch newspaper De Telegraph reported Saturday that Forum for Democracy Party Senator Toine Beukering made the assertion while discussing his decision to serve in the Dutch armed forces.
"As a young child, I read a whole cabinet of books about the Holocaust. I was always interested in finding out how it was at all possible. That the Jews, such a courageous and combative people, were driven to the gas chambers just like meek little lambs," the politician, who joined the country's upper house of parliament Tuesday, said.
"It has always fascinated me. I never really found an answer for it. But to me it did mean one thing: Never again. That's why I wore a uniform for 40 years and have been all over the world," Beukering added.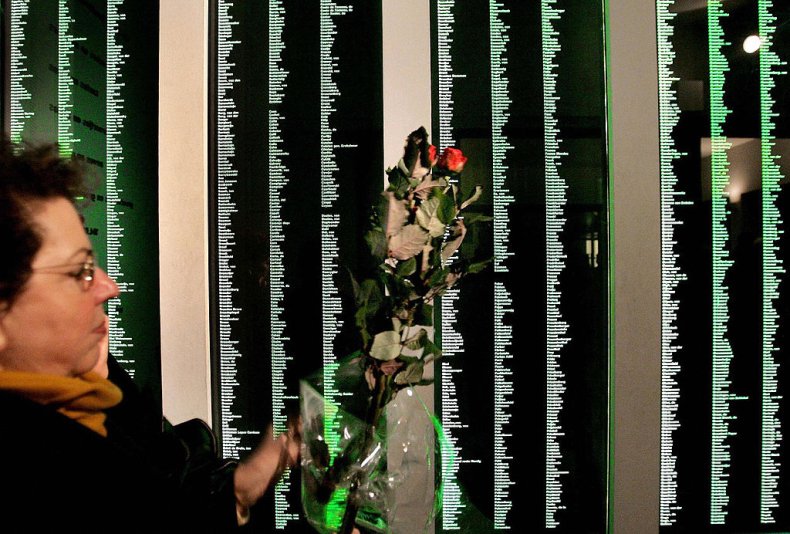 The Times of Israel reported the Dutch Senator volunteered the ahistorical information while talking about an apparently unrelated subject. When asked to elaborate during the initial interview he doubled down on the theory. "There was little resistance by Jews, escapes and such, there were many reasons for this, but it's a sad story that should never be allowed to be repeated," Beukering said.
The Central Jewish Organization of Dutch Jews called out Beukering over his inaccuracies. "Jews did mount considerable resistance. Often in hopeless situations. 'Meek lambs' is a myth," the group's vice president Ronny Naftaniel wrote on Facebook in response to the reports.
During the Holocaust 6 million Jews were murdered by the Nazi regime. According to the official website of the Anne Frank House roughly 102,000 Dutch Jews were killed in the Holocaust, three quarters of the country's Jewish population.
The Anti-Defamation League calls the belief that all Jews were killed passively during the Nazi genocide a "grave mistake." The organization explains that during the Holocaust, in approximately one hundred ghettos in Poland, Lithuania, Belorussia, and Ukraine, underground organizations formed with the purpose of armed struggle against the Nazis.
The most famous instance of Jewish struggle against the German war machine was seen during the Warsaw Ghetto uprising in April and May 1943. During the revolt 700 to 750 young Jewish fighters, with little to no military training or battle experience, held out for days against an onslaught of 2,054 soldiers and police. When the Nazis were not able to eradicate the resistance they began systematically burning the ghetto house by house.
Beukering, who is competing to be elected the leader of the Dutch Senate, said yesterday the comments were "very awkward" adding: "I regret that and I take it back."