Duterte Administration 'Delighted' Nearly Half of Filipinos Are Unemployed
Philippine President Rodrigo Duterte's spokesman said Monday he was "delighted" to see a recent survey that shows nearly half of the country's residents are unemployed.
"I'm delighted we didn't lose 100 percent of our jobs despite the extremely long time we were locked down," Harry Roque said during a press conference, according to Phil Star Global. "I'm still surprised at our resilience, and only 45 percent lost their jobs. It could have been worse, because complete lockdown is happening to us."
Roque's comments were in response to a survey, conducted by polling institution Social Weather Stations, that found unemployment across the Philippines is at 45.5 percent, a record high. According to CNN Philippines, this finding was an increase from data released by the country's labor department last December, which reported 7.3 million unemployed Filipinos. This was equal to a 17.7 percent unemployment rate, previously the highest in the country.
As Roque noted during the press conference, the coronavirus pandemic has prompted lockdowns across the country and brought a higher rate of unemployment.
According to the Philippines Department of Health, at least 3,314 newly confirmed cases of the novel virus were reported on Monday, August 17. Across the country, there are now at least 164,474 confirmed cases and 2,681 deaths.
Just a few days before the newly reported cases, Duterte ordered a stricter modified enhanced community quarantine (MECQ) in the Metro Manila region and the provinces of Bulacan, Cavite, Laguna and Rizal, according to CNN, as they have seen an increase in cases.
CNN also reported that under the MECQ, residents under 21 and over 60 are required to stay home, except when essential goods or services are needed.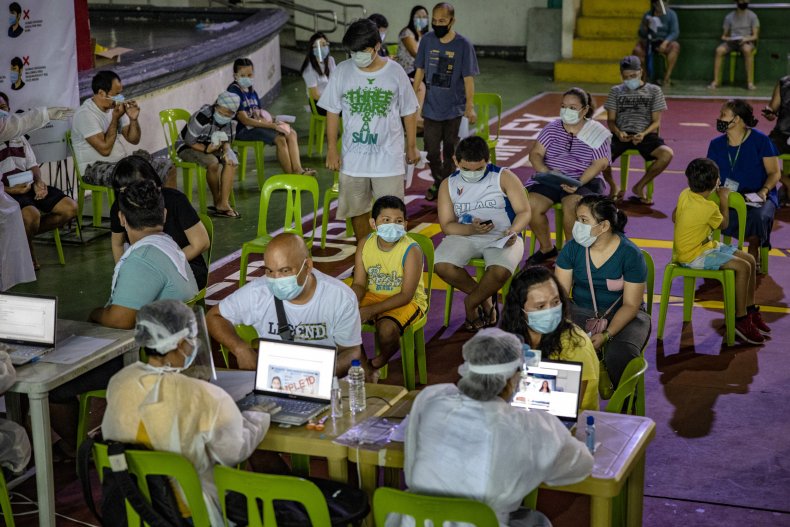 Labor Secretary Silvestre Bello III said the rise in unemployment was "no surprise," according to CNN Philippines. Labor Assistant Secretary Nikki Tutay also told CNN that the "super high" unemployment rate was in line with expectations.
But Luke Espiritu, president of the labor group Bukluran ng Manggagawang Pilipino, suggested that Roque's comments were insulting to the country's unemployed residents, according to the Manila Bulletin newspaper.
"By expressing his delight that the unemployment rate did not reach 100% and by further asserting that this was due to our supposed resilience, Mr. Roque deeply insulted the 27.3 million unemployed Filipinos who are currently at a loss on how they are going to survive the foreseeable future. His toxic positivity is stupid and revolting," Espiritu said in a statement, the Manila Bulletin reported.
Newsweek reached out to the Philippine government for comment but did not receive a response in time for publication.