Duterte Blames Fears of ISIS Machine Guns and Bad Weather for Failure to Visit Marawi Once During Siege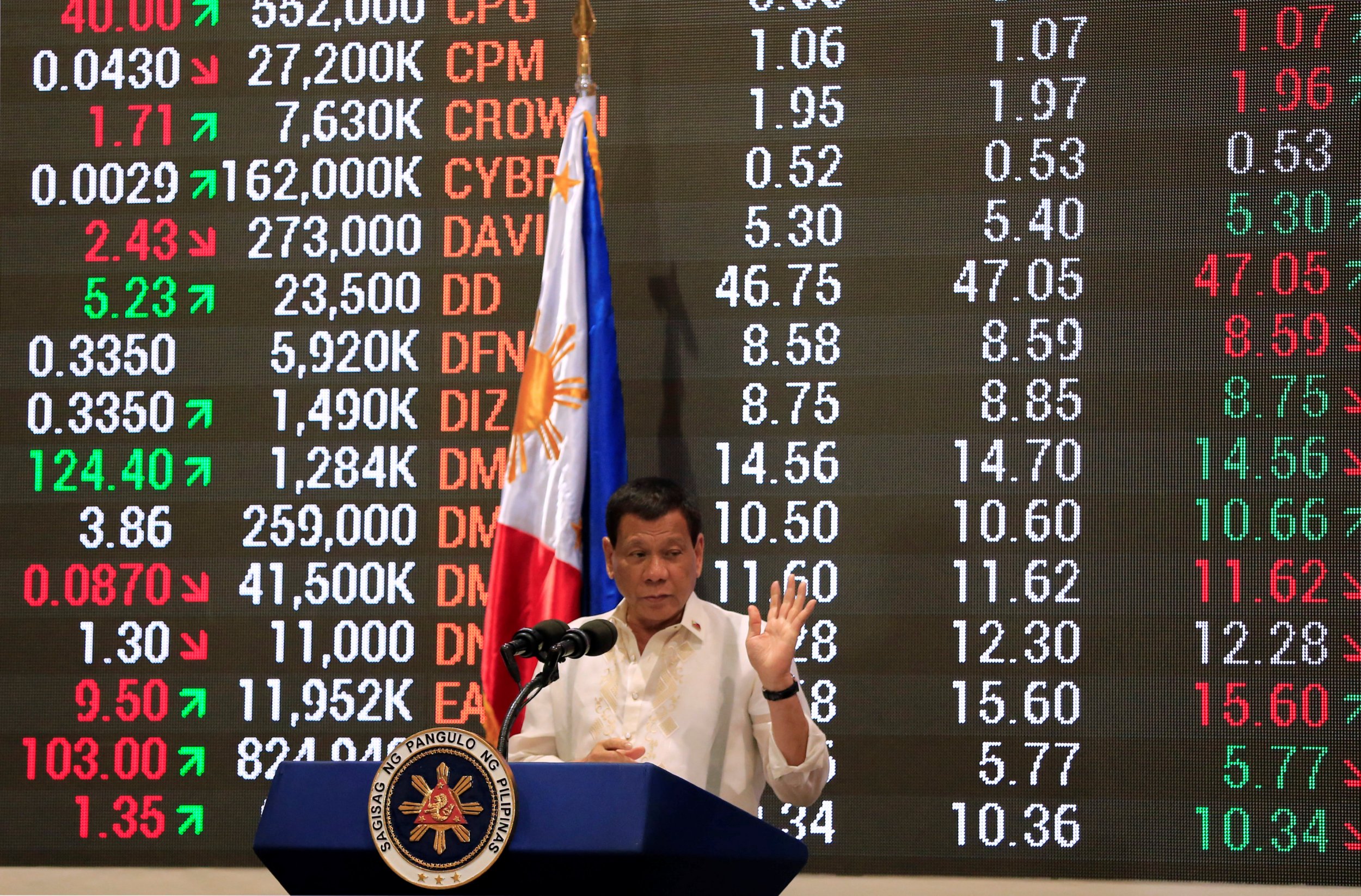 Philippines President Rodrigo Duterte said he will renew attempts to land in the besieged city of Marawi this week—having already failed twice to do so.
Speaking at the Philippine Stock Exchange Tuesday, the tough-talking president explained that weather conditions and the fear of being shot by ISIS-linked militants' powerful machine guns had so far prevented him from visiting the city.
"Marawi was always a rainy place. I was circling Marawi, I could not land. I could not go down nearer because we may get hit by a Barrett caliber 50 by chance," Duterte said in his speech, broadcasted live on the Government of the Philippines' Facebook page. "I really wanted to be there ... I will try to make it again this week".
The president appeared at a military camp Friday wearing a baseball hat, camouflage uniform and with an assault rifle slung over his shoulder. The plan was to visit Marawi City but the bad weather conditions prevented him from doing so.
This was the second time the weather prevented the president from visiting the embattled city, having tried to do so last Tuesday. Duterte has repeatedly stated he "show his face" before the fighting is over. In his speech on Tuesday, he said he expects the city to be freed from the militants within the next 10 to 15 days but, he warned "ISIS will continue to haunt us."
The islamist insurgency in Marawi city, in the Muslim-majority island of Mindanao, first started on May 23 when hundreds of gunmen believed to belong to local militant groups pledged allegiance to the so-called Islamic State militant group (ISIS).
Duterte imposed an initial 60-days of martial law on the island but recently indicated he may extend it. "When everything is OK, that is the time we will lift martial law," he said on Friday.
The spokesperson for the Filipino military, Brigadier General Restituto Padilla, said on Monday there are now less than 100 fighters left in the city but, he warned, child soldiers are among them.
"Disturbing as it is, our troops are doing their best to avoid any casualty among these children that are being employed. But if in the event that they are armed and are involved in the fighting, there's nothing much that we can do," Padilla said, quoted in CNN Philippines.
According to the military, 381 fighters, 90 soldiers and policemen and 39 civilians have been killed in the fighting in the past seven weeks, as The Associated Press reported