ISIS-linked Abu Sayyaf Militants Storm Cathedral after Duterte Declares Martial Law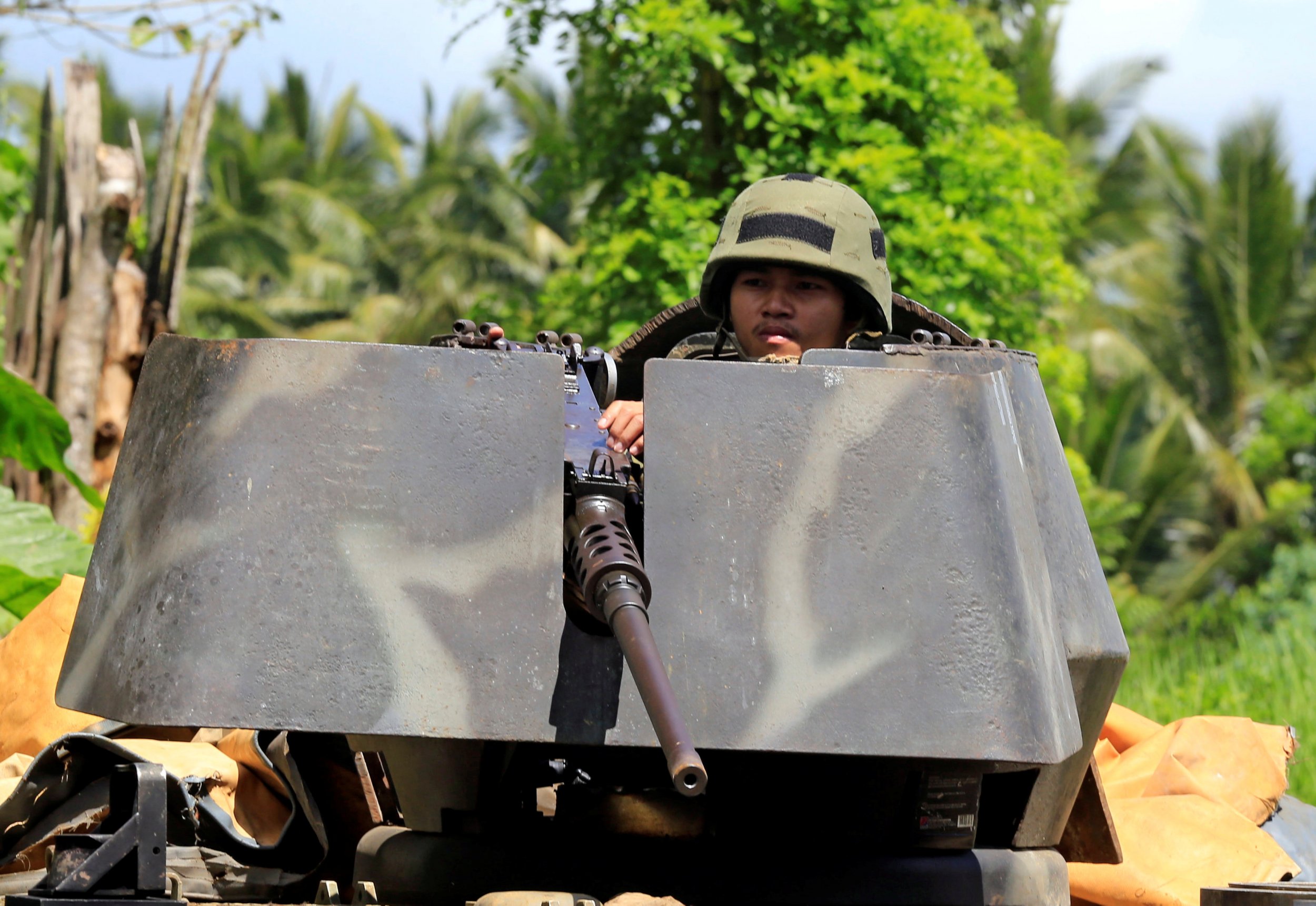 Islamic militants have taken a local priest and several churchgoers hostage in a cathedral in Marawi City in the southern Philippines, where a fight between government troops and separatist rebels continues to rage.
The gunmen threatened to kill the hostages if the army continues to fight them. Marawi Bishop Edwin de la Peña said he received a call from a militant who identified himself as a "member of ISIS" Tuesday, the Permanent Council of the Catholic Bishops' Conference of the Philippine (CBCP) news service reported.
"They want a ceasefire and for the military to give them access out of Marawi. Otherwise, they will kill the hostages," the bishop said, adding that the call was made shortly before 8pm on Tuesday using the phone of his secretary who is among the hostages.
The hostage situation marks a further escalation of the security crisis on the Mindanao island, which follows from a failed raid on a hideout of Islamic State-linked rebels Abu Sayyaf on Tuesday.
Philippine President Rodrigo Duterte warned on Wednesday he would deal harshly with militants. Duterte cut short a visit to Russia and placed the southern island of 22 million people under military rule, and said he would keep it that way for a year if necessary.
Fighting abated in the mainly Muslim city of Marawi as troops sought to contain dozens of rebels of the Maute group, who escaped a botched raid on Tuesday on an apartment and took over streets, bridges and buildings and sought to block army reinforcements.
Duterte is a Mindanao native and has long threatened martial law to destroy two groups linked to Islamic State, which he warns is trying to gain a foothold in the Philippines.
He said the situation in Mindanao would be similar to the tough 1970s rule of late dictator Ferdinand Marcos, remembered by many Filipinos as one of the darkest chapters of their recent history.
"To my countrymen who have experienced martial law. It would not be any different from what President Marcos did. I'd be harsh," Duterte said onboard a flight back to Manila, in a video sent by his staff.
"If it would take a year to do it then we'll do it. If it's over with a month, then I'd be happy. To my countrymen, do not be too scared. I'm going home. I will deal with the problem once I arrive."
Two soldiers and a policeman were killed and 12 people wounded in Marawi, where Maute fighters took over buildings and set fire to a school, a church and a jail.
The military and government gave few details about the clashes nor did they say if any rebels had been killed.
Authorities insisted the situation was under control but residents who fled told a different story and said Marawi was in the hands of the rebels, who had allowed civilians to leave.
"The city is still under the control of the armed group. They are all over the main roads and two bridges leading to Marawi," student Rabani Mautum told Reuters in nearby Pantar town, where some residents were leaving in overloaded trucks.
"I was in school when we heard gunfire ... When we came out there were blood stains in the building but we did not see dead or wounded."
Excessive measures
Critics and even economists chided Duterte for what they saw as an overreaction in declaring martial law on an island the size of South Korea after an incident in one city.
Some activists expressed concern that it would lead to human rights abuses.
Martial law will last an initial 60 days. According to the constitution, Duterte has until Thursday night to explain his decision to congress.
He was due back in Manila on Wednesday afternoon.
Tuesday's raid was aimed at capturing Isnilon Hapilon, a leader of the Abu Sayyaf group notorious for piracy, banditry and for kidnapping and beheading Westerners.
The United States has since 2001 offered a bounty of $5 million for Hapilon's arrest. The military said they believed he had was wounded during the latest fighting.
The Maute and Abu Sayyaf have pledged allegiance to Islamic State, also known as ISIS, and have proved fierce opponents for the military.
A photograph from one resident showed a black flag flying in Marawi that looked similar to that of Islamic State.
Duterte has warned repeatedly that Mindanao, an impoverished region beset by decades of unrest by separatist and Marxist guerrillas, was at risk of "contamination" by Islamic State fighters driven out of Iraq and Syria.
He has made development and foreign investment in Mindanao a priority of his presidency.
Armed forces spokesman Edgard Arevalo urged the public not to be alarmed if they saw checkpoints and soldiers.
"This is not a reflection of a major conflict looming, but this is a reflection of the capacity of our security forces to respond to any threat," he said.
He said the Maute group was showing off to Islamic State: "They are merely courting the acclamation of ISIS which until now they haven't received."