Duterte Fires Sniper Rifle At Jihadis In Marawi After Capture of Grand Mosque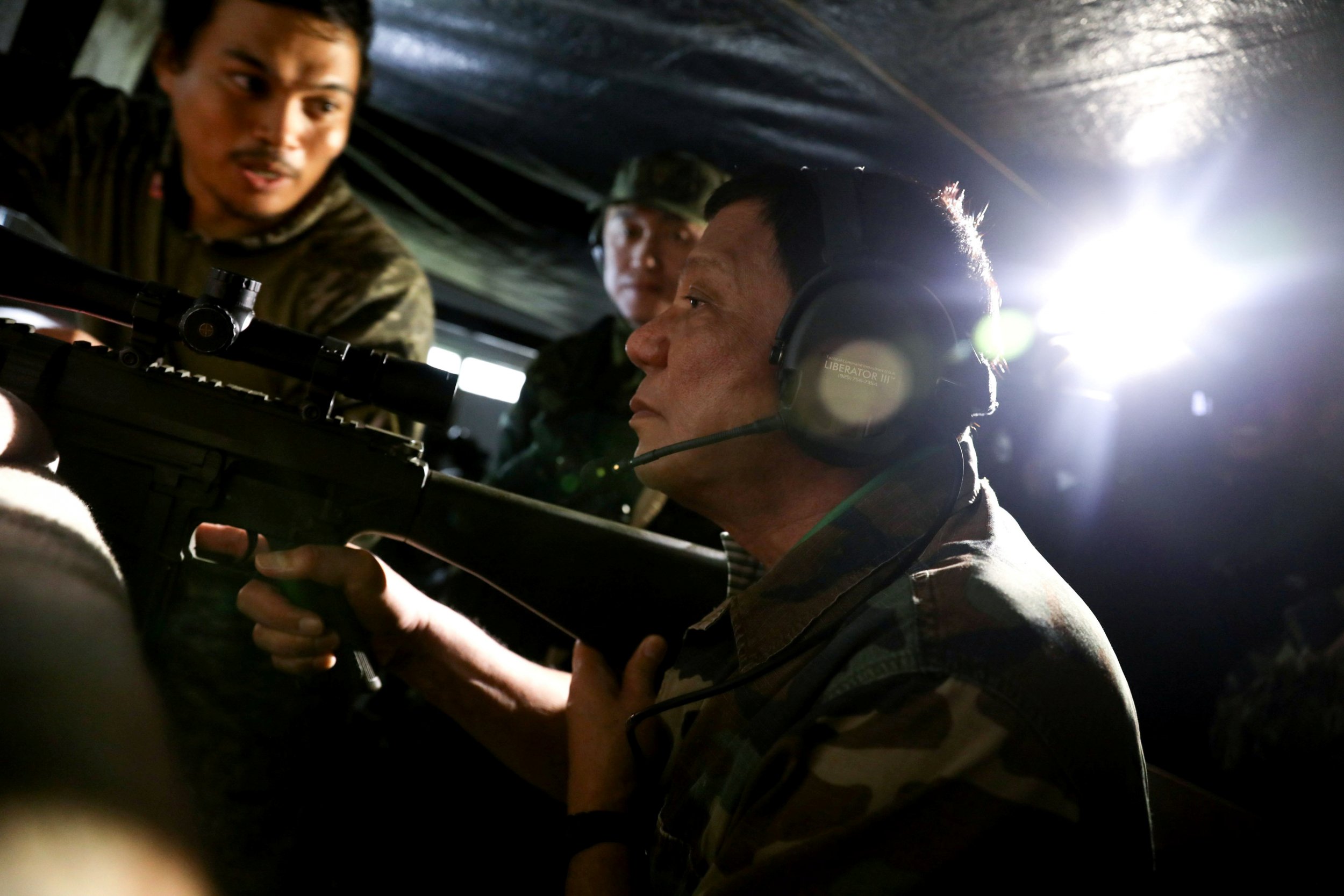 Philippine President Rodrigo Duterte put on a public act of force in Marawi on Thursday, firing a sniper rifle toward jihadists affiliated with the Islamic State militant group (ISIS) after his soldiers recaptured the southern city's grand mosque.
Wearing a military uniform, the Philippine leader traveled to the front lines of the battle against the Maute group, which overran the city of 200,000 in May. He stopped at a military patrol base, taking up arms to show unity with his troops.
"I need to be with you to show my solidarity," Duterte was quoted as saying by army officials.
A government statement said that Duterte "tried a sniper rifle and fired twice toward the direction of the terrorists." He spent two hours with military commanders in the center of Marawi in what was his third visit to the embattled city. He was unable to travel to the city until July, when he made his first trip. He blamed the delay on bad weather.
In three months of fighting, hundreds of people—mostly militants—have been killed. Evidence has surfaced indicating that the militants besieging the city are not simply acting on the inspiration of ISIS: The group's central command in Syria has been funneling funds to southeast Asian militants to help the offensive.
Duterte's trip to the front lines and use of a weapon appeared to aim at strengthening his image as a strongman leader, one who deals with Islamist insurgency and drug crime with brutal force.
Since coming to power in May 2016, Duterte has embarked on a deadly campaign against drug gangs, empowering vigilantes to kill thousands of drug addicts and those suspected of peddling narcotics. "If you know of any addicts, go ahead and kill them yourself, as getting their parents to do it would be too painful," he said in June 2016.
Philippine militants with the Maute group and some from the Abu Sayyaf group sweeping into Marawi, on the southern island of Mindanao, prompted fears that ISIS had gained a significant stronghold in southeast Asia.
The battle for Marawi represents the most significant capture of Asian territory by an ISIS-linked group, and the most notable since ISIS seized the Libyan central coastal city of Sirte in mid-2015.
The Abu Sayyaf group, known for taking hostages to raise funds to create a de facto Islamic state in the southern Philippines, has pledged allegiance to ISIS and beheaded several Western nationals, including two Canadian men and a German man, in the past year.
The group's notorious leader, Isnilon Hapilon, is leading the campaign to take control of the city after a failed army raid to capture him in May. He is believed to be in hiding in the city, amid its dense urban sprawl of mosques, houses and buildings, some connected by tunnels.
Both the U.S. and Australia have provided assistance to the Philippine military to help it push back the jihadist insurgency.