Duterte: Philippines' President Hints at Cancer, Suggests He May Quit if Ill
Philippines' strongman President Rodrigo Duterte, has said that he might have cancer—and if it were serious, he would refuse treatment.
On Wednesday, the 73-year-old president had an annual colonoscopy and doctors have taken additional tissue samples.
In a televised dinner at the presidential palace on Thursday he hinted that he may be ill and that, if so, he would step down.
"I don't know where I'm now physically, but I have to wait for that. But, I will tell you if its cancer. If it's third stage, no more treatment. I will not prolong the agony in this office or anywhere," he told graduates of the Philippine Military Academy, according to Reuters.
Duterte spokesman Harry Roque said a "growth" had been found in Duterte's digestive tract and this required further tests, local news outlet ABS-CBN News reported.
"The president is not inclined to hide anything about his health. I assure the public, the president will not hide anything. If it is serious, he will inform the nation," Roque said.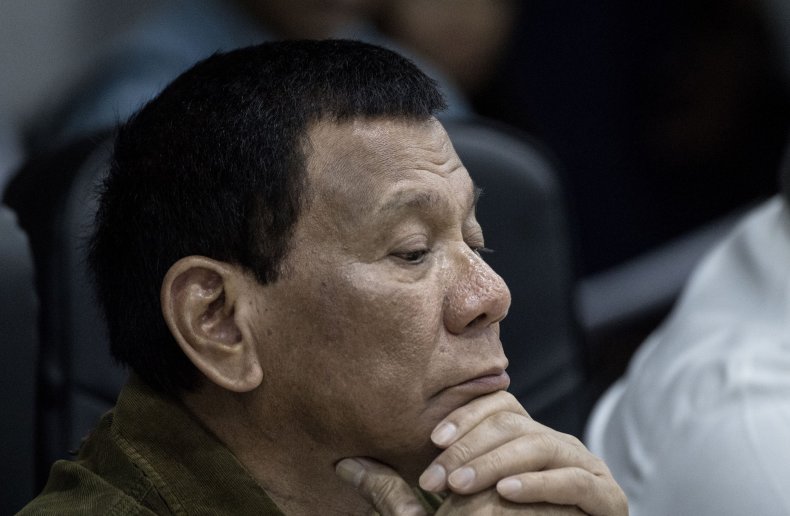 There had been speculation about Duterte's health when he disappeared from public view for a week last year.
He has said in the past that he suffers from frequent migraines and has spinal issues as well as the blood vessel disease Buerger's disease, which is caused by smoking. He also admitted that his acid reflux had worsened.
Under the constitution, the president has to reveal any serious illness to the public. If he were to step down, his role would be taken up by Vice President Leni Robredo, the leader of the opposition Liberal Party. But Duterte has said that Robredo is too "weak" to handle the presidency, Bloomberg reported.
After a trip to Israel and Jordan in September, Duterte explained the discoloration in his skin was due to long exposure to desert sun.
Earlier this week, he admitted that he had ordered extrajudicial killings in his controversial war on drugs.
In response to criticism over how he ran the country, he said: "I told the military, what is my fault? Did I steal even one peso? My only sin is the extrajudicial killings."
Thousands have been killed since Duterte took office in 2016. Currently there are two official complaints against him before the International Criminal Court.