Duterte to Police: 'Do Not Answer' Crimes Against Humanity Investigators
Philippine President Rodrigo Duterte has ordered the country's police and soldiers to avoid cooperating in investigations into his controversial war on drugs.
Duterte has faced international condemnation for his brutal zero-tolerance policy toward drug users and dealers. The International Criminal Court (ICC) has opened a preliminary investigation into crimes against humanity involving the populist leader, The Guardian reported.
In a speech to elite armed police units in his hometown of Davao on Thursday, Duterte said, "When it comes to human rights, or whoever rapporteur it is, my order to you: Do not answer. Do not bother."
Addressing the ICC, he asked, "And who are you to interfere in the way I would run my country? You know very well that we are being swallowed by drugs."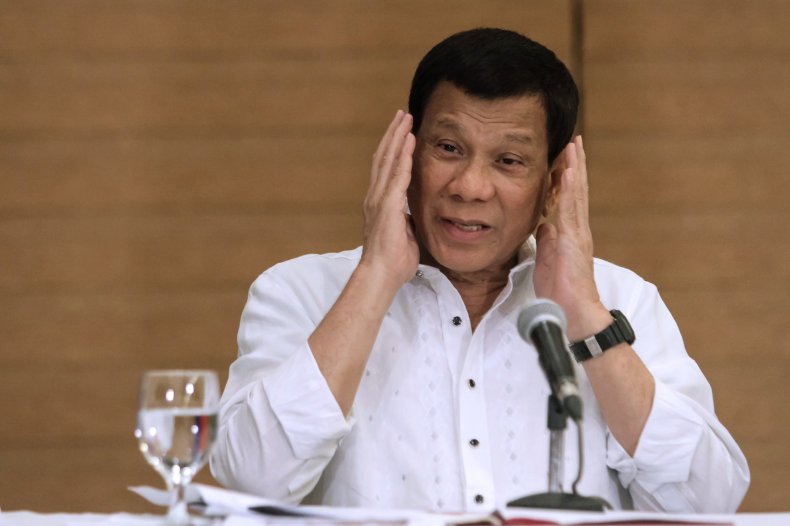 Human Rights Watch claims that 12,000 people have been killed in Duterte's drug crackdown since he took office in 2016, of which approximately 4,000 were killed by police. The rest of the killings were attributed to "unidentified gunmen." Duterte has openly encouraged citizens to take justice into their own hands, telling Filipinos, "Do it yourself if you have the gun—you have my support."
Authorities have claimed that all killings carried out by police were justified, as the suspects were armed and had resisted arrest. Human rights groups said this was not true, and that most of the killings amounted to police executions.
Although the Philippine government said it would welcome a U.N. investigation into its anti-drug campaign, it claimed that Agnes Callamard, the current special rapporteur on extrajudicial killings, is biased and unqualified.
Duterte also said that if he is found guilty of crimes against humanity, he is willing to "rot in jail" to protect Filipinos.
On Wednesday, the 72-year-old leader said he would not see out his six-year term, due to end in 2022, because "I am old. I have no more ambition. I really would like to rest."
There had been fears that Duterte planned to extend his term and establish a federalist system in the country. But he told a military audience in January, "If I overstay and wanted to become a dictator, shoot me, I am not joking."
Despite his brutal approach to the country's drug problem and many offensive remarks, Duterte remains popular in the Philippines, with his public approval rating hovering around the 80 percent mark.