Duterte Skips Important Summit Meetings to Take 'Power Naps,' Says President's Office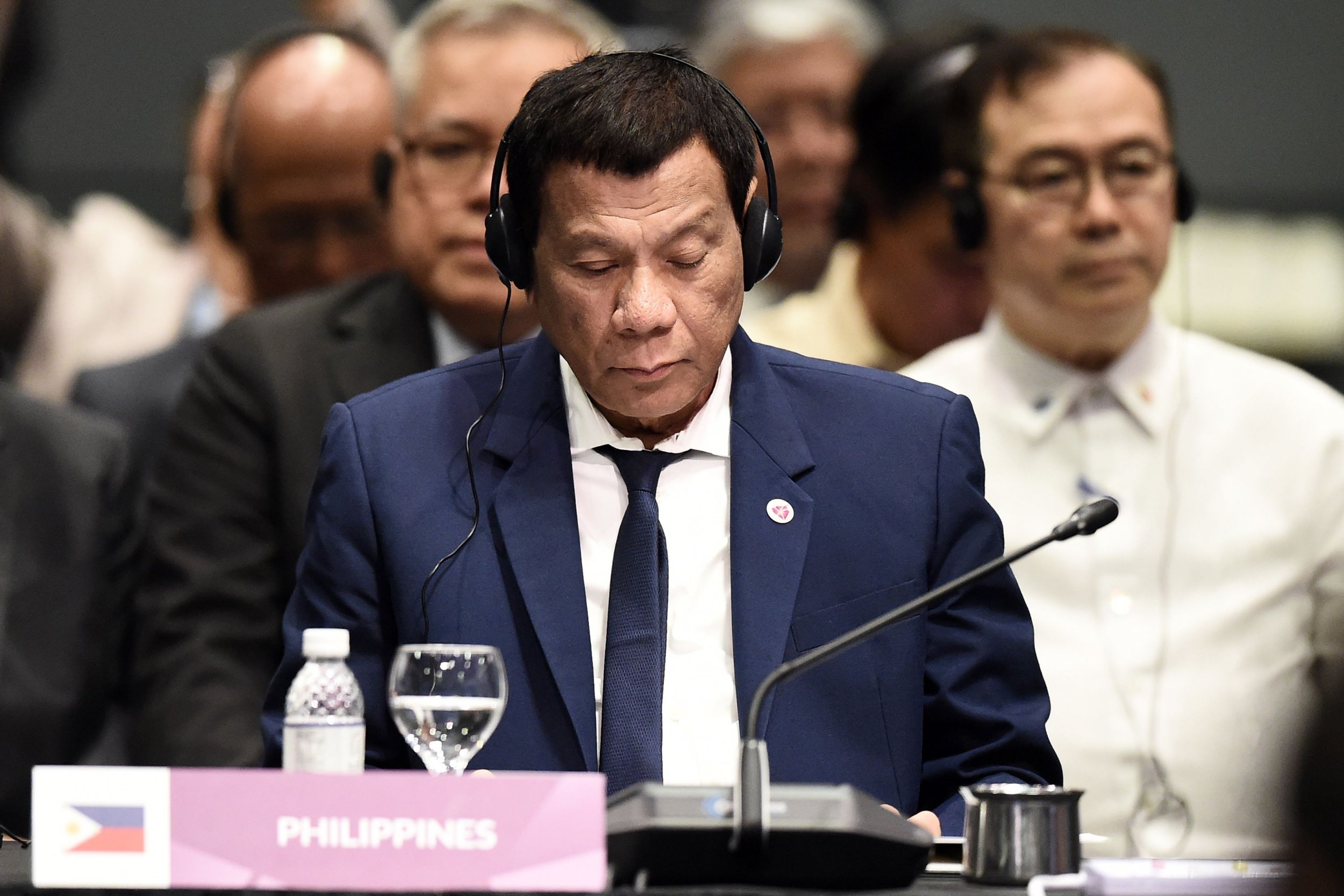 Philippine President Rodrigo Duterte's office has admitted the strongman leader missed several meetings at an ongoing international summit because he was taking "power naps."
The 73-year-old is in Singapore this week, attending the Association of Southeast Asian Nations (ASEAN) meeting. But multiple high-level meetings have been delayed or cancelled so he could sneak in some extra sleep.
According to the BBC, the president defended himself, saying, "What's wrong with my nap?"
Presidential spokesman Salvador Panelo explained the president had been working late, claiming the leader managed "less than three hours of sleep."
When asked whether the naps had left him fully rested, Duterte said they were "still not good enough, but enough to sustain the endurance for the last days."
Philippine media and opposition politicians have long speculated on Duterte's health. The president has admitted he suffers from four separate illnesses, but has ensured Filipinos that none are terminal, despite suffering a cancer scare in October.
Duterte's diagnoses include Buerger's disease, in which blood vessels narrow due to a buildup of nicotine. A past motorcycle injury has also made him reliant on the powerful opioid fentanyl, ironic given his bloody anti-drug crusade that has left thousands dead.
Panelo, however, told the media Duterte's naps and missed meetings had "nothing to do with his health." In a statement, he cited the "president's constantly punishing work schedule" as "proof that he is in top physical shape."
Duterte has said several times that he does not wish to continue serving as president for much longer because he is tired of the responsibility and the corruption probes launched against him.
In August, opposition lawmaker Antonio Trillanes IV suggested Duterte "is trying to appear piteous so that he could get the people's sympathy to deflect from crises and corruption scandals. "I believe he is healthy, but lazy," Trillanes added.
The president's opponents have previously accused Duterte of plotting to extend his term and remain in office illegally. Duterte has consistently dismissed such allegations, and in January in a speech to soldiers said, "If I overstay and wanted to become a dictator, shoot me. I am not joking."
Though the Philippines' new constitution—under which the country will shift from a constitutional republic to a federation—stipulates that Duterte cannot stand for re-election at the end of his term in 2022, he could decide to step down early.
Another leader—South Korean president Moon Jae-in—also appeared short on sleep during the ASEAN conference. Moon was pictured apparently napping in his chair while waiting for U.S. Vice President Mike Pence to arrive for a meeting.