Dwayne Johnson is Changing Hollywood, One Social Media Post at a Time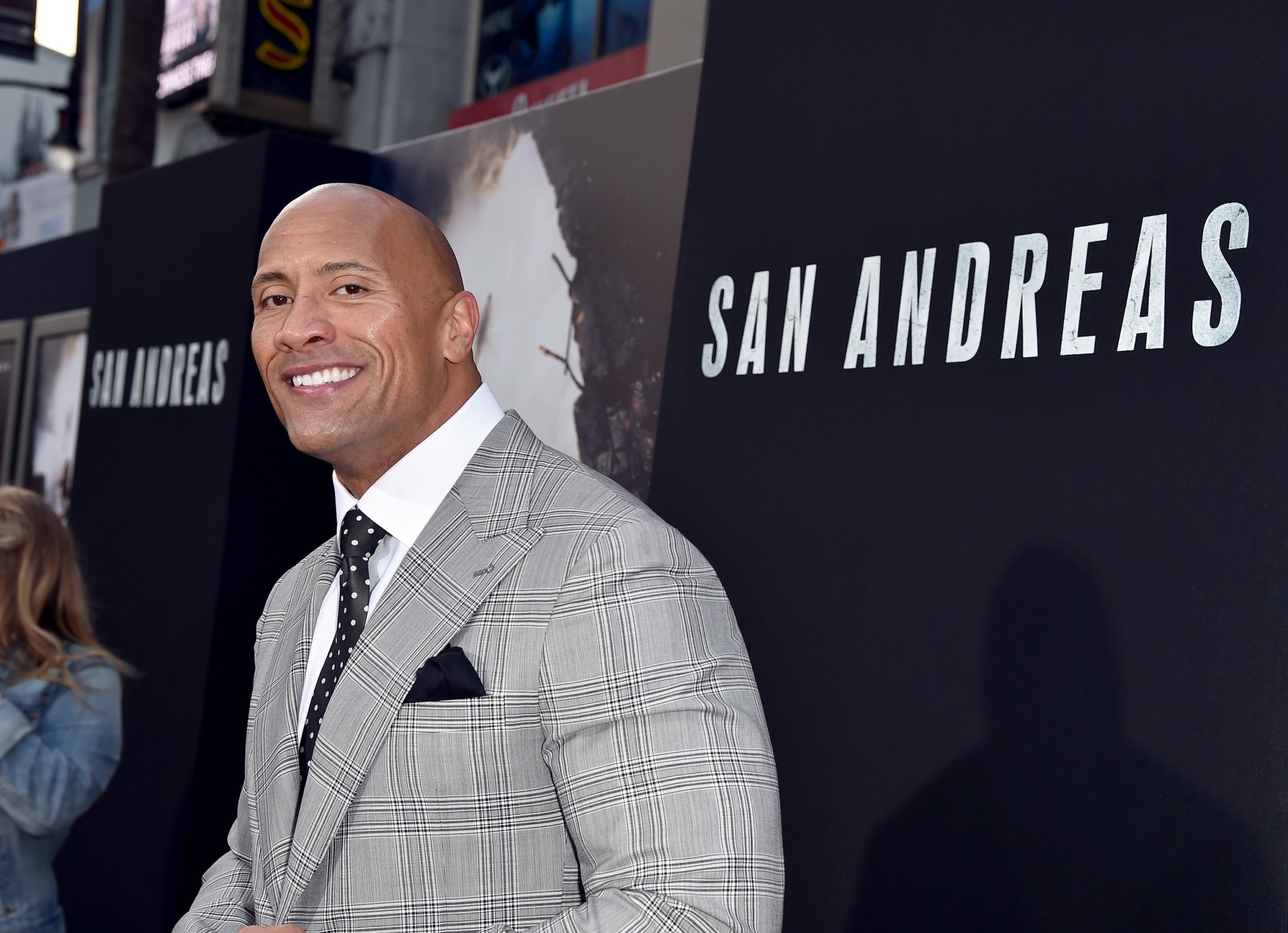 Social media is rapidly changing the way movies are promoted and one man is leading the charge: Dwayne "The Rock" Johnson.
While the old-age practice of shrouding film sets in secrecy still has its merits in the modern era—take, for example, J.J. Abrams' quietly produced 10 Cloverfield Lane pleasantly surprising audiences with it's very existence—for big summer fare (an arena Johnson dominates), getting the publicity train started as soon as possible seems an efficient way to maximize your film's chances at the box office. After all, May to August is a key time for tentpole releases and big-budget movies, all released in quick succession and all clamoring for moviegoer money tend to cannibalize each other.
Then comes along a movie star like Dwayne Johnson. A former professional wrestler with a fan base all over the globe—evident from his 45.6 million Instagram followers and 54.6 million Facebook fans. He's not the prototype of an actor in the stage school sense, nor are his films likely to win Oscars, but he is wholly unpretentious about his role in Hollywood. He's happy making popular movies, "popcorn flicks" if you will, that his fans will enjoy, and he knows exactly how to sell them.
One quick glance at his Instagram account and you can't escape the sea of behind-the-scenes content from his next movie Baywatch , currently in production in Miami. From pictures with co-stars to casting announcements, Johnson is allowing fans to get in on the ground floor, creating brand awareness and fan loyalty from the outset, which in turn should have a positive effect on box office receipts when it finally opens in a year from now, in May 2017. The on-set sneak peeks are also ensuring almost daily press coverage of the film—without studio Paramount Pictures having to spend a cent on costly marketing materials.
This isn't an actor so adverse to his own fame, as some Hollywood types are, that he hides himself away from the public eye between projects, or coolly declares he doesn't even know how to use Twitter, as if it were a badge of honor. As well as his movies and other professional projects, Johnson is only happy to share glimpses into his own life, such as the birth of his new daughter, with his fans, making him all the more three-dimensional and 'lifelike' to loyal followers.
This unabashed self-promotion, it seems, can be traced back to the 43-year-old star's early days as a pro wrestler. A third-generation star who followed in the footsteps of his father Rocky Johnson and grandfather "The High Chief" Peter Maivia, Johnson knows all too well the hustle it takes for budding wrestlers to break out in the business and get noticed by the "big leagues," namely industry leader WWE. Far and away from the glamor of televised pro wrestling, many will toil on the independent scene first, working small events for little money—something Johnson has spoken about in the past. "In '95, I had $7 bucks. By '96, I was wrestling in flea markets for $40 bucks a night," he began in one Facebook post.
To make it in the competitive, cutthroat world of "indies", self-promotion and ingratiating oneself to event organizers and fans is key to survival. With no guaranteed work, selling yourself as the best man for the job is the only thing stopping someone else from being booked over you.
It seems this instinct has carried through with Johnson in his approach to Hollywood, where he has carved out a niche as a social media showman, constantly on the hustle to create brand awareness around his various projects. Says Mike Johnson, pro wrestling journalist at PWInsider, "Johnson learned from professional wrestling in a lot of ways. It's ingrained in his DNA because he grew up traveling the different territories that his father wrestled in. The self-promotion and never-ending playing to the 'camera', so to speak, that comes from the pro wrestling world obviously."
Johnson's one-man publicity tour de force is paying off. 2015's San Andreas is a fairly paint-by-numbers disaster movie—enjoyable yet forgettable. But it was a hit at the box office, grossing nearly $500 million worldwide and warranting a sequel. That film acted almost as the prototype to Johnson's Baywatch strategy as he took fans behind-the-scenes of his lengthy media tour around the globe, Instagramming premieres and press junkets and sharing clips to the masses. He's not only marketable as a leading man but also leverages his mega-star power in the marketing campaign itself.
That isn't to say Johnson's social media interaction is disingenuous and solely for marketing purposes alone; his Instagram captions always read as genuine and are directed personally at his fans. He's even kickstarted a lifestyle brand, Project Rock, to inspire his fans. There's a reason why he's known as the "People's Champ" in wrestling. "He's not speaking down to his audience—he's trying to speak to them. He's not just giving them insight but also wants them to feel as if they are on this ride with him," says Mike Johnson. This, too, can be linked to his pro wrestling past. Adds the wrestling journalist, "Johnson knows all too well that pro wrestling fans follow the journeys of their favorites the way sports fans follow their team's seasons. I think he's tapped into that fanatical love and has brought that 'home team' loyalty and excitement to his audience."
Others in Hollywood are starting to take notice and follow in Johnson's footsteps. Case in point: his Fast & Furious co-star Vin Diesel, no social media slouch either with 97.8 million Facebook fans , has been sharing plenty of production snippets from the set of his next movie xXx: The Return of Xander Cage on Instagram.
But as things stand, for now anyway, there's only one undisputed champion of social media—and pity the poor soul who tries to wrestle the title away from him.