Dwayne Johnson Shares Throwback To When He Was An 11-Year-Old Aspiring Wrestler
Dwayne Johnson knew he wanted to a wrestler from a very young age and the Rock has delighted fans with his latest throwback picture.
The former pro-wrestler took to Instagram to share a snap from when he was just 11 years old and had big dreams of entering the ring one day.
In the sweet photo, the baby Rock (Pebble?) is all kitted out in his dad's wrestling gear, from the boots to the championship belt.
"A lil' throwback action to 1983, when I was 11 years old," he wrote. "I used to LOVE putting on my dad's wrestling trunks, boots, jacket and championship belts—dreaming of one day becoming a pro wrestling champion."
Johnson then poked fun at his younger self's softer physique, before he transformed into the muscle-bound athlete we know today.
"Only thing I forgot to wear was my training bra!!!" he joked. "C'mon afro tits, you're gonna be late for school!"
Unsurprisingly, the photo and caption have garnered quite the response from fans and friends of the Moana star.
Comedian James Jefferson Jr. replied: "Lol you look older in the face here then you do now, How you look 12 and 46 at the same time?!"
While YouTuber Daz Black added: "You know this is going to be the next big Halloween costume."
The Rock loves a good throwback and so do his fans—who could forget his iconic and much-imitated nineties turtle neck photoshoot?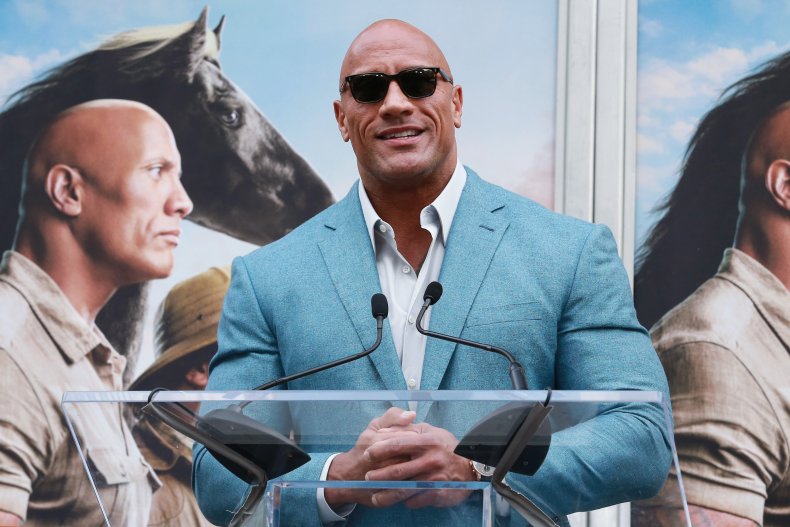 Dwayne's late father, Rocky Johnson, was a professional wrestler who joined the WWE in 1983. He passed away in January ages 75.
He posted a touching tribute to him at the time. "Dad, I wish I had one more shot to tell you, I love you, before you crossed over to the other side," he wrote.
"But you were ripped away from me so fast without warning. Gone in an instant and no coming back. Im in pain. But we know it's just pain and it'll pass."
It looks like Johnson has truly delved into some old photo albums as just last week he shared another photo of himself as a child, this time aged seven and posing for a school picture in a Hawaiian shirt.
"Throwback to 7 years old in Hawaii, and just drippin' cool with my buck teeth, aloha shirt and WTF is going on with my afro matted down on one side!??" he captioned the photo.
"No way this stud doesn't grow up to become Sexiest Man Alive."