Dwayne Johnson's Joe Biden Endorsement Viewed Nearly 3 Million Times In Just 4 Hours
Dwayne Johnson caused a stir online when he endorsed Joe Biden for President Sunday night, with his video viewed almost three million times in just four hours.
The Rock, 48, stressed to his millions of followers that Democratic candidate Biden and his running mate Kamala Harris are the clear choice for the 2020 election.
According to MarketWatch.com, the former pro-wrestler's "first ever (public) presidential endorsement" immediately went viral when it was posted.
A tweet with the video, which featured a Zoom conversation with Biden and Harris shot straight to the top of Twitter's trending charts and has since received more than 345,000 likes.
The same video currently has 5,726,871 views on Instagram at the time of reporting.
Introducing his chat with the Democratic running mates, Johnson said: "Look, I've got friends in all parties, but the one thing we can always agree on is the conversation and the dialogue, and where that conversation lands is always the most critical part. Now, this is something that I've certainly not done in the past, so I'm going to go big. You guys know me, if I go, I go big!"
Johnson said in the clip that he has "never publicly endorsed a presidential candidate or vice-presidential candidate in my life," adding: "You guys are both experienced to lead, you've done great things. Joe, you've had such an incredible career, and you've led, in my opinion, with such great compassion, and heart, and drive—but also soul."
Speaking to Harris, Johnson continued: "You have been an attorney, a district attorney, a state attorney, a U.S. senator—smart, tough. I've seen you in those hearings, and in my opinion you're a certified bad***."
Johnson asked Biden how he will "earn the respect of the American people" once inside the White House, to which the former Vice President responded: "By doing what we say we're going to do, by keeping our word, by leveling with the American people, by taking responsibility. When we fail, acknowledge it. We're not going to be perfect, but take responsibility!"
Biden continued: "Tell the truth! It sounds so basic, but the American people are strong, they're tough. They can take anything if you level with them and tell the truth."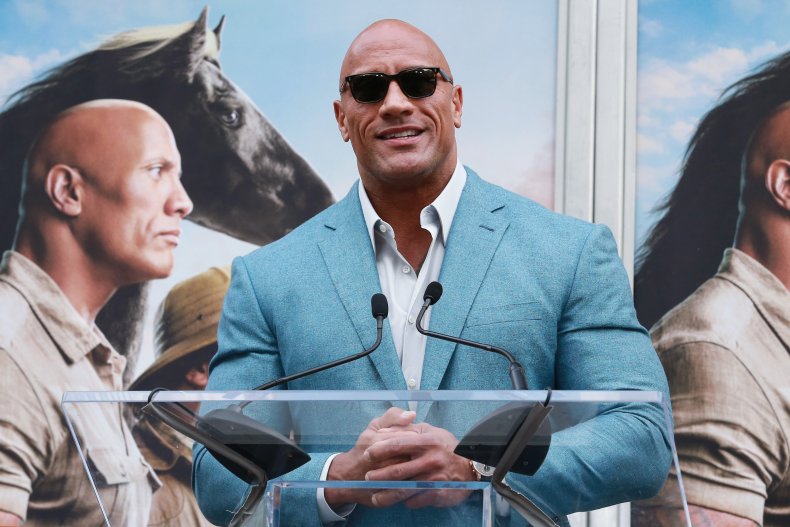 Johnson's endorsement has unsurprisingly been divisive among Twitter users, with the Hobbs & Shaw star garnering both positive and negative attention for the move.
One person tweeted: "The Rock just endorsed a party that burns down their own cities. You can't make this crap up."
While another added: "Dwayne 'The Rock' Johnson is just another celebrity who thinks we give a damn about his political opinions. He's all muscle and no talent — nobody cares about his political endorsements!"
However, he also received a lot of praise, with one comment reading: "People angry at The Rock for endorsing Biden and telling him they don't listen to the opinions of out of touch celebrities while they LITERALLY VOTED FOR ONE."
Another tweet reads: "Rock Solid Endorsement. Thank you, @TheRock for stepping into the ring. This is the most critical election of our lifetime, none of us can stay on the sidelines."