Dwayne Johnson's Latest Hosting Gig May Be More Than Another Paycheck
"President Dwayne Johnson" has a nice ring to it for some. On Saturday, June 27, the Hobbs & Shaw actor is slated to host the Global Goal: Unite for Our Future—The Concert, which will air on NBC. The virtual event is not a fundraiser; it aims instead to draw awareness about the impact the coronavirus pandemic has had on marginalized communities, according to The Hollywood Reporter.
The live stream will feature performances by Chloe x Halle, Christine and the Queens, Coldplay, J Balvin, Jennifer Hudson, Justin Bieber and Quavo, Miley Cyrus, Shakira, Usher and Yemi Alade, along with appearances from Billy Porter (Pose), Charlize Theron (Bombshell), Chris Rock (Grown Ups), Kerry Washington (Scandal), Salma Hayek (Frida) and soccer star David Beckham.
For Johnson, this upcoming hosting gig could be more than just another paycheck. The former pro wrestler has flirted with the idea of running for office in the past, and the Global Goal live stream is a great opportunity for him to present himself as a compassionate leader. His focus on major world issues, such as the coronavirus pandemic, could mean that his eyes are on a presidential run in the coming years.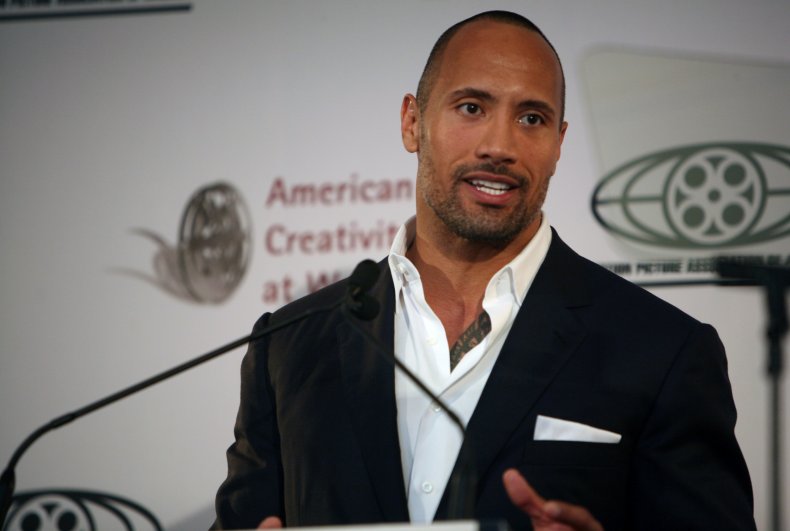 "The event aims to lift up the global community that is tackling equitable access to health care, and other enormous injustices facing our world," Johnson said in a statement for the June 27 live stream, ABC reported. The global broadcast will call on world leaders to make COVID-19 testing and treatment available for all.
Johnson has been very vocal on how he feels about President Donald Trump's leadership skills, or lack thereof, recently. On June 3, the actor delivered a passionate speech following the death of George Floyd. Johnson called out Trump and spoke about racism and police brutality. "Where is our leader at this time when our country is down on its knees, begging, pleading, hurt, angry, frustrated, in pain with its arms out, just wanting to be heard?" he said in the video shared on Instagram.
Many fans considered it a presidential statement, and insisted he run for office. "THE ROCK FOR PRESIDENT!! WE NEED YOU... LEAD THIS NATION W A FIRM GRIP OF COMPASSION!!" one fan wrote. "What are you waiting for? THE ROCK for president!!! Its not a joke, USA need some one that cares for everyone!" another chimed in. "That is a leader, right there!" a third agreed.
The Rock has teased a presidential run in the past. However, he isn't ready to jump into the political arena just yet. Johnson first fueled speculation about running for political office when GQ published the article titled, "Dwayne Johnson for President" in 2017. He called the idea "a real possibility" at the time.
The following year, he told Rolling Stone: "I'm not ruling out the idea if I could make a bigger impact somehow, or potentially surround myself with good people." Johnson also revealed to Vanity Fair in 2018 that he has "so much respect for the position," and although he seriously considered it in the past, he says that he needs time to go out and learn. More events like the Global Goal: Unite for Our Future live stream could prime him for running for office.
Newsweek did not receive comment from Dwayne Johnson at the time of publication.