Man Gets Third DWI After Being Pulled Over With a Chicken on His Shoulder
A Wisconsin man was pulled over by police after reports of erratic driving. Responding officers found empty beer cans in his vehicle and a chicken that had been riding on his shoulder.
WDJT reported that police were called to Howell Avenue in Oak Creek on November 3 for reports of a man driving erratically and crossing the center line.
"We're on Howell, there's a guy behind us, and he has a—he's driving really reckless, but he has a hawk in his car. He's like just driving, holding it, he's swerving all over the road on Howell," a 911 caller reported.
Police caught up with the vehicle near the intersection of Howell Avenue and Drexel Boulevard. When they approached the car, they noticed a bird flapping around inside. Upon closer investigation, it was revealed to be a brown chicken, not a hawk, that had been riding on the driver's shoulder.
A search of the car uncovered numerous empty beer cans. The 42-year-old driver, Ernesto Martinez-Garnica, was given a field sobriety test. He failed and arrested for his third DWI (but first involving poultry).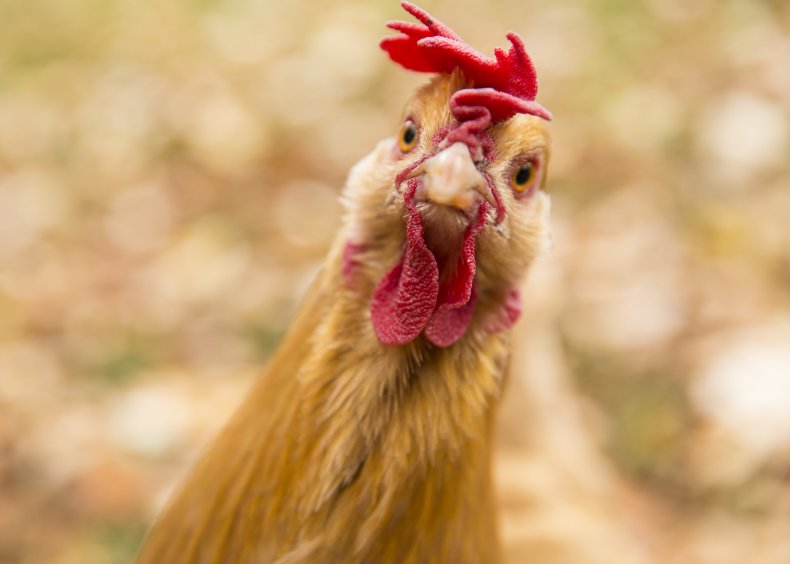 Dashcam footage showed an officer gently removing the bird from the car.
The chicken, which Martinez-Garnica told police was named Teresa, was placed in the back seat of the squad car with the driver's cousin, who had also been riding in the car, and transferred to the custody of the Milwaukee Area Domestic Animal Control Commission.
This isn't the first chicken-related DWI police have booked this year. Texas news outlet KXAS reported in June that a reckless driving investigation by the Aubrey Police Department turned up a bird in a very unusual location.
The officers pulled over a truck after observing erratic driving and arrested the man behind the wheel on suspicion of driving while intoxicated. Since there was nobody else in the vehicle who could take it home, they called a local towing company to impound it.
As police were searching the truck bed in preparation for the tow, they discovered a live rooster inside a toolbox. The towing company built a temporary coop for the bird and it spent the night at their facility before the driver's sister picked it up the next morning.
In March, WVUE reported that a police deputy was alerted to a car that had crashed into the intercom box outside a Raising Caine's chicken restaurant in Louisiana. When an officer investigated, he found 27-year-old Zack Thibodaux asleep behind the wheel. He was removed from the vehicle and failed a field sobriety test. Police believe that Thibodaux had a late-night craving for chicken fingers and passed out before he could place his order.