Do the Golden State Warriors Have the Greatest Starting Five in NBA History?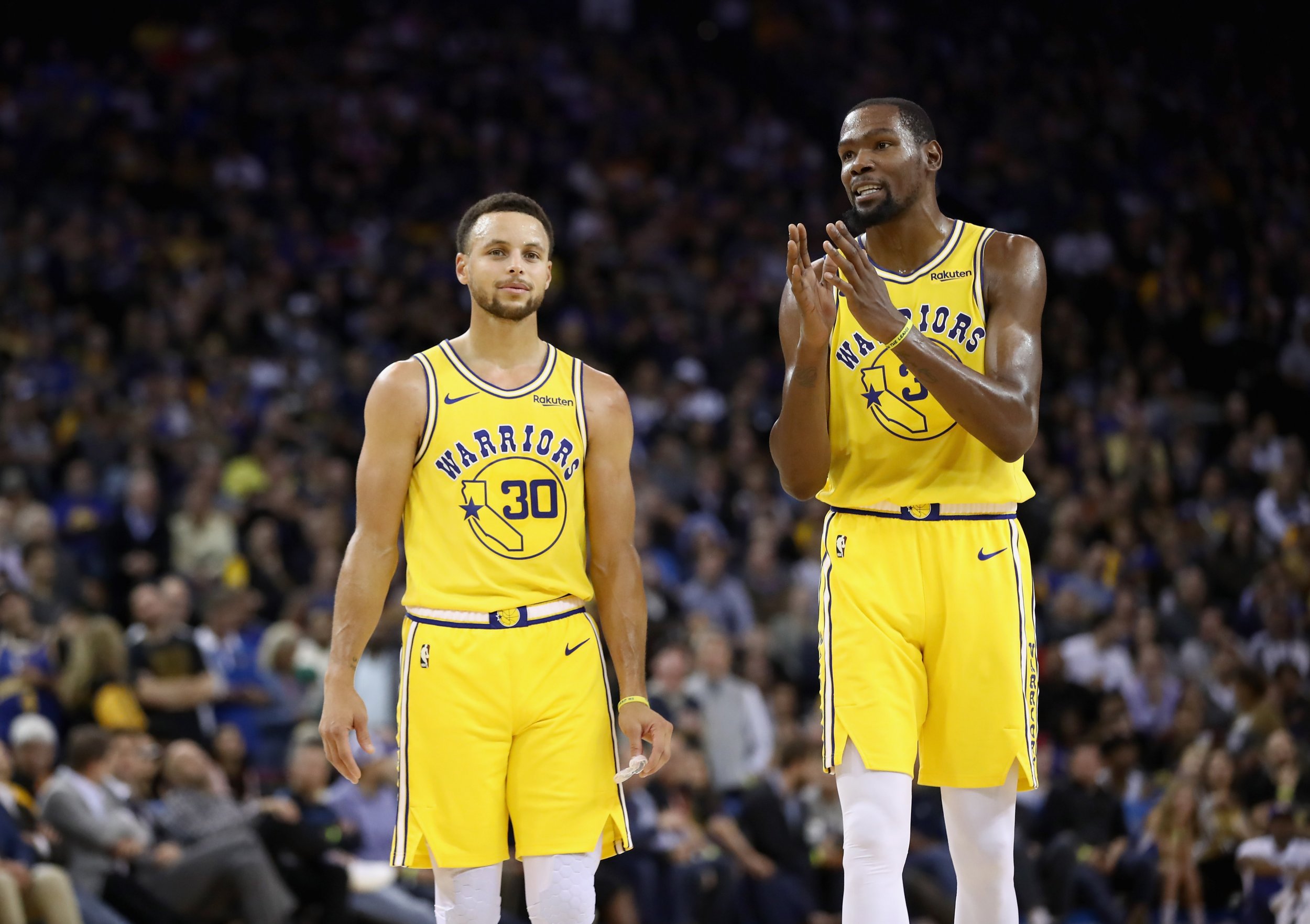 Dwyane Wade believes the Golden State Warriors' starting line-up is arguably the best the NBA has ever seen.
Having won three titles in the last four years, in the summer the Warriors added DeMarcus Cousins to their already star-studded roster and can now field five All-Stars in their line-up.
At the beginning of the decade, Wade was an integral part of the Miami Heat's "Big Three" alongside LeBron James and Chris Bosh. However, while the trio won two consecutive NBA titles, Wade admitted they did not come close to have a starting line-up able to match this season's Warriors.
In fact, few, if any, teams in NBA history can claim to have fielded a starting five as good as Golden State's.
"That is as good as it gets in our game with any team ever to play this game," Wade was quoted as saying by ESPN on Sunday night, after the Heat lost by two points against the Warriors in Oakland.
"That is as good as it gets with a starting five. That is why they are who they are, that is why they are champions. To be able to add a guy like DeMarcus to it, that is what great teams do. They add a piece and keep adding certain right pieces, and they've done it."
Cousin is a four-time All-Star, while Draymond Green and Klay Thompson have three and five All-Star appearances, respectively. Kevin Durant will play in his 10th All-Star Game next week and Stephen Curry will make his sixth appearance.
Additionally, sixth-man Andre Iguodala also has one All-Star appearance to his name.
Wade, who will make his 13th and final All-Star appearance next week, however believes the Warriors' dynasty will eventually come to an end.
"The superteams go back a long way, way before the Miami Heat did it," he explained.
"Having Hall of Famers, multiple Hall of Famers on one team. The league will continue to put the right talent around."
Against the Heat, Durant, Thompson and Curry combined for 93 points, tied for their third-most prolific game as teammates. According to ESPN Stats & Info, the Warriors are 8-0 when the trio combine for at least 90 points.
Durant top scored for Golden State with 39 points, adding six rebounds and four assists in 37 minutes, while Thompson finished with 29 points and Curry chipped in with 25.
Making his final appearance at the Oracle Arena, Wade was received a hero's welcome as the Warriors paid tribute to the soon-to-be-retired star with a video tribute that was played during the first quarter timeout.
The veteran guard almost helped the Heat pull off an upset, as he came off the bench to score 10 points, adding nine assists and six rebounds.
The Warriors, however, had just enough to hold off Miami and secure a fourth consecutive win, which improved their record for the season to 40-15 and tightened their grip at the top of the Western Conference.
Miami slipped to 25-29 with a second consecutive loss and remains tied with the Detroit Pistons for the final playoff berth in the Eastern Conference.