Dwyane Wade Mentions Kobe Bryant in Emotional Jersey Retirement Speech
On an evening when his No. 3 jersey rose to the rafters of Miami's AmericanAirlines Arena during a jersey retirement ceremony, former Miami Heat star Dwyane Wade paid tribute to the late Kobe Bryant Saturday.
"Kobe said the most important thing is to try to inspire others so they can be great in whatever they try to do," Wade mentioned. "I hope I inspired you. Thank you for making me a part of your legacy. Please know you're a huge part of mine."
Wade, a three-time-champion, stood at center court surrounded by friends and family, thanking all of them for shaping him on and off the court.
Each name Wade mentioned resulted in cheers from Heat Nation, the fan base that watched him play from the moment he was drafted from Marquette University in 2003 with the 5th pick in the NBA draft. The final name he echoed might have drummed the loudest cheers of all was Bryant's.
Wade's career was one of many that were inspired by Bryant. Playing the same position as him, having many of the same tendencies of work ethic, passion and ultimately, success, in the league. The two players shared many battles on the court to the jubilation of the crowds that watched him.
Wade has had many star-studded teammates throughout his career, none bigger than Shaquille O'Neal, LeBron James, and Chris Bosh. All had kind words to say about Wade; LeBron, in particular, had this to say.
"My brother D-Wade, I just want to say congratulations to you man on getting your jersey retired," James said in a video tribute. "I mean, am I really sitting here congratulating you on something that we both knew was going to happen when we were sitting at pre-Draft in Chicago? I feel like as soon as the Miami Heat drafted you and said Dwyane Wade out of Marquette that the name and the jersey was going up in the rafters. I think it was inevitable.
A three-time champion, finals MVP and undoubtedly a first-ballot Hall of Famer, Wade established himself as one of the greatest players in NBA history. To the city of Miami, he became more than that. Arguably the greatest athlete in the city's history regardless of sports, Wade touched the heart of the city and spoke about his impact on fans around the world.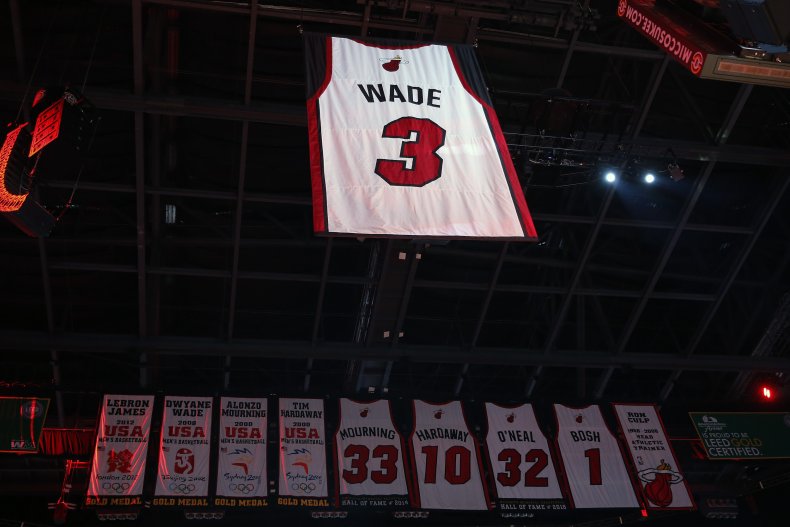 "I'm most proud that I've inspired different generations to want to be better, to want to be greater, to want to do things they never thought they would," he emotionally stated. "My goal is to bring people with me and lift others up along the way. That's legacy. When you're able to change someone's life and help their families have generational wealth. It's not how many points I score or how many times I dunk the ball. That's not legacy to me. Legacy to me is how much change I can create."