Dwyane Wade's Proposal Photobomb Isn't the First Time a Celebrity Crashed a Memorable Picture
The only thing that could make a proposal or wedding more memorable is a random celebrity passing by at the right moment (no pressure, Tom Hanks). On Thursday, Dwyane Wade accidentally photobombed a couple's beachside proposal in Santa Barbara, California.
The photographer captured his wholesome reaction, and the NBA star even posed for a picture with the newly engaged couple. "When @dwyanewade happens to be taking a sunset stroll on the beach and walks by mid-proposal," Ryan Basch captioned the Instagram post, which received over 48,000 Likes.
Wade also shared the pictures on his Instagram story, writing that "It was so dope to witness you guys love!"
This isn't the first time a celebrity got to be part of a couple's engagement or wedding. And apparently, it happens more often than you might think.
Tom Hanks
While filming Angels and Demons in Rome in June 2008, Hanks came to the rescue of a bride on her wedding day. The film's crew was shooting outside the church the bride and her father were about to walk into. Production halted so Hanks himself could escort them into the ceremony. He even offered the bride his arm and kept her veil from dragging on the streets.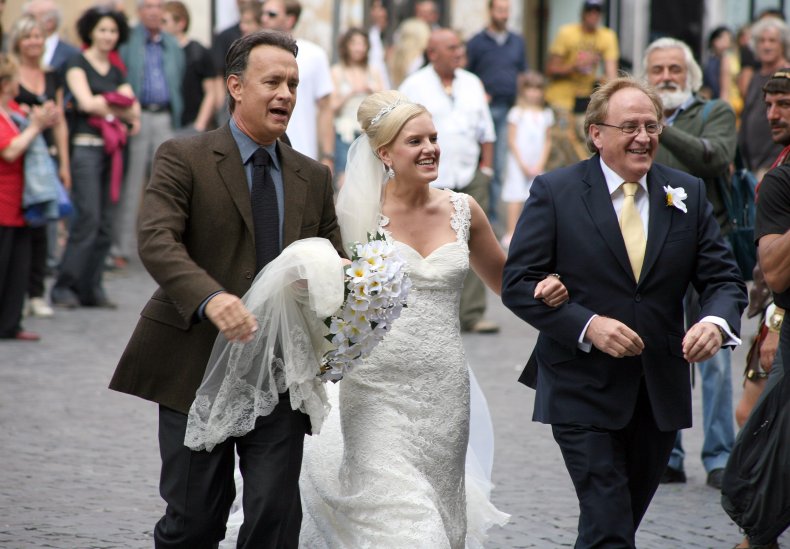 Will Ferrell
Will Ferrell took Wedding Crashers to a new level. In December 2009, a New York Times wedding announcement featured a familiar face creeping in the background of a portrait. Jessie Fuller and Buck Rodgers' photo was graced by the presence of Ferrell. Rodgers was a production assistant on Ferrell's film The Other Guys, which was filming in New York. Ferrell appears to be standing behind the couple in the photo.
Zach Braff
The Scrubs alum casually walked through a couples' wedding pictures in Times Square. He shared his photobomb on Twitter in November 2013.
Amy Schumer
The comedian crashed an engagement shoot in 2015 while running by. "Beautiful engagement photo ruined by yours truly," she joked.
Tom Hanks (Again!)
In September 2016 during a morning jog through Central Park, Hanks happened to pass by a couple's wedding photo shoot. Photographer Meg Miller told Huffington Post that typically, joggers will stay away during photoshoots in the park. However, she lowered her camera when "this guy" got very close to the shoot, and she was going to let him pass by.
However, Hanks approached the happy couple, took off his hat, and introduced himself. He shook the groom's hand, kissed the bride's hand, and posed for a couple pictures. "He asked if they needed a wedding officiant, because he is an ordained minister," Miller shared.
After he took a selfie with the couple, he continued with his morning jog. "Had he just run past us we would have never known it was him," Miller recalled. Hanks also tweeted a sweet selfie of him with the couple.
Bradley Cooper
While visiting his alma mater, Georgetown University, in October 2016, the actor posed for some pictures with a couple as they walked around campus. "Their friend, Bradley Cooper, was visiting Georgetown and made sure to congratulate the newlyweds as they walked around campus," the photographer casually mentioned.
Dave Chappelle
An engagement photoshoot at an Ohio brewery was crashed by the comedian in November 2018. The photographer joked that she would have to end her career because nothing could be better Chappelle's guest appearance. "So, I was shooting this engagement session at a brewery tonight and this dude photobombed us... idk, you may have heard of him. Dave something?? LOL NO FOR REAL GUYS! THE Dave Chappelle photobombed our shoot," she wrote. "I'm going to have to quit photography now because how will I ever beat this?"
Jason Momoa
Aquaman himself appeared in these sweet wedding photos in Hawaii, trident and all. "When Aquaman goes Sasquatch he goes big! Thank you @prideofgypsies for making this special couples special day extra special!" Instagram user Eric wrote in December 2018.
Jason Segel
Megan Monaco and Joe Fetrow were in Philadelphia to take engagement pictures, and the How I Met Your Mother star made a cameo in between them. In October 2019 Jason Segel jumped into the frame while the couple posed outside the Philadelphia Art Museum. "You don't expect something like that to happen ... and then it does, and it was so fun," Monaco told the outlet.
"We waved hi to him ... and then he started walking over to us," she added. "Then he said, 'Just keep doing what you're doing I'll get in a photo with you!'"