Dylan Sprouse Talks Time Out of The Spotlight and The Importance of Teen Films Like 'Banana Split'
Dylan Sprouse isn't settling for just any role. He's selecting parts that will help him improve not only his career, but himself.
Once a child star, known for his role on shows like Friends (a split role as Ross' son Ben with his twin brother Cole Sprouse) and eventually the wildly-successful Disney Channel show The Suite Life of Zack and Cody, Sprouse stepped out of the spotlight for some time to live a normal life. He went to college and discovered his passion for brewing mead. Now, with a Meadery in Brooklyn and what seems to be a somewhat normal life out of the spotlight, Sprouse is ready to dive back in.
Sprouse plays Nick, the controversial boyfriend in Banana Split, a coming of age film that prioritizes female friendship above all else. He told Newsweek he responded to the role, which morphs as the film goes on.
"I found that it was innovative and fun and very easy to read and funny at the same time," he said of his initial look at the Banana Split script. "And I liked the character of Nick. I thought he was cleverly designed to kind of seem like a villain at first, but then you evolve to see him be more empathetic and you start to empathize with him."
There's an undeniable relatability to the characters of Banana Split. As the protagonist April falls in love and navigates a teenage breakup, she finds an unlikely friendship with Nick's new girlfriend. The film is saturated in honest portrayal of a breakup, and the hateful feelings one is likely to grow against an exe's new partner. It doesn't have to stay that way, though, the film teases.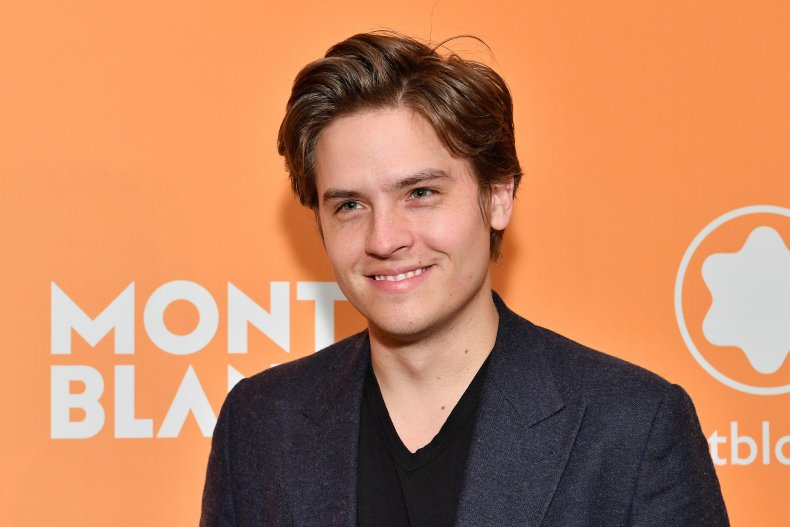 Nick, then, finds himself in the middle. But what he doesn't know about his new girlfriend's friendship with his ex won't hurt him. Right?
For Sprouse, the role of Nick is relatable. "He represents a lot of those feelings you have in the liminal space between high school and college and how you learn to identify what living matters to you moving forward into the next stage of your life," he explained. "I feel like Nick very much deals with those complications and everyone has had the experience of being the freshly out of a relationship to find that the person that they were with is unhappy with them or saying things maybe out of pain or heartbreak about them that's very different from the reality."
The film comes at a time of international turmoil, sparked by COVID-19. At the same time, it appears to be yet another extension of the ever-growing coming of age teen comedy/drama. Add it to a list of films like Booksmart and To All The Boys: P.S. I Still Love You which promise a bit more reality than your expected teen flick. Each new addition to the genre seems to add a layer of maturity, and Banana Split can be compared.
Sprouse thinks those films have always been relevant. "The things that they need to hear and almost kind of like, teen comedies almost kind of always have an educational aspect of them, for better or for worse, and part of that is the coming of age story, and I think that Banana Split certainly has those aspects in it," he noted. "And definitely accesses the situation of 17 to 19-year olds and tackles those problems in a mature, and more honest representation, of how high schoolers are actually like."
With his role of Nick, Sprouse has proven he's still relatable to a teen audience but also holds total control of his adult life. With one foot in the spotlight and the other in privacy and normalcy, Sprouse has a vision of his future. "I'd like to have some land, I'd like to be building a house, I'd like to be selling mead still. I'd like to be working on projects that I really like with people I like. And, I'd like to do it with the person who I really, really love. So that's what I'd like," he said.
Banana Split is available digitally and On Demand now.
Dylan Sprouse Talks Time Out of The Spotlight and The Importance of Teen Films Like 'Banana Split' | Culture