What to Watch on TV This Week: 'Dynasty,' 'Valor,' 'Madame Secretary' and More Show Premieres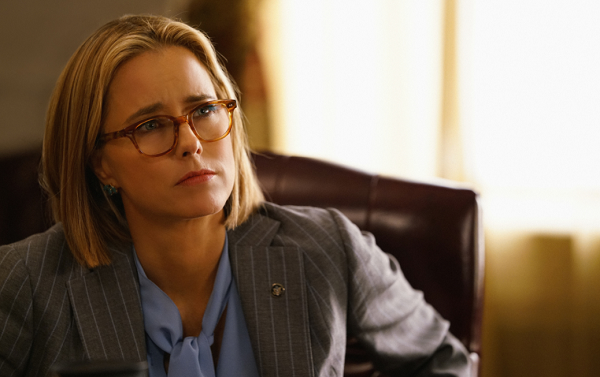 There's a long week ahead of all of us, but we still have some show premieres to keep us sane and entertained as we await Friday's arrival.
Check out everything that's returning, and premiering for the first time, on networks below:
Sunday:
Madam Secretary- Téa Leoni is back as the ambitious and aggressive Secretary of State for season 4 of the CBS show. Airtime starts at 10 p.m. ET.
Monday:
Supergirl- At 8 p.m. ET, the caped crusader, played by Melissa Benoist, is back to save the day on the CW for the third season in a row.
Valor- A brand new CW series, the show follows an elite group of U.S. Army helicopter pilots that return from a top secret mission in Somalia gone wrong and missing one of their partners. Only two pilots in the Shadow Raiders group know what really happened during the mission, and their secrecy could result in a life or death situation for their comrade. The series premieres at 9 p.m. ET.
Tuesday:
The Flash- Barry Allen is back on the CW to keep the good people of Central City safe from the many meta-humans that are threatening to destroy him. Catch his latest adventures when season four of the series returns at 8 p.m. ET.
DC's Legends of Tomorrow- More superheroes doing superhero things on the third season of the CW series, which premieres at 9 p.m. ET.
Tales- BET's new anthology series brings the lyrics to some of hip-hop's most influential tracks to life. For instance, the premiere episode theme draws from the lyrics of N.W.A.'s classic, "F**k the Police." Each week the series will draw interesting scenarios based on different rap songs. The first episode starts at 10 p.m. ET.
Wednesday:
Riverdale- It's the one question that's on everyone's mind: Who shot Fred Andrews? Find out when the CW show returns with season two at 8 p.m. ET.
Dynasty- They're not in Colorado, they don't own an oil company and there is no Alexis to stir up trouble, but the iconic Carrington family is back with their wealth of riches and drama—except reimagined in a present-day format. Regardless to the 2017 context, the new CW show is expected to be loaded with just as much mischief and secrets as the 1981 original. The first season kicks off at 9 p.m. ET.
Mr. Robot- Rami Malek is back as Elliot and his many personalities will be causing some strife throughout season three of the hacking series. The show starts at 10 p.m. ET.
Chance- Eldon Chance (Hugh Laurie) is letting his inhibitions run free on the second season of the Hulu series, and fans will watch the doctor embrace his dark side more than ever before.
Thursday:
Supernatural- The Winchester Brothers will return to battle more demons and mystical, evil things on the 11th season of the CW series, which airs at 9 p.m. ET.
Arrow- What will happen when Oliver Queen's (Stephen Amell) relationship with his newfound family of crime-fighters are threatened by the enemies of his past? Find out when the CW show returns at 8 p.m. ET.
I Love You, America- Sarah Silverman returns to Hulu for the second installment of her weekly variety series, during which she chats with notable Americans about the many aspects that make this beloved country so great (or, at times, not so great).
Friday:
Crazy Ex-Girlfriend- What's a girl to do after she's been stood up on her wedding day by love of her life? Get even, duh. That's exactly what our dear and slightly psychotic Rebecca Bunch (Rachel Bloom) will be doing when the CW show returns with season 3. And of course, there will be some really awesome and kooky songs along the way. Show starts at 8 p.m. ET.
Jane the Virgin- The CW series will pick up with a three-year time jump, and a seemingly new Jane. She's not a virgin anymore, but sadly, she's living her life as a widow. But hope for Jane's love life is not lost just yet. The show airs at 9 p.m. ET.
Mindhunter- Just like the book series of the same title, the new Netflix series will follow two FBI agents in the 1970s as they dive deep into murder cases by getting inside of the minds of the very monsters committing the most heinous of crimes.
Marriage Boot Camp- It's a whole new season of reality stars trying to figure out whether their relationship are worth saving, and it's up to Dr. Ish and Dr. V to help them figure it all out. Don't miss all the marital drama when the show airs at 9 p.m. ET.