Video: Inside Dyson's New Flagship Store
Dyson has opened its first ever U.K. retail store, offering visitors the chance to test out its bagless vacuum cleaners, bladeless fans—and get their hair styled.
The Dyson Demo, situated on London's Oxford Street next door to another high-tech showroom from Tesla Motors, is designed to be more of a showcase of the company's technology rather than a traditional retail space.
"The reason we're calling it a demo, not a store, is because we really want to bring to life all of the various pieces of technology that we have," Lee Bowra, Dyson's global flagship manager, tells Newsweek.
"We've not focused on filling the floor with plinths full of stock for people to purchase, we've actually filled the floor with beautifully designed plinths that bring that technology to life."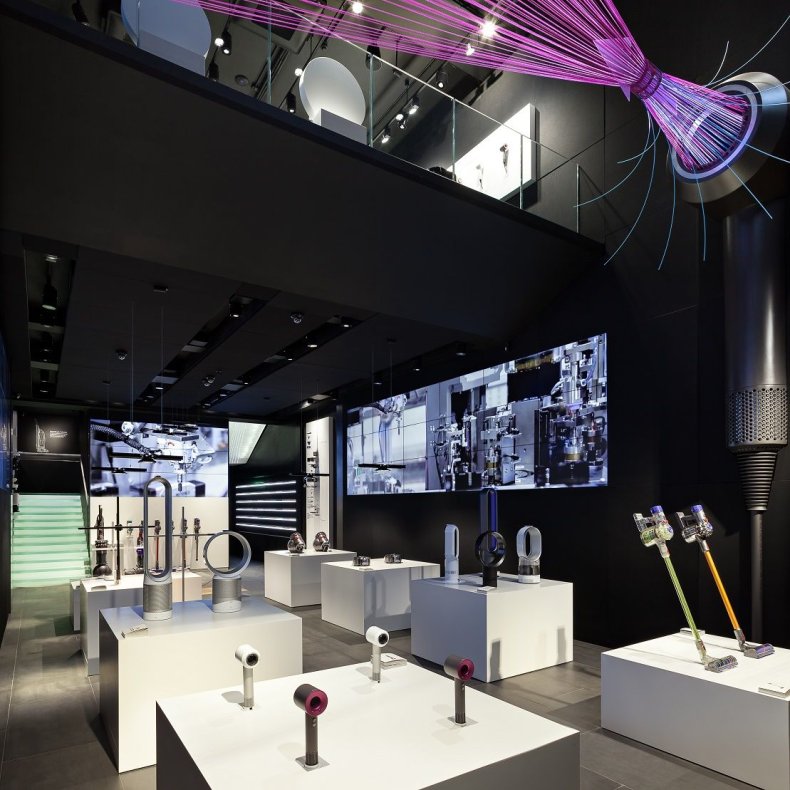 The showroom is reminiscent of the minimalist design found in Apple stores around the world, with the unusual addition of a hair styling station on the upper floor. On hand are professional stylists that will shape people's hair free-of-charge using Dyson's new Supersonic hairdryer.
Other products on show include Dyson's 360 Eye robotic vacuum cleaner, making its U.K. debut at the Dyson Demo, as well as Dyson's recently launched Pure Cool Link purifier fan.
Dyson CEO Max Conze said that as the company continues to expand, more demo spaces will be opened.
"[Dyson products] are best understood when experienced and explained in a Dyson environment by Dyson experts," Conze said. "We are bringing engineering to life. We are restless to create more demo spaces around the world."