Dyson Pure Hot+Cool Review: Air Purifier, Heater & Fan Combo Ends Thermostat Wars
Temperature plays a significant role in the comfort level within a home. Rarely do couples, roommates or spouses agree on a preferred temperature setting. After recently trying the Dyson Pure Hot+Cool, I think I've stumbled onto a solution to ending thermostat wars in my house.
A recent study showed that 75 percent of households admitted to having arguments over temperature. Twenty-three percent of the study participants chose to solve this by simply wearing a sweater or grabbing a blanket. Nineteen percent of the study participants chose to do nothing and keep sneaking around like ninjas to change the settings without their partner noticing.
When night falls, the temperature battle in my apartment begins. As I snuggle under a down comforter with an extra blanket at my feet, I often hear my roommate's door open to lower the thermostat in the hall. When the Dyson Pure Hot+Cool arrived, I was thrilled. Being able to control the temperature in my space without raising the entire house's temperature was an excellent solution for both of us.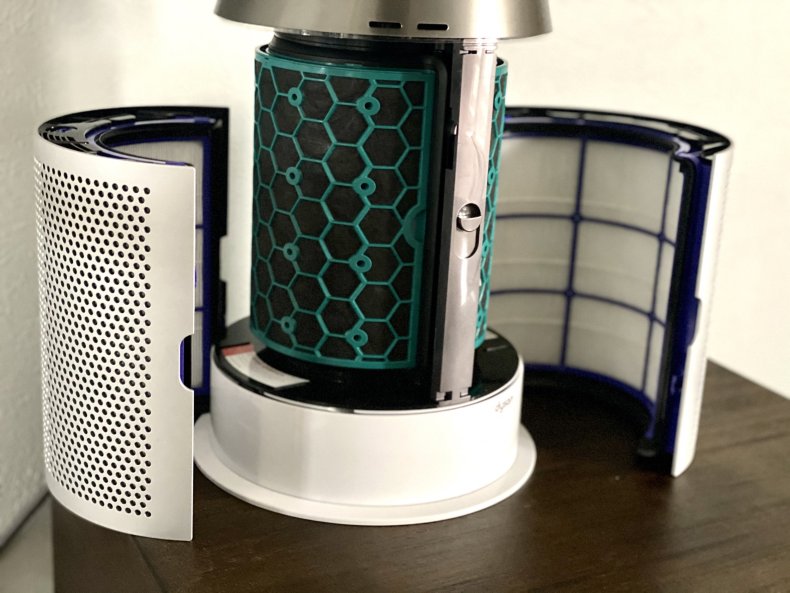 When the box first arrived, my initial impression was that it was slightly larger than I expected. Once I removed the unit and installed the included carbon filters, I was very impressed with the overall design. This was an appliance that I would be proud to incorporate into the aesthetic of any room. Its size allows it to easily sit in a corner of the room or on top of a table.
Design
This Dyson fan is a lot more than just a pretty face, though; it's also an air purifier. The Dyson Pure Hot+Cool is an air purifier, heater and fan in one. It eliminates common allergens and other airborne pollutants from the air you breathe. It was created with the same technology as Dyson's award-winning air purifiers and bladeless fans, so not only can it cleanse the air and heat your space, but it can also cool it down.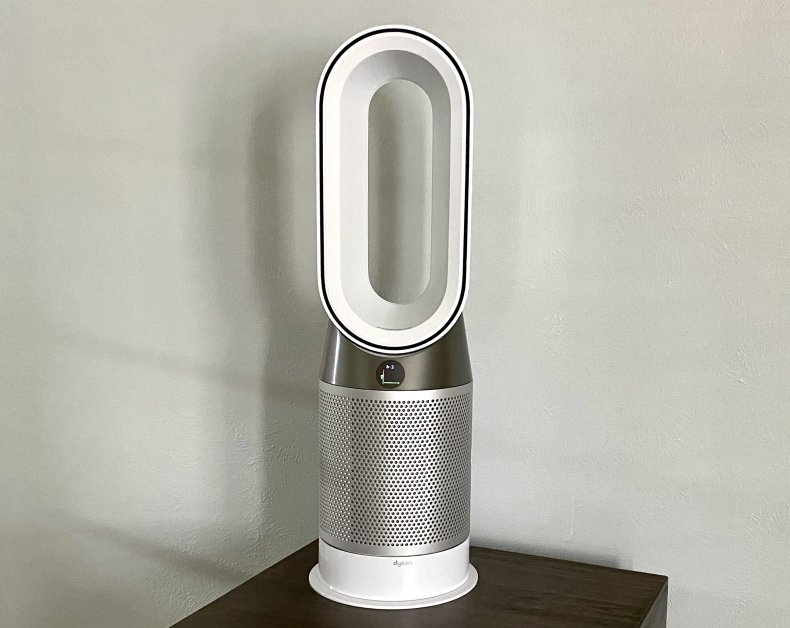 You instantly notice that, unlike other fans, there are no blades. A pill-shaped fan pushes out either hot or cool air around its rim, which sits on top of the filter section. There are no buttons and no dials. It comes with a remote that will adhere magnetically to the top of the unit for easy storage.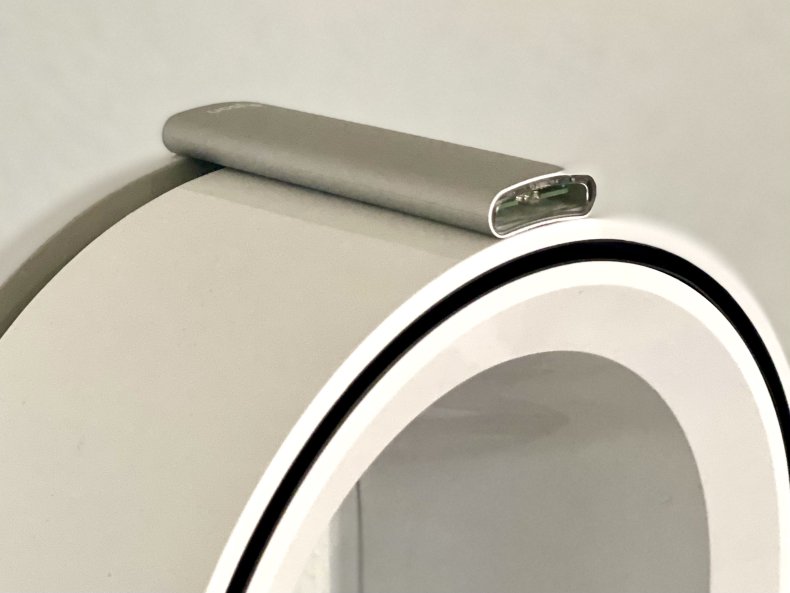 Suppose you happen to sit down but forget to grab the accompanying remote: A Dyson app functions as a remote, allowing you to control the fan from across the room. The app was easy to download, and the setup was clear to understand.
You'll want to download the app, even if you have the remote in hand. The app provides detailed information and tracking about the air quality and temperature settings daily.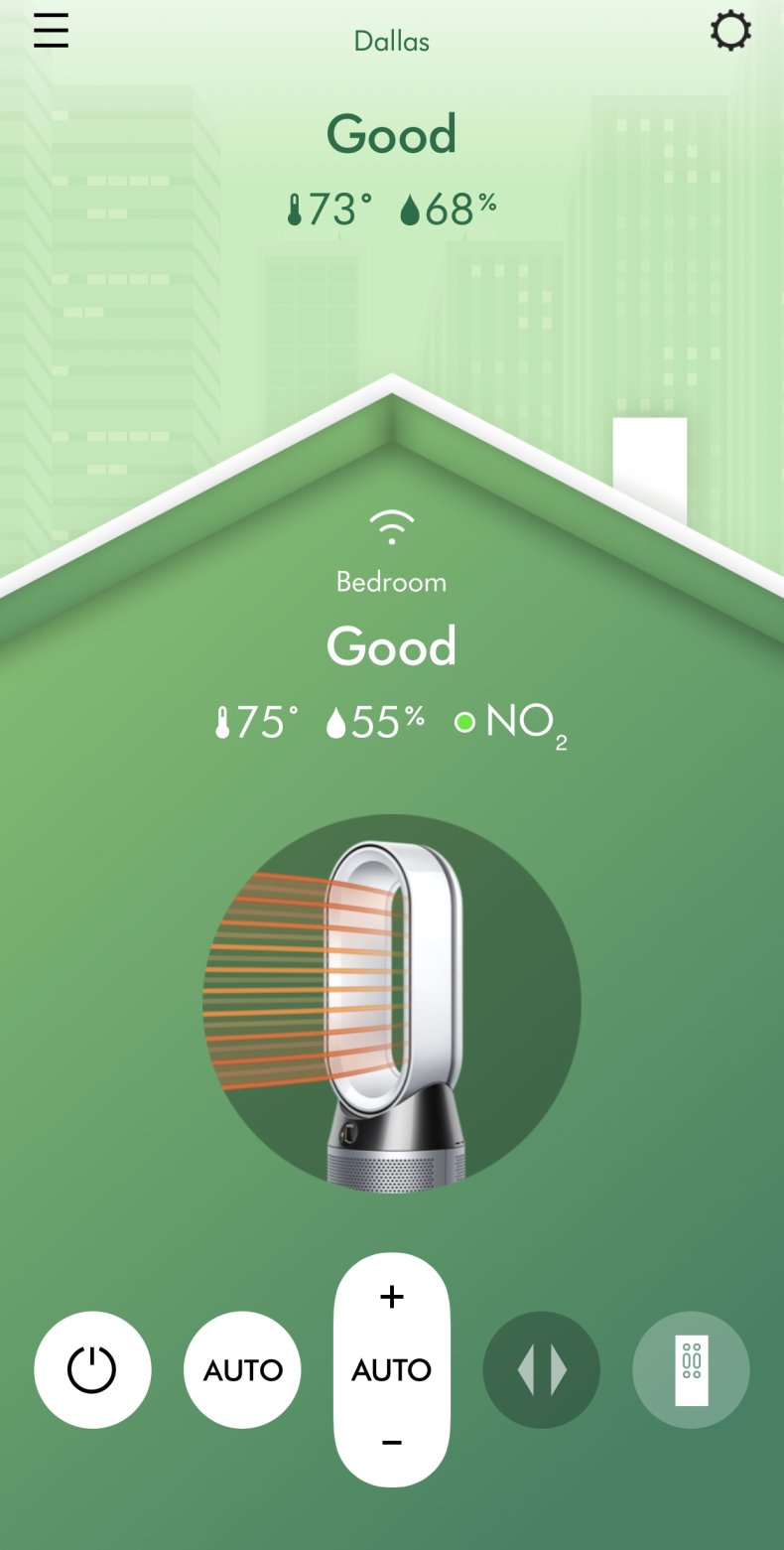 Performance and Features
Another great thing about this brand is how quiet it is. Many fans or heaters are distractingly loud in an office or home. The Dyson is just barely audible. This makes it an excellent option for families where children or pets are easily distracted, and you won't have to turn up the television or turn off the fan if you get a phone call.
The variable oscillating settings were something else I came to appreciate highly. The Dyson Pure Hot+Cold will slowly oscillate up to 350 degrees. I used the 180 degrees setting to swing between myself and my roommate when sitting in the living room watching a movie one evening.
However, our temperature preferences differed in this scenario, as well. We both agreed that the most useful setting was to have the fan steadily focused on me. I could experience the warm flow, and she was not overpowered by being too warm. We were both comfortable in the same space.
It hasn't warmed up enough in Texas yet to truly test the cooling functions of this machine. Other reviews had mentioned not to expect an air conditioner–type of cooling experience. You'll want to think of the cooling mode primarily as a fan. I've switched it to the cooling setting after coming in from a long run. It quickly made me comfortable without getting chilled.
Pricing
At $649, the Dyson Pure Hot+Cool should probably be considered a luxury home purchase. Take into consideration that carbon filters only initially come with the unit, however; you'll eventually have to pay $79.99 to replace them. The app does a great job of informing you of filter longevity, and the filters are extremely easy to switch out. The rate at which you'll need to replace the filter will depend on how often you use the machine.
While this can seem like a pricey addition to the home, the savings on our monthly electric bill have been impacted by not having to heat the entire square footage to my desired comfort level. I consider the value of keeping the peace between lovers, friends or roommates priceless.
Newsweek may earn a commission from links on this page, but we only recommend products we back. We participate in various affiliate marketing programs, which means we may get paid commissions on editorially chosen products purchased through our links to retailer sites.