Dyson's Supersonic Hair Dryer Review: Is It Worth the Price?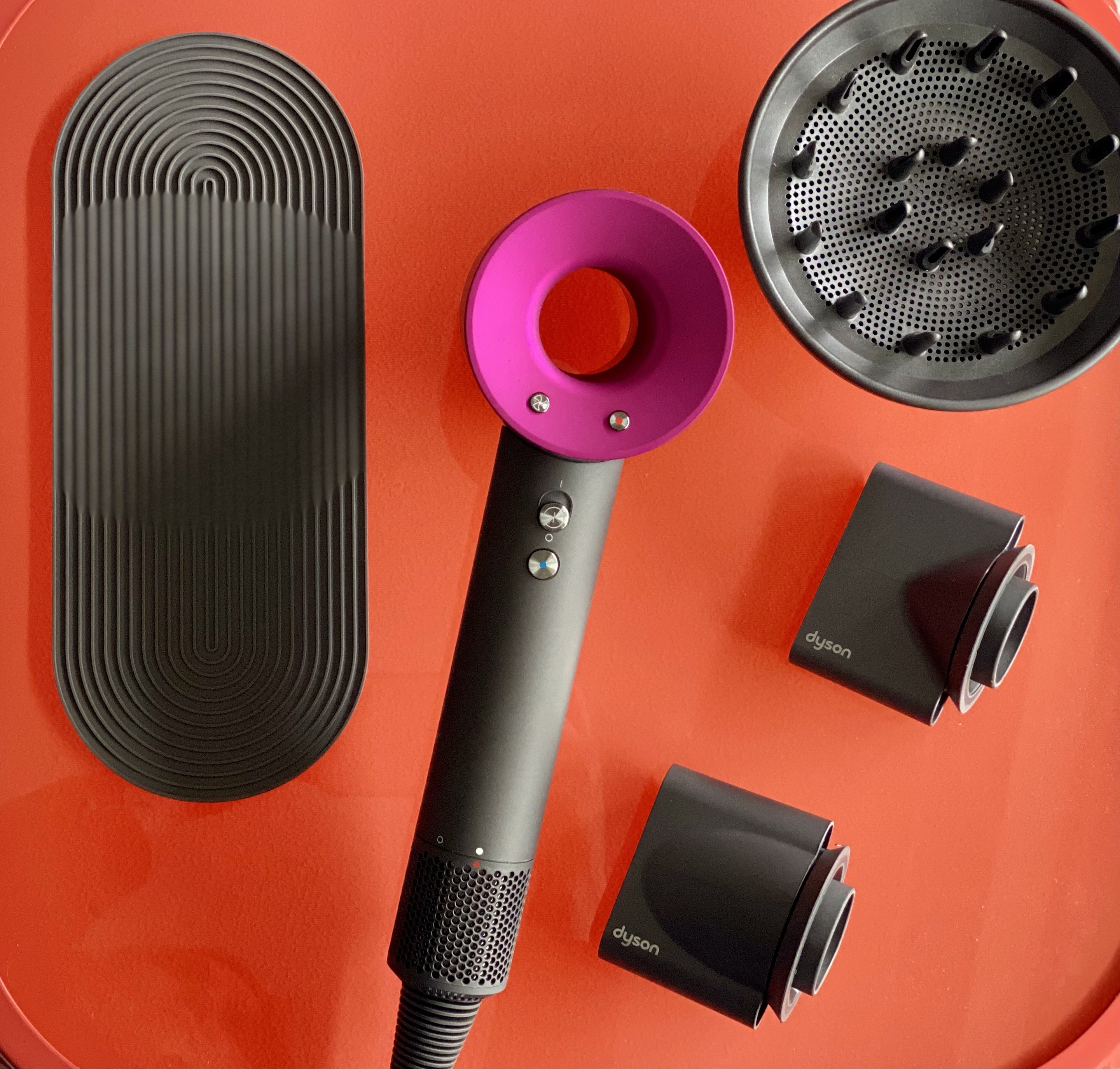 We all know that you get what you pay for. But at nearly $400, the Dyson Supersonic hair dryer is quite the splurge. Does this hair care tool make for a worthy investment?
Dyson recently sent over a Supersonic hair dryer for review. By offering four heat settings and three speed settings along with a bladeless design, the Dyson hair dryer can provide performance and technology that very few blow dryers can deliver. Before I share my overall impression, let's look at some of the unique features this product offers.
My Experience With the Dyson Supersonic Hair Dryer
At first glance, the Dyson Supersonic is beautiful. Dyson is known for its sleek, ergonomic product design, and this hair dryer is no different. It's not just about looks, either. The unique design is lightweight and more compact. This is thanks to the small, bladeless digital motor having been moved to the handle of the dryer—meaning no more sore arms after a hair-drying session.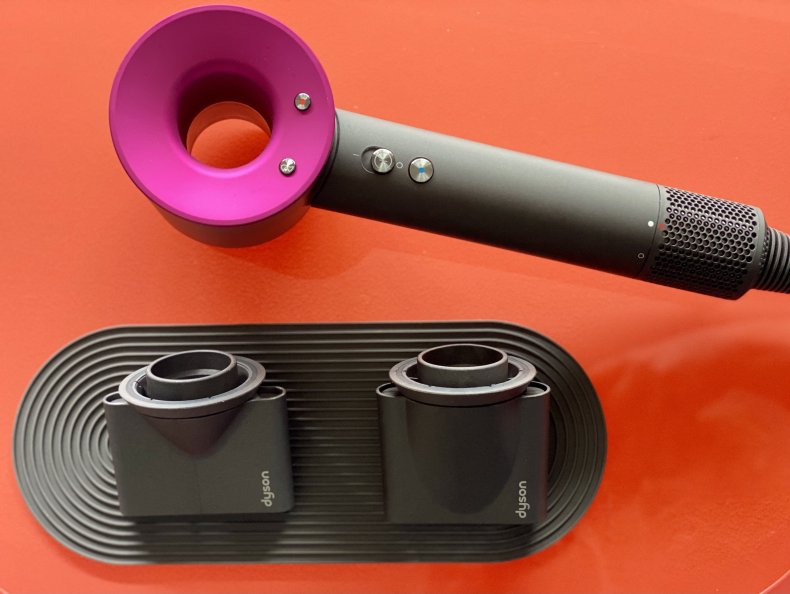 You'd think that surely the airflow couldn't be as powerful as traditional hair dryers' with such a small size. But this dryer truly spans the best of both worlds. Not only is this hair dryer small in size, but the airflow of the Dyson Supersonic impressively strong. Its unique airflow design allows it to effectively dry hair quickly and thoroughly. Faster dry times ensure less heat damage, leaving hair smooth, frizz free and ultrashiny. As someone who is always pressed for time when getting ready, I was excited to be able to shave off several minutes of hairstyling without sacrificing the looks I wanted to achieve.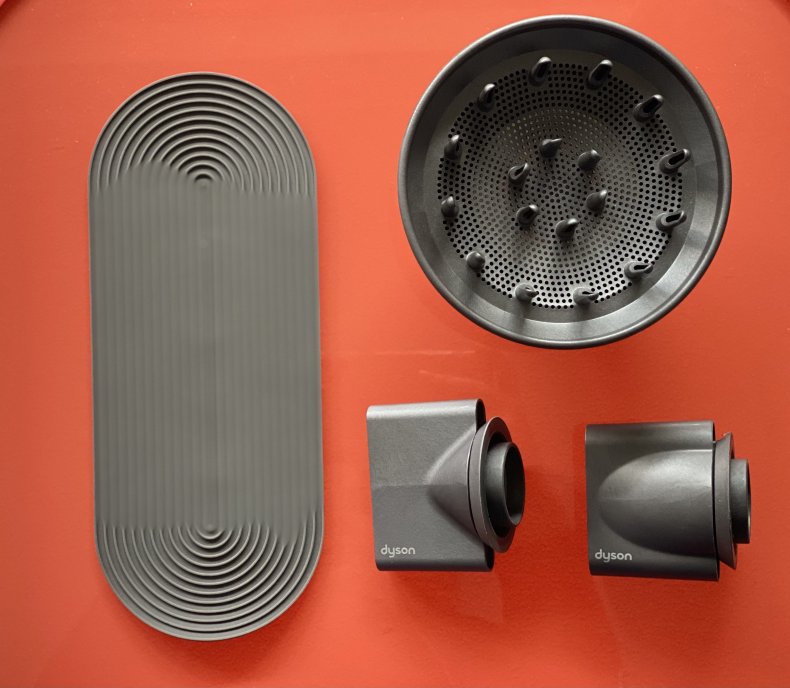 In addition to the Supersonic's innovative design, this hair dryer also comes with a variety of useful attachments. These accessories attach magnetically and allow you to style your hair with greater control. You'll also receive a nonslip mat and storage hanger with your purchase of the hair dryer, adding even more value for the money.
The smoothing nozzle generates a smoother airflow versus using the dryer alone, allowing the most polished hairstyles to be achieved. To achieve this result, dry your hair as normal. After you're done, turn the nozzle to direct the air down the hair shaft.
The concentrator attachment is broad and thin and is useful when styling hair in sections creating precision styles. You can use it to shape your hair one section at a time. Rotate the concentrator in the desired direction. Use the round brush to guide your hair to create your style.
Those with curly hair will really appreciate the Supersonic diffuser attachment. Its pronged cone shape reaches deep into the hair for even diffusion to help define curls and waves. To use, cup your hair into the diffuser, starting at the hair tips. Gently push the hair up. The trick here is to avoid jostling your natural curls, so don't brush them, and keep the Supersonic on the lowest airflow setting.
Favorite Features of the Dyson Supersonic Hair Dryer
The high-powered digital Dyson motor combined with Dyson Air Multiplier Technology produces a powerful, high-velocity air jet for quick drying and precision styling.
Intelligent heat control measures the air temperature over 40 times a second to avoid excessive heat damage.
Through research in their hair laboratories, Dyson engineered a range of attachments to make this dryer ideal for many hair types.
It's lightweight and balanced: Dyson redesigned the dryer's weight and shape by putting its motor in the handle, also increasing comfort.
The magnetic attachments allow you to adjust styling options quickly and easily.
The motor is quite powerful yet produces very little noise.
You can choose from multiple speed and heat settings for fast, regular or gentle drying.
It produces negative ions to help reduce static in your hair.
Heat Shield technology keeps the attachments cool, even when styling close to the hair.
So, even with all these features, is the Dyson Supersonic really worth it? In short: Yes! This hair dryer's strong blowing power, innovative design and included accessories make for a product that will style your hair better and in a shorter amount of time. If you like to style as you dry, you'll find this to be an excellent option.
The only criticism I would offer is that it's not what I would consider travel size—especially if you're traveling with all the attachments. You would need to dedicate a significant amount of your carry-on bag to this device, but the benefit of having this technology and excellent styling tool may be worth it. If you're someone like me who feels strongly about making your hair a vital part of your appearance, it's always worth it to invest in products that will keep it healthy and looking fabulous.
Newsweek may earn a commission from links on this page, but we only recommend products we back. We participate in various affiliate marketing programs, which means we may get paid commissions on editorially chosen products purchased through our links to retailer sites.