'Dystopian Future Here': Internet Unnerved by Renters Living in 8-Foot Pods
A California-based company is advertising shared housing where 14 individuals can live in an eight-foot-tall "pod" inside a shared house for $800 a month.
The company, Brownstone Shared Housing, is based in Palo Alto, California, and offers up a potential solution for individuals seeking affordable housing.
While some agree with the idea, one individual who goes by u/curiouscrispy, took to Reddit's popular r/Antiwork subreddit to discuss the unnerving existence of "pod living."
"The dystopian future we've all been asking for is here! Unbelievable!" the post was titled. The user received nearly 8,300 upvotes and 1,000 comments in one day, with many users calling out the systemic problems that exist.
The post comes at a time when it is estimated that more than 500,000 Americans are homeless on a given night. For many of these individuals, their homelessness was due to increasing rent prices, as reported by the Government Accountability Office.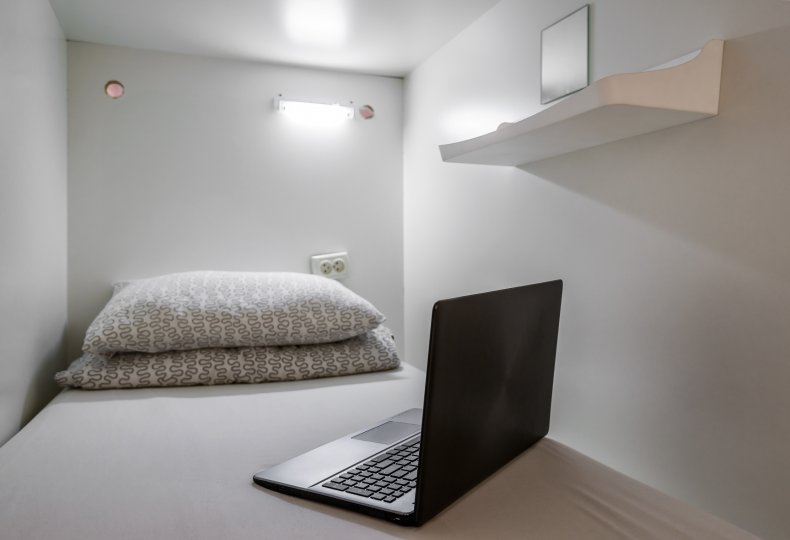 Brownstone Shared Housing offers eight-foot-tall pods that are about the size of a twin mattress as well as a shared living and kitchen space for $800 a month.
Each pod, which measures taller than the average sleep capsules made popular in some Asian cities, has a temperature-controlled fan, lighting, and a fold-down desk.
Currently, all 14 individuals living inside the pods are in their 20s and are just entering their careers or working internships, WNDU reported.
According to Brownstone's website, pod leases can start as low as $500 per month in some cases.
Right now, a person could expect rent to be, according to Statistica:
Just over $1,000 each month for a studio
$1,295 for a two-bedroom
More than $1,800 a month for a four-bedroom apartment.
But in Palo Alto, a person could expect to pay as much as $7,000 a month for a two or three-bedroom.
In San Francisco, the average monthly rent for a one-bedroom apartment was nearly $3,400.
Known as one of the most expensive cities to live in the world, the city has an estimated 8,000 homeless individuals, with about 55 percent living on the street rather than in shelters.
In the Reddit post, u/curiouscrispy shared a screenshot of a news article discussing the company, and many felt that the coverage lacked criticism of the current housing market.
Many users mentioned that rather than celebrating pod living as a "solution" for unaffordable housing, people should realize that the average American is unable to afford housing in many cities around the country.
Many users also compared Brownstone Shared Housing to pod hotels and apartments that are popular in Hong Kong.
"This is already happening in much worse conditions than this in parts of Asia," one user wrote. "There are cage homes in HK and Japan has geki-sema which are referred to as coffin apartments. It's not even a shared house, just stacked on top of each other like filing cabinets. The world is messed up. It shouldn't be this expensive to just exist."
"This used to be a major criticism of the abuses in the housing crisis in China. Now it's being lauded as good here in the US? Wtf..." another user commented.
"The difference between 'pod living' and BEING HOMELESS is the material they make the box out of," another user wrote.
Other users compared the concept to various dystopian movies and video games such as "Fifth Element" and "Cyberpunk."
Unfortunately, experts haven't been overly optimistic about the housing market for 2022, saying, "As economic uncertainty lingers, the housing market will maintain significant unpredictability."
Newsweek contacted u/curiouscrispy and Brownstone Shared Housing for comment.