Electric Bikes Provide the Same Workout as Regular Bikes, Study Suggests
People who exercise using normal mountain bikes and those who ride pedal-assist mountain bikes—perhaps better known as electric bikes, or e-bikes—experience essentially the same rigorous workouts, according to a study out of Brigham Young University (BYU) in Utah.
The study, published in the Journal of Medical Internet Research, found that the heart rates of cyclists on conventional bikes and those on e-bikes increased to reflect similar levels of exertion after riding around the same track for the same amount of time.
Unlike motorcycles and mopeds, e-bikes are not self-propelled. Rather, the electric component of e-bikes are designed only to help a cyclist navigate obstacles and travel farther without tiring out as quickly. "The electric component is meant to augment human power, not completely replace it," according to the electric bike company Evelo.
E-bikes are growing in popularity, and have been predicted to account for 30 percent of all mountain bicycles sold in the United States by 2020, according to a BYU news release about the study.
Further, the study noted that an e-bike "has an electric motor that functions as a pedal-assist, only engaging when the individual pedals. The motor's contribution allows a rider to cycle greater distances and up steeper terrain because of the decreased physical workload." A cyclist on an e-bike, then, still needs to put in leg work—but not necessarily as much.
For this study, researchers recruited 33 cyclists of varying degrees of experience, from less than one year of cycling to over 11. Their median age was 37.8 years. The cyclists were fitted with heart rate monitors and Apple Watches that had the fitness tracking app Strava installed. The cyclists were then instructed to bike around a 5.5-mile loop on either a 2017 Specialized Stumpjumper model e-mountain bike or their own conventional, non-electric mountain bike. The loop included about "700 feet of elevation gain spread throughout the ride." After completing the loop, the cyclists then completed it again with the bike they had not used their first time around.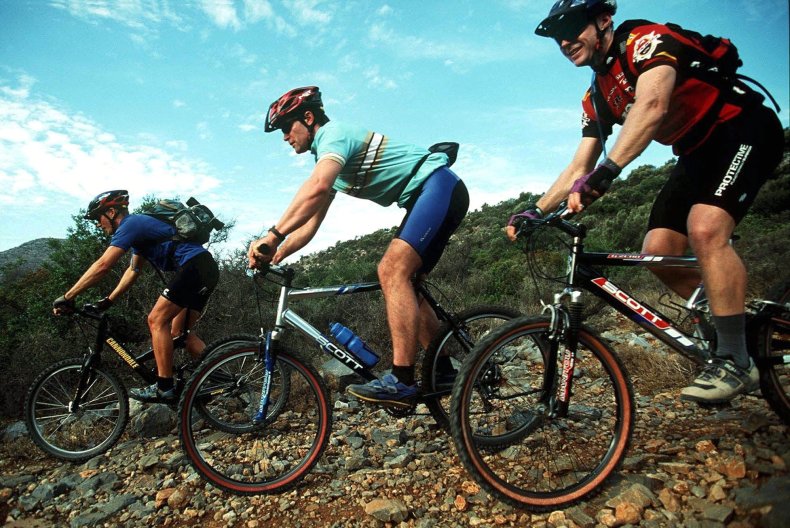 As one might expect, the cyclists finished the loop faster when they were on the e-bikes. According to the study, they traveled an average of 4.1 mph faster on the e-bikes than on the conventional mountain bikes, and completed the course in nearly 13 fewer minutes. Their heart rates also had an average of about 10 fewer beats per minute when riding the e-bikes (145 beats per minute on e-mountain bikes, 155 for conventional bikes).
Even so, the study subjects' heart rates were high enough to be classified as being in the "vigorous intensity zone," which is only reached during robust exercise.
In the end, the research appeared to provide evidence that biking, whether conventional or electric, can result in similar workouts. The study appeared to corroborate an earlier BYU study that found that cycling non-mountain e-bikes provided similar heart health benefits as cycling a normal bike.
"Those who used e-bikes still had elevated heart rates and enjoyed their experience," said Dr. Ben Crookston, one of the study's authors and a professor in BYU's College of Life Sciences. "I think this is a game changer for those who have found biking too difficult. It makes this important form of exercise accessible to a broader community."