Romaine Lettuce Recall: CDC Issues Order Over E. Coli Fears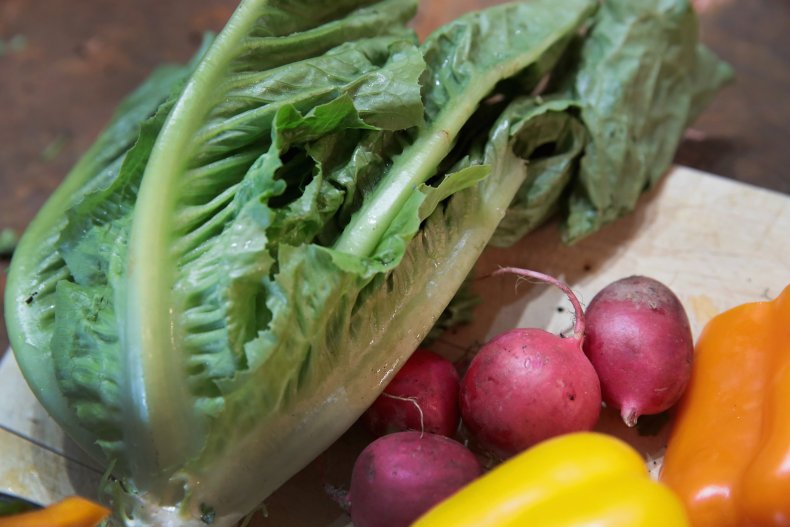 The Centers for Disease Control and Prevention (CDC) and Food and Drug Administration have advised consumers to avoid romaine lettuce grown in the region around Salinas, California, or any lettuce whose place of origin is unknown, due to the produce's link to a recent outbreak of E. coli.
The initial recall of over 75,000 pounds of salad products was issued Thursday by produce company Missa Bay, citing concerns that the products may be infested with E. coli. The next day, following an investigation, the government issued warnings that the source of the outbreak was most likely romaine lettuce produced in the Salinas growing region.
Most romaine lettuce is sold with the name of the region where it was grown on its packaging, according to the CDC. The agency advised consumers and retailers not to eat or sell romaine lettuce with the word "Salinas" on its label. Further, any product containing romaine lettuce on which the region is not clearly indicated should not be bought or sold. Consumers who had already purchased romaine lettuce with a "Salinas" label or for which the growing region was unknown were advised to discard the product.
Further, the recalled products suspected to carry the bacterium have "use by" dates between October 29 and November 1, 2019.
Products that should be treated with caution include Caesar salad, "whole heads of romaine, hearts of romaine" as well as packages of pre-cut lettuce and salad mixes that use romaine.
E. coli, short for Escherichia coli, is a bacterium that can be harmful to humans if consumed. While most varieties of it are harmless, according to Mayo Clinic, it can cause nausea, vomiting, severe and bloody diarrhea and severe abdominal pain. People who consume products contaminated with E. coli may also develop a type of kidney failure called hemolytic uremic syndrome. The CDC website stated that most people begin to experience symptoms three to four days after consuming food infected with the bacterium.
According to the CDC as of November 22, 40 people across 16 states had been infected with the bacterium. Twenty-eight of those 40 had been hospitalized for issues related to the infection.
Romaine lettuce has repeatedly been a source of E. coli outbreaks in recent years, despite increased efforts by the produce industry to keep products clean. Last year, a fatal E. coli outbreak was traced back to contaminated irrigation water from a nearby cattle lot. In response, industry regulations ordered growers to to establish buffer zones between produce and livestock, but the outbreaks have continued.
"It's very, very disturbing," Trevor Suslow of the Produce Marketing Association told the Associated Press Friday. "Very frustrating all around."