E. Coli Outbreak 2018 Linked To Romaine Lettuce Infects 35, Sends 22 To Hospital
The Centers for Disease Control and Prevention have identified romaine lettuce grown around Yuma, Arizona as the cause of an E. coli outbreak that has sent 22 people to the hospital and made 13 more ill. Cases have been identified in 11 states so far. Even if you don't live near Arizona, don't brush this off. Most of the people infected live in the Northeast, including in New York, New Jersey, Pennsylvania and Connecticut.
People with chopped romaine lettuce in their fridges at home should take it out and throw it away, the agency recommended—even if it's just one type of vegetable in a salad mix. "If you do not know if the lettuce is romaine, do not eat it and throw it away," the agency's outbreak announcement on Friday stated. Before buying new salad, ask someone at the grocery store or restaurant where it came from. If he or she says Yuma, Arizona, find something else to eat. Even if your salad doesn't come from this region, you should still be practicing good food safety habits; wash your fruits and vegetables under running water before you eat them.
The strain of E. coli identified, O157:H7, is no joke. It produces a chemical called Shiga toxin. According to the agency, Shiga toxin-producing E. coli makes 265,000 people sick, sends 3,600 to the hospital, and kills about 30 Americans each year. Symptoms include vomiting, awful cramps, bloody diarrhea and a mild fever. In general, the bacteria that cause E. coli outbreaks come from infected animals' poop coming into contact with food that someone eats or handles.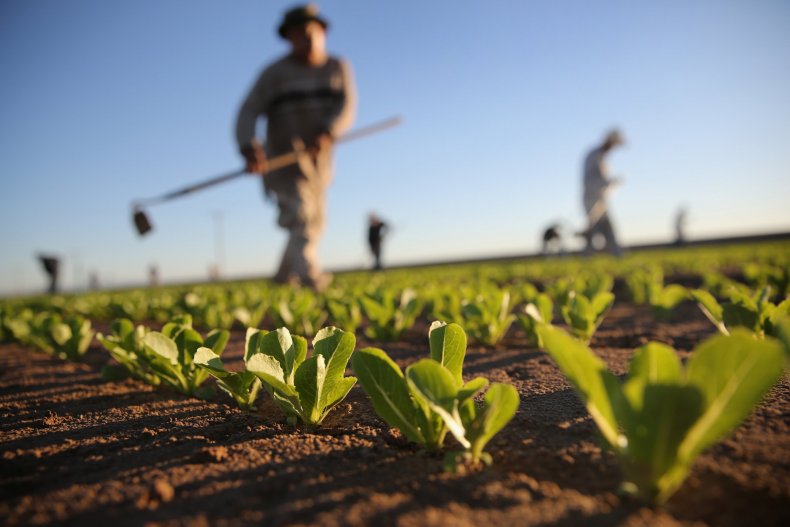 Romaine lettuce was also linked to a major E. coli outbreak that affected Canada and the United States earlier this year. However, this latest outbreak is definitely not related to the previous one, the agency stated. The bacteria involved in the winter outbreak has a different genetic sequence.
But, as the CDC noted during that outbreak, leafy greens like romaine lettuce have a relatively short shelf life which limited the duration of that outbreak. With any luck, perhaps that will be true again.