E. Jean Carroll 'Happy to Take Them All On' After Barr's DOJ Moves to Defend Trump
E. Jean Carroll says she and her attorney are ready to take on the Justice Department after it requested to take over President Donald Trump's defense in her defamation lawsuit against him.
Carroll filed against Trump in New York state's Supreme Court last year, after he denied her allegation that he sexually assaulted her in a department store in the 90s and claimed to have never met her.
The DOJ is arguing that government lawyers can represent Trump as he was "acting within the scope of his office as President of the United States" while responding to the allegations.
The Quote
Carroll, previously a writer for Elle, said: "Just when @realDonaldTrump is required to produce documents and DNA in discovery, he sics the DOJ on us. THIS IS UNPRECEDENTED!! My attorney, @kaplanrobbie, and I are happy to TAKE THEM ALL ON! @realDonaldTrump."
In a subsequent tweet, she added: "TO DONALD J. TRUMP
"Sir, I and my attorney Robbie Kaplan, are ready! So is every woman who has ever been silenced! So is every American citizen who has been trampled by Bill Barr and the DOJ!
"BRING IT!"
Why it matters
The question of whether the Department of Justice can or should defend the president in this manner has been raised following its move.
Taxpayer money could foot the bill in the case if any damages are awarded, while the DOJ's intervention would be "in effect underwritten by taxpayer money," The New York Times noted.
Rep. Adam Schiff (D-CA) was among those to question the situation.
Writing on Twitter, he said: "It is not the job of the Department of Justice to represent the president in a civil case. Especially not one accusing Trump of sexual assault prior to holding office."
Robbie Kaplan, Carroll's attorney, said the argument Trump was acting in his capacity as president in denying the claims "offends me as a lawyer, and offends me even more as a citizen."
"Trump's effort to wield the power of the U.S. government to evade responsibility for his private misconduct is without precedent," she added.
Carroll, in a statement shared with Newsweek, said: "The actions demonstrate that Trump will do everything possible, including using the full powers of the federal government, to block discovery from going forward in my case before the upcoming election to try to prevent a jury from ever deciding which one of us is lying."
She added: "But Trump underestimates me, and he also has underestimated the American people."
The Counterpoint
In its filing, the Justice Department has argued "President Trump was acting
within the scope of his office as President of the United States when he publicly denied as false the allegations made by Plaintiff."
Due to this, it argued that the Westfall Act, which gives federal employees immunity from tort claims which come from acts which occur while undertaking their duties, "accordingly requires the substitution of the United States as defendant in this action."
Newsweek has contacted the White House and DOJ for comment.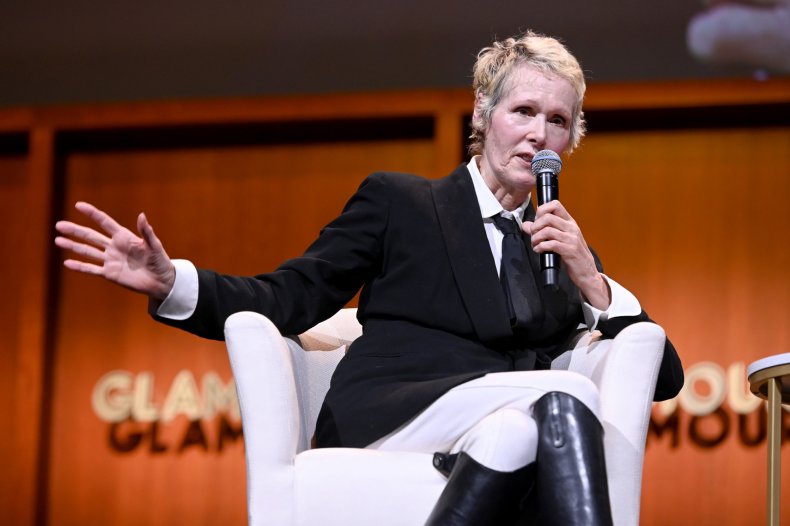 Update 09/09/20: This page was updated with comment from E. Jean Carroll.