Brexit Talks Between E.U. and U.K. Deadlocked Again
The latest round of talks between the E.U. and the U.K. to forge an agreement on post-Brexit trade has ended without much progress being made, according to the E.U.'s chief negotiator Michel Barnier.
At a press conference, Barnier said: "This week there have been no significant areas of progress" on fishing, "economic fair play, trade fair play" or governance.
He said: "On fisheries, the U.K. have not shown any true will to explore other approaches beyond zonal attachment for the sharing of quotas.
"They continue to condition access to waters to an annual negotiation which is not possible for us - not even technically possible."
As the fourth round of talks came to a close, the E.U.'s chief negotiator also said there had been no progress on matters of "economic fairplay".
However, he said the E.U. was keen to reopen talks with the U.K. at the end of June, which Barnier said he hoped would be more effective.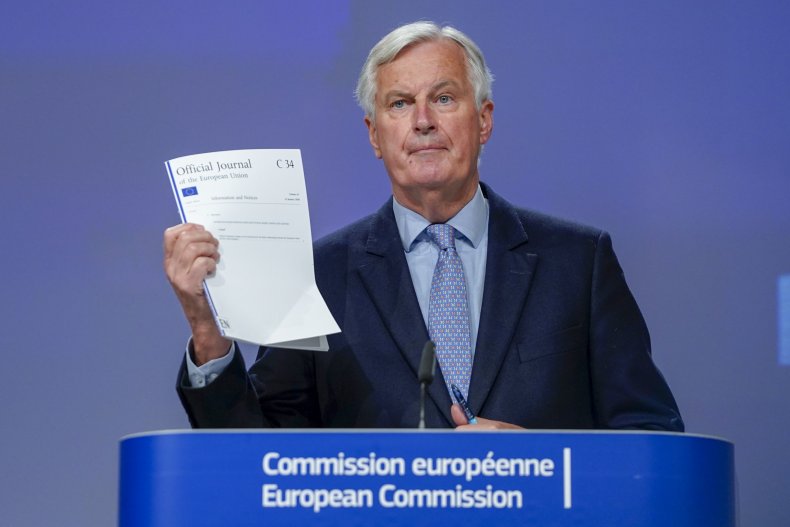 He added that the door was nonetheless still open for the U.K. to extend the transition period in order to make time to negotiate a deal.
The U.K. left the E.U. on January 31. The transition period lasts until December 31 and keeps the U.K.-bound to most E.U. rules.
Barnier said: "All we are asking for is the political declaration to be complied with.
"There has been no significant progress on these points, not since the start of negotiations, and I don't think we can go on like this forever.
"The U.K. has refused to extend the transition period to allow for more time for negotiations.
"From our side, as indeed was already pointed by [European Commission] President Von der Leyen we have always been open to extending this period by one or two years.
"It's possible and written into the agreement. Our door is still open to that end. However, if there is no joint decision to such an extension, as is the case now, if there is no change, the U.K. will leave the single market and the customs union on 31 December."
However, U.K. chief negotiator David Frost struck a more upbeat tone, saying progress had been "limited" but that talks had been "positive in tone."
He said: "We are now at an important moment for these talks. We are close to reaching the limits of what we can achieve through the format of remote formal rounds."