E3 2018: 'Elder Scrolls' Goes Mobile With 'Elder Scrolls Blades'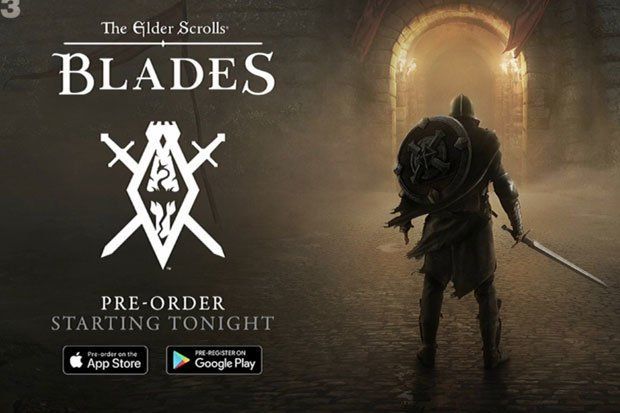 At tonight's E3 2018 press conference, Bethesda creative director Todd Howard announced an upcoming mobile incarnation of Elder Scrolls titled Elder Scrolls: Blades.
A first-person RPG for Android and iOS, the game will feature console-quality graphics and a variety of styles. Players will also be able to play Blades in portrait mode, all the better to pretend you're doing something very important on your phone when you're actually sneaking in playtime during a boring work meeting, Howard pointed out.
In The Elder Scrolls: Blades, you're a member of "the empire's top agents," the Blades, who return home only to find that it has been destroyed. You are forced into exile, and from there, the story unfolds. Howard explained that The Elder Scrolls: Blades will feature both "hand-crafted" as well as procedurally-generated dungeons.
Blades can be played either by tapping the screen or using virtual dual sticks, with combat including ranged attacks, magical spells and standard melee attacks. All players will play together on the same servers. The game includes three modes: Abyss, Arena and Town.
In addition to leveling up your character and putting them through their pace through Abyss and Arena modes, Town mode will allow you to create and customize an entire virtual city from the ground up, which will unlock new quests for you. You'll even be able to visit your friends' towns. Animal Crossing: Elder Scrolls?
While Blades is coming to phones first, it will be available for PCs, consoles and virtual reality devices later. Blades will be available for free on iOS and Android later this fall, and players can pre-register for it starting later tonight at playblades.com. (If it's not live, just check back again. Bethesda gonna Bethesda, guys.)
Bethesda also teased The Elder Scrolls VI as well as a new IP titled Starfield. In addition, Howard shared the news that Fallout Shelter would be arriving for PlayStation 4 and Nintendo Switch later tonight.
What do you think of a "uniquely mobile" Elder Scrolls experience? Any chance The Elder Scrolls: Blades will be as good a spinoff as Fallout Shelter? Will you be pre-registering? Feel free to let us know in the comments section below, and make sure to stay tuned to Newsweek's Player.One for more as E3 2018 unfolds.