E3 2020 Reportedly Canceled Over Coronavirus Fears [Update - Confirmed]
UPDATE (11:42am EDT)
The ESA just released a statement confirming E3 2020 will be cancelled:
After careful consultation with our member companies regarding the health and safety of everyone in our industry – our fans, our employees, our exhibitors and our longtime E3 partners – we have made the difficult decision to cancel E3 2020, scheduled for June 9-11 in Los Angeles.
Following increased and overwhelming concerns about the COVID-19 virus, we felt this was the best way to proceed during such an unprecedented global situation. We are very disappointed that we are unable to hold this event for our fans and supporters. But we know it's the right decision based on the information we have today.
Our team will be reaching out directly to exhibitors and attendees with information about providing full refunds.
We are also exploring options with our members to coordinate an online experience to showcase industry announcements and news in June 2020. Updates will be shared on E3expo.com.
We thank everyone who shared their views on reimagining E3 this year. We look forward to bringing you E3 2021 as a reimagined event that brings fans, media and the industry together in a showcase that celebrates the global video game industry.
Original Story
The Electronic Entertainment Expo (E3), the biggest video game conference of the year, is reportedly canceled due to mounting coronavirus concern.
Ars Technica published a report late Tuesday evening, stating the show was being canceled. Its sources within the Entertainment Software Association (ESA), the organization that organizes E3, confirmed to the outlet that the three-day will soon be canceled altogether.
GameSpot would release its own report hours later, confirming the cancellation with its own sources.
Devolver Digital, an independent publisher whose presence at E3 is one of the highlights each year, took to Twitter with an ominous and head-scratching tweet, telling its followers to start cancelling their E3 2020 plans.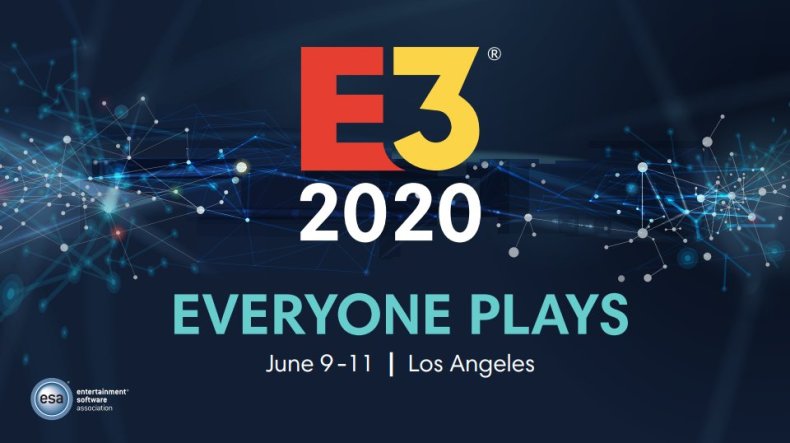 The ESA, as of Wednesday morning, has yet to officially announce the cancellation or offer an update on this year's show. Newsweek has reached out to the ESA for comment and clarification.
Earlier this month, the ESA posted a message regarding E3 2020 amidst growing coronavirus fears. Its statement read:
The health and safety of our attendees, exhibitors, partners, and staff is our top priority. While the ESA continues to plan for a safe and successful E3 show June 9-11, 2020—we are monitoring and evaluating the situation daily.
Our E3 team and partners continue to monitor COVID-19 via the Centers for Disease Control and Prevention (CDC) and the World Health Organization (WHO). We are actively assessing the latest information and will continue to develop measures to further reduce health risks at the show.
The city of Los Angeles, which has declared a state of emergency, offered the following guidance:
The state of emergency allows the city and county to qualify for additional funding needed to prepare for COVID-19 in the future, if such funds are needed at all.
City officials will continue to prioritize measures and guidelines that are focused on cleanliness and safety.
The city of Los Angeles website is a source for local information.
Again, please know that we will continue to evaluate new developments and provide updates, as needed.
E3 2020 is scheduled for June 9-11 at the Los Angeles Convention Center.
Before the reports of its cancellation, the annual video game expo had fallen on hard times as Sony pulled out of the show for the second year in the a row. Sony was the first of a number of publishers and industry veterans to announce they would be missing the show.
Geoff Keighley, creator and producer of the Video Game Awards, announced that he would be skipping E3 for the first time in 25 years and won't be producing his traditional E3 Coliseum show - a forum for developers to talk about their upcoming games.
If E3 2020 is officially canceled it would join a long list of events in the entertainment industry to do so, including the Games Developers Conference (GDC) in San Francisco and Emerald City Comic Con in Seattle.