E3 2021: How To Watch Capcom's Presentation and What To Expect
Capcom's first-ever E3 presentation is scheduled for 5:30 p.m. ET today.
Historically, the Street Fighter developer has saved its announcements for other publishers' timeslots, appearing in PlayStation's, Xbox's or even Nintendo's in some cases. For example, last year they left the reveal of Resident Evil Village to Sony's "Future of Gaming" livestream, where it debuted alongside the PS5 console and its exclusive titles.
However, 2021 represents the first time that Capcom is scheduled to host its own conference at the E3 trade show, and many are curious to see what they do with it. According to the company's official Twitter account, its showcase today will include updates on Monster Hunter Rise, Monster Hunter Stories 2, The Great Ace Attorney Chronicles and Resident Evil Village. Some are also wondering if we will see announcements for Street Fighter 6 and Resident Evil: ReVerse.
How to Watch Capcom's E3 Presentation
Every single presentation at this year's E3 is being held virtually, so you will be able to watch Capcom's showcase from anywhere in the world for free.
The Entertainment Software Association (ESA), which organizes E3, has set up an online portal that gamers can use to experience the whole conference in one place. You can register for the service on your internet browser or through a special mobile app. Once you get your confirmation email, you will then be able to log in and watch each E3 show consecutively, while also attending virtual booths and creating a personalized calendar of events.
Meanwhile, every publisher at E3 has also been hosting presentations on their own dedicated channels. In terms of Capcom's showcase, the USA division of the company will be livestreaming directly to Twitch and YouTube, starting at 5:30 p.m. ET.
What to Expect From Capcom's Presentation
Unlike many of the other publishers, Capcom have confirmed its E3 line-up ahead of time. According to a tweet from Capcom USA, it plans to show off upcoming titles Monster Hunter Stories 2 and The Great Ace Attorney Chronicles, while also providing updates on post-launch content for Monster Hunter Rise and Resident Evil Village.
The Great Ace Attorney franchise is a historical spin-off from the mainline Ace Attorney games. In these prequels, you control Ryūnosuke Naruhodō, the 19th-century ancestor of series protagonist Phoenix Wright, who travels to Victorian London in order to set up a new defense practice. There, he meets up with Sherlock Holme (or Herlock Holmes as he is known in the English language port for copyright reasons) and provides legal counsel in increasingly silly court cases.
The latest installment in the franchise, The Great Ace Attorney Chronicles, will be released on July 27 for PC, Nintendo Switch and PlayStation consoles. You can expect to see some gameplay footage and developer interviews during today's E3 broadcast.
The only other upcoming release that we know is appearing at the presentation is Monster Hunter Stories 2: Wing of Ruins, which was last glimpsed at Thursday's Summer Game Fest. Another spin-off, this title realigns the focus of the Monster Hunter franchise by letting you hatch, befriend and even ride creatures, rather than just fighting them. It also implements a traditional turn-based combat system that is drastically different from what you might see in the series' other entries.
With an imminent release date of July 9, we will probably be treated to an in-depth preview of the game in today's showcase.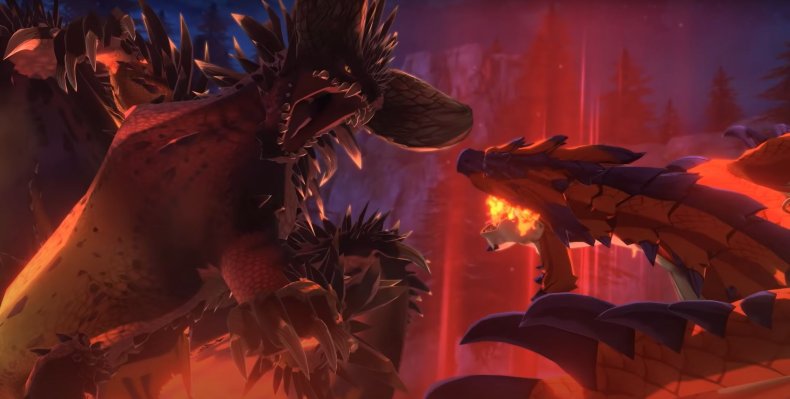 In addition to those upcoming releases, we are also being promised updates on post-launch support for Monster Hunter Rise and Resident Evil Village. The latter launched on May 7 to positive reviews and some of the Resident Evil franchise's best-ever sales.
Given its huge success, it is not surprising to learn that Capcom is planning to supplement the game with further content. While we cannot say for certain what these expansions will look like, many are anticipating VR compatibility to be on the cards and that the "Mercenaries" arcade mode will be getting new arenas.
There is also a chance that Capcom could finally be announcing a firm release date for the delayed multiplayer component, Resident Evil Re:Verse. The official Twitter post does not specifically list Re:Verse anywhere in the schedule and it is technically a separate title of its own, but a voucher code was bundled in with Village, so the two games are connected.
That is everything Capcom has explicitly confirmed for E3 2021, but it does not mean there will not be any extra surprises. Prior to yesterday's 'Square Enix Presents" conference, we only knew about a handful of games that ended up making an appearance during the livestream and there were a number of unexpected reveals.
If Capcom does something similar today, then one rumor that is gaining traction is that there could be a content update for Street Fighter 5, or maybe even an announcement for Street Fighter 6.