EA Announces New College Football Game Without Player Likenesses
College football fans can rejoice! EA Sports confirmed it's bringing a new college football video game franchise to gamers.
Partnering with CLC, the nation's leading collegiate trademark licensing company, EA Sports is set to bring a new title focused on college teams almost 10 years after the last game of its kind.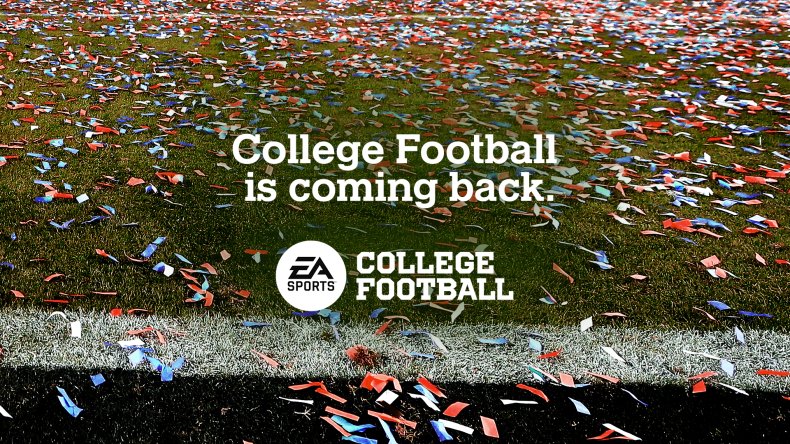 "We've heard from the millions of passionate fans requesting the return of college football video games," said Cam Weber, EA Sports' executive vice president and general manager in a press release "We love the energy, tradition and pageantry of college football and I am beyond thrilled to say we are back in development. We have a lot of really exciting work ahead of us, and a great team that is eager to bring a new game to players in the next couple of years."
This new franchise will look to bring the authentic college football experience and gameplay that EA Sports' older NCAA Football titles were known for. Although student-athletes' names, images and likenesses will not be included, EA states that they will monitor developments closely on whether it's a possibility for the future.
EA's new college title will have the rights to more than 100 institutions, including official logos, stadiums, uniforms, game day traditions and much more, in order to give players that authentic fan experience.
"We're very excited to collaborate with EA Sports to bring back the college football franchise, one of the most popular collegiate licensed products in our history," said CLC CEO Cory Moss in a press release. "The college football video game connects passionate fans to college brands and introduces new fans to the storied traditions, excitement, and game-day experience that make college football unique."
Release timing will be announced at a future date.
EA's last college football franchise, NCAA Football, ran from 1997 (NCAA Football 98) to 2013. The last game of that series was NCAA Football 14 and featured then Michigan Wolverines quarterback Denard Robinson.
The franchise was halted in 2013 after former college football players sued EA in a class-action lawsuit alleging that, despite the developer not using their names, their likenesses were used without compensation. Both sides eventually settled.
In the settlement, EA did not admit any wrongdoing but said in a statement: "We follow rules that are set by the NCAA — but those rules are being challenged by some student-athletes."
What do you think of EA announcing the return to making college football games? Let us know in the comments section.