EA Sports to Remove Jon Gruden From Madden Video Game Amid Email Controversy
Video game developer EA Sports said Wednesday it plans to remove Jon Gruden from its Madden NFL 22 game following the Las Vegas Raiders head coach's resignation earlier this week.
Gruden announced his resignation from the head coaching job on Monday following reports that he had for years used language in email correspondence that was homophobic, racist and misogynistic, according to ESPN.
"I love the Raiders and do not want to be a distraction," Gruden said in a statement the team issued Monday. He went on to thank the team's players, fellow coaches and fans before adding an apology: "I'm sorry, I never meant to hurt anyone."
EA Sports cited the circumstances surrounding Gruden's resignation in a Wednesday tweet that announced its plans to revise Madden NFL 22, which was first released in August.
"EA Sports is committed to taking action in maintaining a culture of inclusion and equity," the developer said in its statement announcing Gruden's planned removal from the game. "We will replace him with a generic likeness via a title update in the coming weeks."
Mark Davis, the Raiders' principal owner, said Monday he had accepted Gruden's resignation. Davis declined to comment when pressed about Gruden's resignation on Wednesday and referred further questions to the NFL, ESPN reported.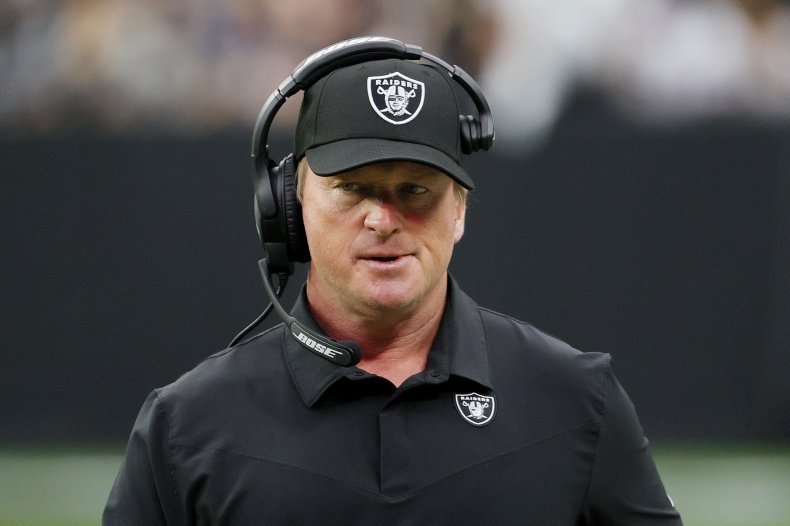 Rich Bisaccia was named the team's interim head coach earlier this week and said that "no one person is bigger than the Raiders' shield" while briefly addressing Gruden's resignation at the beginning of a media briefing on Wednesday. "The Raiders have always stood for diversity, inclusion, social justice," Bisaccia told reporters. "It's important to live those ideals and carry them into the future. We cannot change the past, but we can do more to maybe make tomorrow better."
Gruden's emails were discovered during an investigation that had largely concentrated on Daniel Snyder, the owner of the Washington Football Team. In one email that Gruden sent in 2011 to Bruce Allen, the Washington Football Team's general manager and president, Gruden used racist language in comments about DeMaurice Smith, who serves as the NFL Players Association's executive director. The content of that particular email was first reported last week by The Wall Street Journal.
A spokesperson for the NFL later condemned Gruden's use of language in a statement that called it "wholly contrary" to the league's values.
Gruden signed a 10-year contract when he became the Raiders' head coach in 2018, a deal that ESPN reported was believed to be worth about $100 million. He previously coached the team for about three years in the late 1990s and early 2000s.
Newsweek reached out to the Las Vegas Raiders' media relations team for comment but did not hear back before publication.