Philadelphia Eagles Coach Doug Pederson Tests Positive for Coronavirus
Philadelphia Eagles head coach Doug Pederson revealed Sunday he has tested positive for COVID-19, according to multiple sources who cover the NFL.
Pederson, 52, is the second NFL coach known to have contacted coronavirus, with Sean Payton of the New Orleans Saints being the first when he tested positive in the spring.
The Eagles began going back to team facilities recently, and Pederson told reporters during a conference call that he would feel comfortable going back to the NovaCare complex.
"This is our bubble right here at NovaCare. I can't control everything, we can't control everything," Pederson said in an ESPN story. "There probably are going to be some things that come up down the road, but right now, I feel extremely safe and this is a great environment for our players to succeed in,"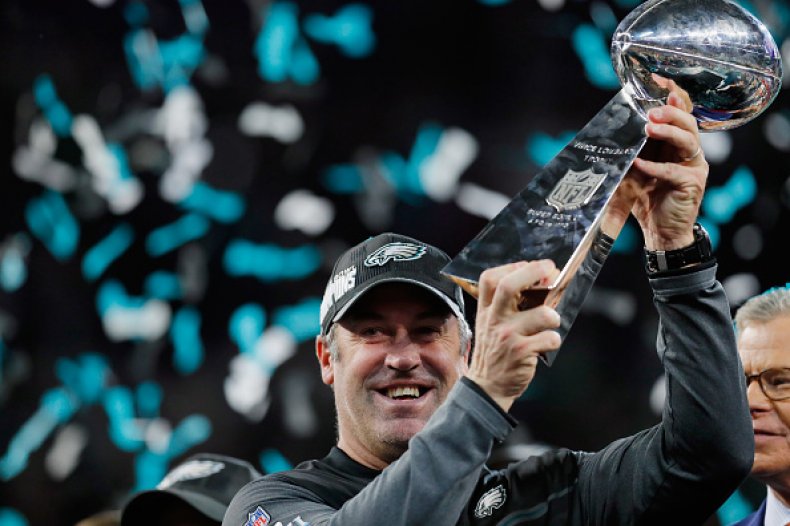 Pederson was an assistant coach in Kansas City under coach Andy Reid before taking the job in Philadelphia, where he led the Eagles to a Super Bowl title following the 2017 season. He has a career record of 38-26 in four seasons, with playoff appearances in the last three seasons.
Pederson said he was asymptomatic but feeling normal. Another staffer who had close contact with the coach has been sent home until their condition is monitored and under control.
The Eagles coach believes he contacted the virus outside of the team facilities.
NFL commissioner Roger Goodell wrote a letter to fans of the league last week that explained how different things will be in 2020 with the coronavirus pandemic still lurking. As teams begin reporting for camp this week, Goodell decided to address the COVID-19 situation.
Goodell wrote about the challenges that coronavirus has brought to not only football in America, but to the way of life here.
"Every step of the way, our focus has been on the safety of players, coaches, personnel, fans and our communities," Goodell wrote. "Our planning has followed the lead of medical experts and public health officials, including the CDC, the White House Task Force, governors and state health officials. As we have developed our 2020 playbook for the return of football, safety continues to be our first priority; that commitment will remain paramount as players return to the field."
On March 12, the MLB and NHL postponed games until further notice. After that, all the dominoes fell. The NCAA completely canceled its men's and women's basketball tournaments and all other winter and spring sports.
Major golf and tennis tournaments got put on hold, the Triple Crown horse races were postponed and auto racing went to pit row. The 2020 Summer Olympics in Tokyo have been postponed until 2021.
College football's spring practices were canceled, the NFL canceled their winter owners meeting and the league held its annual draft last weekend virtually through computers and telephone.
While many college football conferences are still trying to decide how to wade the waters of the upcoming season, the NFL still intends to restart its regular season as scheduled.