Bataclan Attack Survivor Jesse Hughes Calls March For Our Lives 'Pathetic'
The lead singer of the Eagles of Death Metal, the band targeted at the Bataclan concert hall in the November 2015 Islamic State militant group (ISIS) attacks, has bemoaned the mass protests against gun violence in the U.S., calling the March For Our Lives rally "pathetic."
In a series of shocking Instagram posts, Jesse Hughes shared images condemning the march. He has deleted three of five images, but one shows an illustration mocking those who are calling for people to return their weapons.
"I turned in my gun to do my part in ending violence," says a woman depicted in the drawing. A man replies that he chopped off his genitals "to stop rape."
The caption below the image takes aim at the survivors of the Parkland massacre last month, when a teenager used an assault rifle to kill 15 people. He says they are "exploiting the death of 16 of our fellow students for a few Facebook likes and some media attention."
Newsweek subscription offers >
Some of the survivors, such as Emma Gonzalez, have attained a high-profile media presence after the shooting, in which they have used their time to call for gun control measures. He shared a now-deleted image of 18-year-old Gonzalez, proven to be a fake, that shows her ripping the U.S. constitution.
He called her "the awful face of treason" and told her to "enjoy your little moment." The actual image was of her tearing up a gun range target, as part of her advocacy against gun legalization.
The rocker's tirade on the initial Instagram post continued: "The Whitney Houston song about letting the children lead the way wasn't actually had [sic] operating paradigm for life.....And when the truth don't line up with your bullshit narrative just hold your breath and stamp your feet and refused [sic] to except [sic] it.... then take multiple days off of school playing hooky at the expense of 16 [sic] of your classmates blood....!.... it might be funny if it wasn't so pathetic and disgusting......"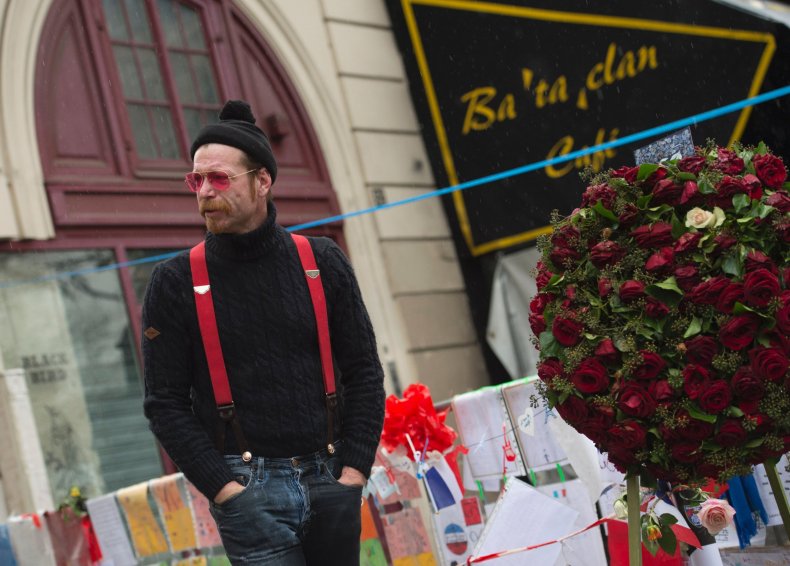 Newsweek subscription offers >
"As the survivor of a mass shooting I can tell you from first-hand experience that all of you protesting and taking days off from school insult the memory of those who were killed and abuse and insult me and every other lover of liberty by your every action," he continued.
"Long Live Rock'n' Roll.... and may everyone of these disgusting vile abusers of the dead live as long as possible so they can have the maximum amount of time to endure their shame... and be Cursed..."
Hughes is no stranger to controversial comments, especially for his words after the Bataclan assault, in which three suicide bombers armed with guns killed 89 people as the Eagles of Death Metal were mid-concert.
After surviving the attack, he claimed that some of the venue's security guards were involved in the plot, and that six did not show up because of the attack. "It seems rather obvious that they had a reason not to show up," he said at the time, implying that they may have been sympathizers of ISIS.
The owners of the Bataclan called his remarks "insane" and said that security guards at the event only displayed "courage and professionalism" as the assault continued.
"Jesse Hughes spread some very grave and defamatory accusations against the Bataclan teams," the Bataclan's owners said in a statement.
Bataclan Attack Survivor Jesse Hughes Calls March For Our Lives 'Pathetic' | World