An Eagles Fan Got a Nick Foles Tattoo Covering His Entire Back, Super Bowl MVP Says
Lots of fans get tattoos to honor their favorite teams—but getting your entire back covered with the likeness of your favorite team's backup QB is a bit more unusual. That's exactly what a fan did, however, to honor Super Bowl-winning Philadelphia Eagles quarterback Nick Foles.
Foles described meeting the man who got the tattoo in an interview with the Huffington Post published on Wednesday. Asked by writer Laura Bassett—who was Foles' childhood friend—about his weirdest fan encounter, the Philly QB brought up the back tattoo.
"The tattoo things are pretty crazy," he said. "I met a guy at a signing the other day—his whole back was me with a trophy on the 'Rocky' steps."
Bassett followed up, "Wow. Was it a good tat? What did you say?"
"I mean, it was his whole back," Foles responded, via the Huffington Post. "Forever. There's not much you can say. I was like, 'That's cool, man.' That's there forever."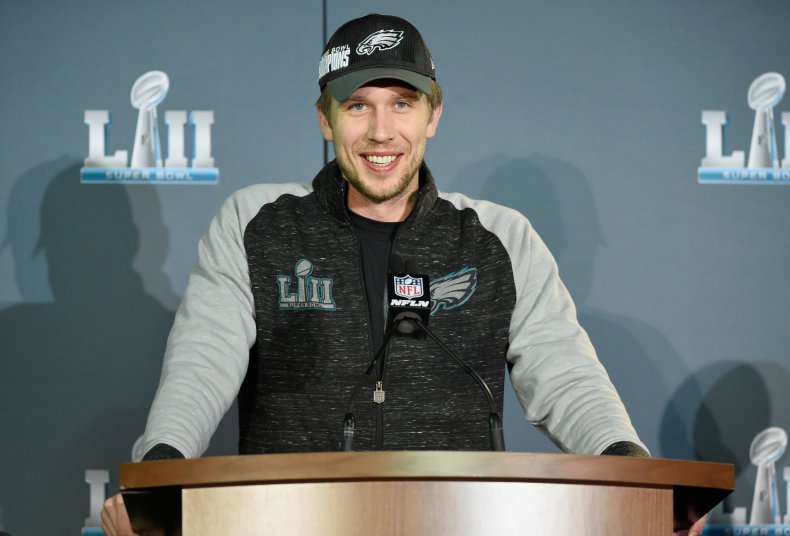 To be fair to the Eagles fan, Foles did lead Philadelphia—a city that is absolutely crazed about football—to its first Super Bowl victory ever. It was also an improbable win: Foles, a backup to Philly's stellar young star Carson Wentz, out-dueling the perhaps the greatest quarterback of all time, New England Patriot Tom Brady. The city collectively lost its mind amid the Super Bowl victory.
Read More: The Eagles Super Bowl Win and Being Reborn as a Fan
With Wentz likely to return to the Eagles this season—taking back his starting role—it's a somewhat odd situation: The quarterback who just won the Super Bowl MVP is likely to head back to the bench. Foles has said he wants to be a starter again at some point but took his relegation in stride.
"Do I want to lead a team again? Absolutely," Foles said to reporters late last month, via ESPN. "But am I trying to run away and do that right now? Well if it presents itself and that works out, then fine, I'll live in that moment. But at the same time, I'm so grateful to be a part of this organization."