Eagles Fans Boo Dak Prescott While He Receives NFL's Man of the Year Award
The NFL every season recognizes one player from each of its teams with a Walter Payton Man of the Year honor. It recognizes a player not only for their play on the field, but impact on their community through philanthropic projects.
Each of the 32 honorees are then up for the league's overall award. Sunday afternoon prior to kickoff at Super Bowl LVII, this year's top winner was overwhelmingly booed.
Dallas Cowboys quarterback Dak Prescott received this season's honor. After last year's winner NFL, retiree Andrew Whitworth, announced Prescott as the winner, a loud chorus of boos echoed throughout State Farm Stadium in Glendale, Arizona.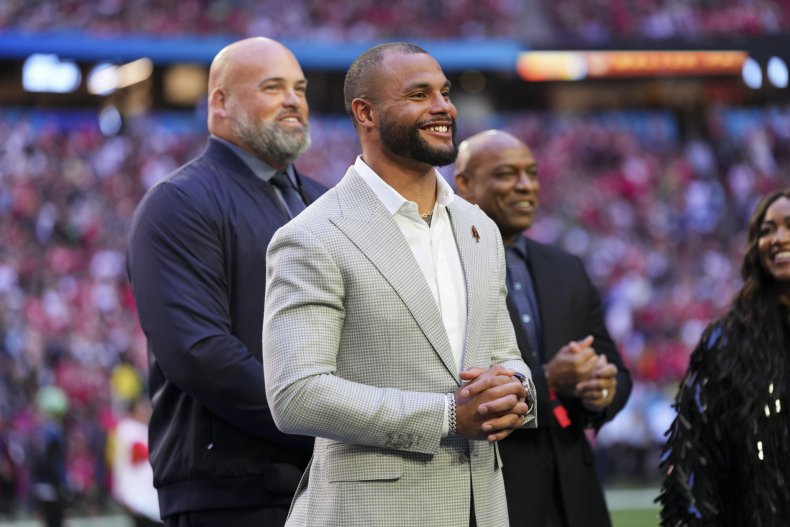 The Super Bowl between Kansas City Chiefs and Philadelphia Eagles is technically a neutral site but the stadium showed more fans in Eagles green than those in Chiefs red. The Eagles are a longtime rival, and nemesis, of the Cowboys. So when Prescott was named the winner of an NFL humanitarian award, one of the top honors in the league, Eagles fans booed.
Eagles fans are known for crazy antics, like throwing snowballs at Santa Claus during a 1968 home game against the Minnesota Vikings. Or when the Eagles fans booed their team after selecting quarterback Donovan McNabb in the 1999 NFL Draft. Or when Eagles fans reportedly beat up the Washington Redskins fan Zema Williams, who dressed up as the Redskins mascot, in 1983. Or when Eagles fans burned DeSean Jackson's jersey after he left the team.
At the 1968 home game against the Vikings, one person recalled their vision of snowballs thrown at Santa Claus.
"All hell broke loose. People started not only booing, they started throwing. Now remember, the place is covered in snow because it had snowed the day before, and there was snow all over the stands," Richard Monastra told the Daily Pennsylvanian. "Most of the stands are still covered in snow, we're freezing our noogies off, it was cold as hell," Monastra said. "People started throwing snowballs. First it was snow. Then comes beer cans, then bottles. People were throwing their hoagie sandwiches at him, for God's sake. They were throwing anything they could get their hands on."
Each Walter Payton Man of the Year receives a $40,000 donation to a charity, and the top winner gets to donate up to $250,000 for their charity of choice, courtesy of the NFL Foundation and Nationwide.
Prescott was named the Walter Payton Award winner just days before the Super Bowl.
"Thank you to the NFL, to Commissioner [Roger] Goodell, to Nationwide for recognizing the impact that we as NFL players can have off the field," Prescott said. "To the Payton family, I have such appreciation for Walter, for your beautiful family that continues the legacy through your charitable work.
"That's something I've always said, that I hope that when I finish this game, they can say he was a helluva player, but he was a much better person.
Prescott recalled Dallas Cowboys greats who'd won this award as he accepted this honor.
"As a Dallas Cowboy, I am honored to join the prior recipients of this award, such a prestigious award, which is Roger Staubach, Troy Aikman and Jason Witten," Prescott said. "These are men who I look up and have learned so much from. Being recognized, I will never take for granted and it's something that I'll take pride in forever."