Eagles' Greatest Hits Overtakes Michael Jackson's Thriller as Best-Selling Album of All Time
The Eagles' greatest hits compilation has overtaken Michael Jackson's Thriller as the best-selling album of all time in the U.S., according to the Recording Industry Association of America.
The RIAA told the Associated Press that the rock group's 1976 album Their Greatest Hits1971-1975 has now been certified platinum 38 times, meaning it has been sold or streamed more than 38 million times.
The album was previously the best-selling album of the 20th century, but was overtaken as the all time seller by Thriller following the King of Pop's death in 2009.
Following an updated tally for both albums, the RIAA has confirmed Their Greatest Hits is once against the top selling album of all time, with Thriller in second place with 33X platinum.
"We are grateful for our families, our management, our crew, the people at radio and, most of all, the loyal fans who have stuck with us through the ups and downs of 46 years. It's been quite a ride," drummer, founding member and co-lead vocalist Don Henley said in a statement.
Surprisingly, despite being a best of album, Their Greatest Hits does not contain arguably The Eagles' best known song "Hotel California." In fact, the RIAA confirmed that the album on which it does appear, Hotel California, released in 1977, is now 26x platinum, making it the third best-selling album of all time.
The RIAA used to only count physical sales of albums or songs in order for them to be certified platinum, However, the organization updated its ruled to include albums streams from digital platforms such as YouTube or Spotify in 2013.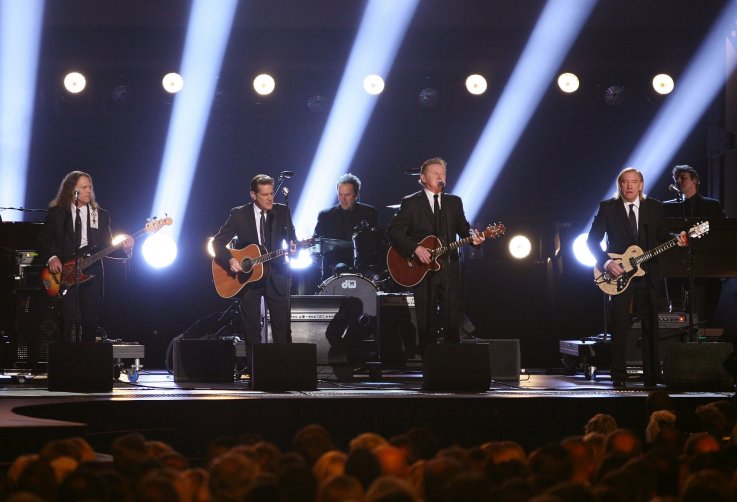 Now, 1,500 digital streams of an album is the equivalent to an album sale, with 10 song downloads equivalent to the sale of an entire album.
Following its release in 1976, Their Greatest Hits took one week to top the U.S. Billboard 200 album chart and stayed there for five weeks. It was only the fourth best-selling album of 1976, but continued to sell for decades.
The album was the first one ever to be certified platinum by the RIAA after it topped one million sales.
The album is made up of songs from their first four studio records and features five top 10 hits, including the group's first two number one singles, "Best of My Love" and "One Of These Nights."
In terms of worldwide sales, Thriller is still the all-time top seller with more than 66 million estimated sales, although the true figure could be much higher.
Eagles' Greatest Hits Overtakes Michael Jackson's Thriller as Best-Selling Album of All Time | U.S.