Philadelphia Eagles' Lane Johnson Blasts 'Arrogant' Patriots Once More
Over three months have passed since the Philadelphia Eagles beat the Patriots in Super Bowl LII, but Lane Johnson continues to fire verbal shots in the direction of New England.
In February, the Eagles beat the Patriots 41-33, clinching their first ever Vince Lombardi Trophy and preventing the Patriots from making it three Super Bowl wins in four years. Relationships between Johnson and the Patriots have not exactly been amicable in the following three months, and the 28-year-old admits New England's attitude got under his skin.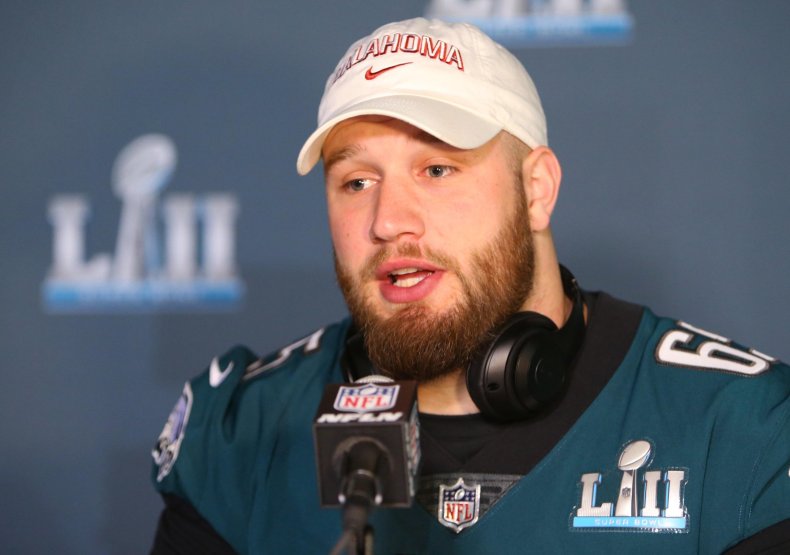 "Here's what pissed me off," the Eagles right tackle said on Tuesday during an appearance on the Steve Austin Show.
"The Patriots, obviously, I respect their coach, I respect Bill [Belichick], I respect Tom Brady, but just because the way that they won the Super Bowls, the Patriot Way, is that how everybody else is supposed to do the same thing? No, it's not. And that's what I got mad at, the arrogance by them. "
The right tackle added Belichick and Robert Kraft, the Patriots owner, had also allegedly showed a lack of respect to the Eagles, which frustrated Philadelphia's players.
"There was obviously some stuff behind closed doors," he explained.
"Their owner talking s*** to our owner. Bill talking s*** to our head coach [Doug Pederson] before the game. I'm not going to say it, but a lot of s*** kind [of] built up to that, and I just got tired of hearing about it, man, to be honest."
Johnson had lit the fuse even before the two teams met in the Super Bowl, claiming he desperately wanted to beat Tom Brady, whom he described as a "pretty boy."
"There's nothing I'd like to do more than dethrone that guy [Brady]," Johnson said after the Eagles beat the Minnesota Vikings in the NFC Championship Game.
After the Super Bowl, the Texas native claimed the Patriots players acted "like f***ing robots" in a "fear-based organization," a point he reiterated while speaking to Austin on Tuesday.
"I saw a [Patriots] defense that wasn't overly talented. It was all really about containing Tom Brady," he added. "We had a hard time doing that—he had 505 yards. But that was really it, man. Going into the game, I'm not going to be shell-shocked by it."
Philadelphia Eagles' Lane Johnson Blasts 'Arrogant' Patriots Once More | Sports