Malcolm Jenkins Says Jaguars Quarterbacks Prove Colin Kaepernick Deserves an NFL Job
Philadelphia Eagles defensive back Malcolm Jenkins managed, in one comment, to both state Colin Kaepernick deserved a job in the NFL and insult his opponent he's scheduled to play on Sunday.
Speaking with reporters, he sent a little shade toward Jacksonville Jaguars quarterback Blake Bortles and perhaps backup Cody Kessler as well—both played in the team's loss last week to the Houston Texans.
"I can turn on the tape this week of our opponent and see that Colin Kaepernick deserves a job," Jenkins said, via multiple reports.
The Eagles are scheduled to play Bortles and Jacksonville on Sunday in a game in London. Jenkins has a point: Bortles hasn't been great, considering he got benched last week and has a passer rating of just 80.3, good for 28th in the league.
Jenkins has been active in promoting social justice issues in the NFL but he was called a sell-out this week by Panthers safety Eric Reid, Kaepernick's former teammate who helped spark the NFL's kneeling protests.
"We believe a lot of players should have stepped up for Colin," Reid said on Sunday after the Panthers beat the Eagles, via the Associated Press. "I believe Malcolm capitalized on the situation. He co-opted the movement that was started by Colin to get his organization funded. It's cowardly. He sold us out."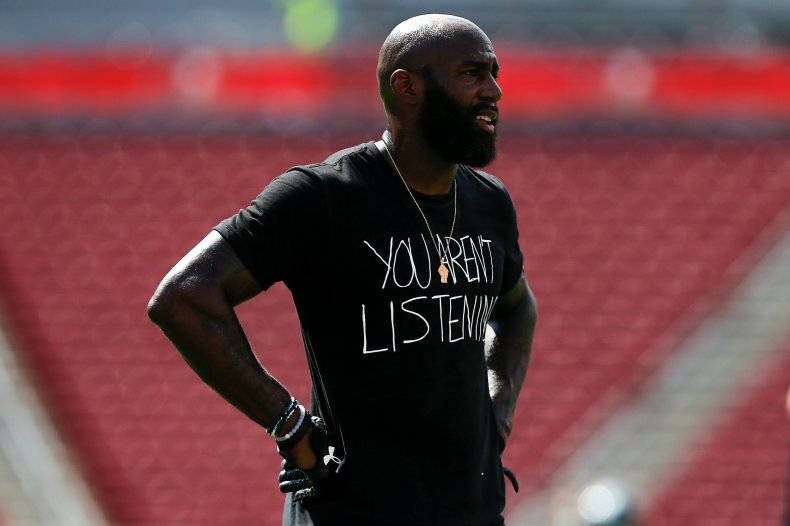 Jenkins was a major part of the Players Coalition, which caused division among players for accepting about $90 million in money from the NFL for social justice causes—money that some felt was aimed at getting players to stop protesting.
Jenkins and Reid had a scuffle before the Eagles and Panthers played on Sunday but the Philly defensive back was hesitant to say much more about it on Wednesday.
"Nobody wins when you see bickering back and forth," he said via the NFL Network's Mike Garafolo. "If I know where your heart is and I know you're about the people, then never will I publicly bash what you're doing."