Eagles QB Jalen Hurts Wants Answers From Washington Football Team After Railing Collapse
Philadelphia Eagles quarterback Jalen Hurts' celebratory moment at FedEx Field in Maryland turned into another debacle for the scandal-ridden organization when a railing collapsed on Sunday. Now he wants answers.
Hurts was walking off the field after Philadelphia beat the Washington Football Team (WFT), 20-16. Arms outstretched, Hurts approached a group of fervent Eagles fans yearning to get a high-five from their young quarterback before he exited the field via the locker-room tunnel.
Moments after Hurts came within reach, several fans inadvertently burst through a side railing, spilling onto the field and nearly onto the 23-year-old quarterback.
No one was significantly injured. However, the possibility of injury—and yet another blemish on the decaying facility known for poor playing conditions, the Washington Post reported, and other issues, as reported by SI.com—was quickly a topic after the video of the incident took off on social media.
"I am writing to inquire about what follow-up action is being considered in response to the near-tragic incident that took place at FedExField on January 2, 2022," Hurts wrote in a letter to the WFT. "As you are aware, many individuals, including fans, media personnel, and myself, were placed in a dangerous situation when portions of the FedExField tunnel collapsed."
Hurts goes on to note he helped people up, but that does not mean he didn't consider the "severity" of what occurred and the possible repercussions.
"As a result, I would like to know what safeguards the NFL and the Washington Football Team are implementing to prevent this from ever occurring in the future."
The Washington Football Team was recently the subject of an NFL investigation that led to a transfer of power in day-to-day operations from owner Daniel Snyder to his wife, Tanya, in July.
The league also fined the organization $10 million for its "highly unprofessional" workplace culture centered on sexual harassment and bullying, among other issues, after the review by an independent counsel. The NFL has been criticized for not fully releasing the findings of the investigation, according to the Washington Post.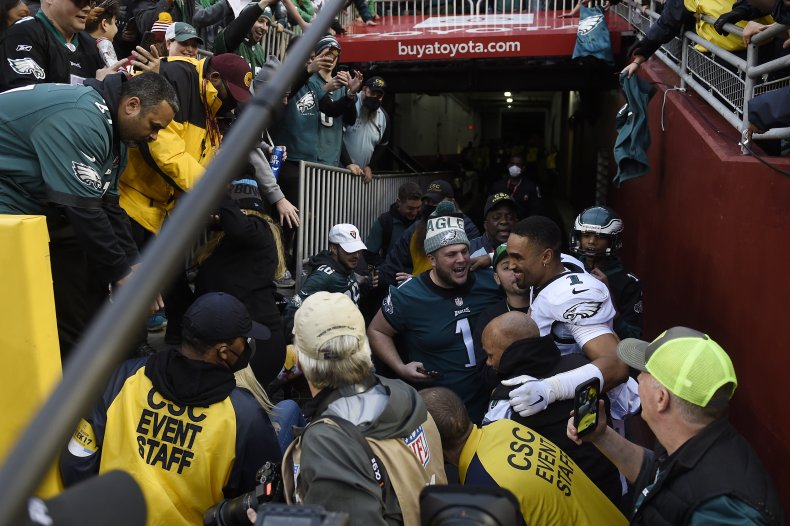 Hurts avoided the railing and calmly helped some fans to their feet. Mark Tenally, a photo runner for the Associated Press who was standing under the railing, was injured and attended to by medical personnel.
The WFT said in a statement: "To our knowledge, everyone involved was offered onsite medical evaluation and left the stadium of their own accord. We're very glad no one appears to have been seriously injured. The safety of our fans and guests is of the utmost importance and we are looking into what occurred."
The Associated Press contributed to this report.