Will Smith's Hilarious Eagles Short Film Reminds Us of the Goofy Fresh Prince We All Miss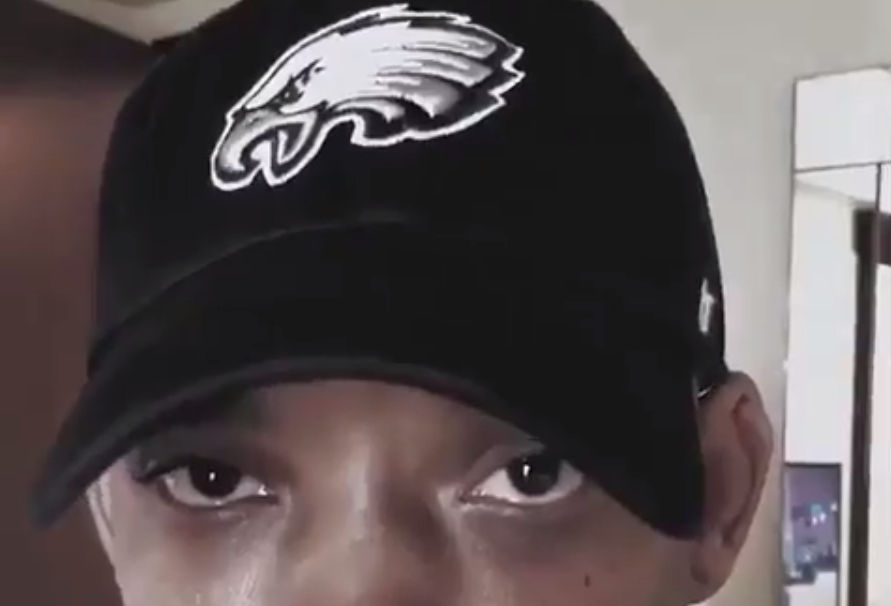 There are a lot of reasons to have rooted for the Philadelphia Eagles in last night's Super Bowl. You may hate that Patriots quarterback Tom Brady has ties to President Trump, you may love the city of brotherhood, or you may, like Will Smith, have been born and raised in West Philadelphia.
Smith, a devoted Eagles fan, made an adorable movie of himself on February 4, posting it to his Instagram account before the game started. Once a goofy comedian, Smith is rarely depicted in movies acting silly anymore—his latest role was a surly cop (albeit a funny one) in Netflix's Bright—so this short fan video is a return to someone beloved by Fresh Prince of Bel-Air fans.
During the late '90s and early 2000s, Smith appeared in a string of action films that usually featured an original hip-hop song that he'd record and play over the movie's closing credits. He was as famous for these tracks as he was his action hero roles, recording the theme song for Men in Black ('97), Wild Wild West ('97), and Men in Black II (2002).
In fact, that period in Smith's career was so memorable that comedian Demi Adejuyigbe recorded a 2017 EP of hip-hop party songs, doing a Will Smith impression, with each track tied to one of the year's Best Feature Film nominee at the Oscars.
Smith followed up his fan video with another clip on Instagram, this time filming himself mid-victory dance after the Eagles beat the Patriots, 41 to 33. The actor doesn't have any films slated for a 2018 release, but his schedule is absolutely packed. In addition to Bright 2 and a Suicide Squad sequel, he's scheduled for a fourth Bad Boys movie and will play Genie in Disney's live-action Aladdin reboot.
As for music, Smith released a new song with DJ Jazzy Jeff in 2017, "Get Lit," which wasn't well received. The duo, however, reportedly recorded 30 new singles in 2017 and are simply waiting for the right moment to announce a reunion tour.
If any of those movies get a 2000s-era Smith song, the Internet will lose its mind.