Eagles vs. Rams Sunday Night Football Info: Odds, Predictions, Live Stream, Start Time for Philadelphia, Los Angeles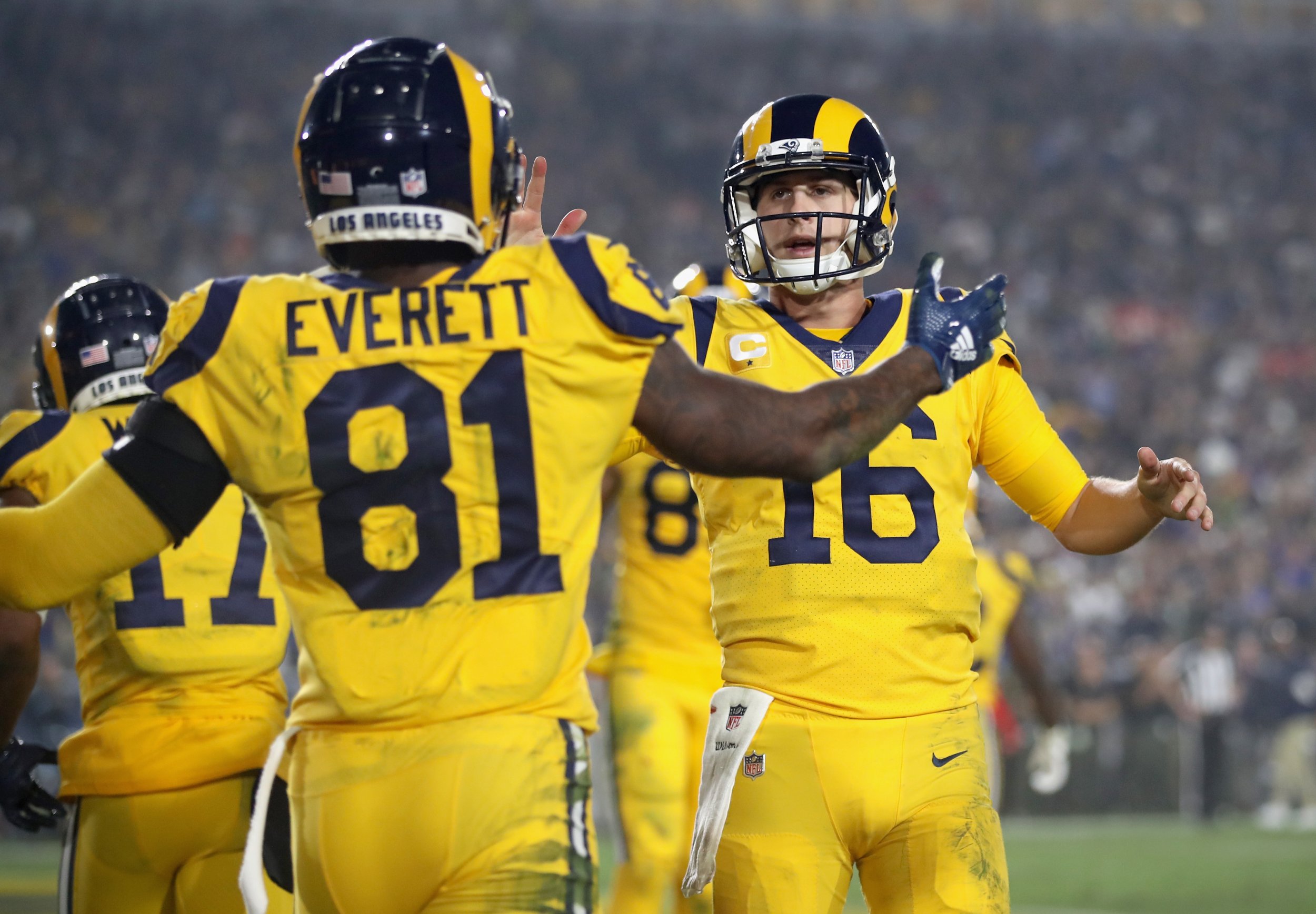 This week's Sunday Night Football matchup will have a major stake in the NFC Playoff picture as the Los Angeles Rams (11-1) host the Philadelphia Eagles (6-7) at the Los Angles Coliseum.
The Eagles face a must-win scenario in their final three games and will likely be without starting quarterback Carson Wentz for the remainder of the season. Wentz was diagnosed with a fractured vertebrae in his back on Thursday and downgraded to doubtful.
Head coach Doug Pederson said that Wentz's status was day-to-day, but it's likely he'll need the remainder of the season to heal, even without needing surgery. Wentz will be replaced by Super Bowl MVP Nick Foles, who went 2-1 in his absence during the end of the 2017 season and 3-0 in the postseason.
Foles will need to be perfect as the Eagles currently trail the Dallas Cowboys by two games for the NFC East Division lead and the Minnesota Vikings by one game.
Los Angeles has already clinched its second consecutive NFC West Division title, but according to quarterback Jared Goff, doesn't want to get complacent.
"Yeah, there's a lot of things to work on," said Goff. "That's pretty much weekly. Win, lose or anything that would've happened on Sunday, we would've looked at it the same way and learn from it and get better and find ways to improve and look at things that we did well and build on those. That's no different with this game. But yeah, we feel good. Had a good day today and are ready to get after the (Philadelphia) Eagles.
"Looking forward to getting into a rhythm these last three weeks heading into the playoffs."
Rams coach Sean McVay echoed his quarterback's statement, believing the team still has areas of improvement heading into the playoffs.
"Yeah, I mean I look at it as it's up to me to have a better feel for the flow of the game and not put us in positions where some of those things can occur," McVay said. "And then (Goff) has got a level of responsibility as our leader of our offense and doing some different things."
The Rams currently rank third in total offense (422.5) and scoring offense (32.7).
Here's the info you need to know for tonight's game.
Start time: 8:20 p.m. ET
TV channel: NBC
Live stream: fuboTV (free trial available)and NBC Sports app.
Odds: Rams -13, 53.0 via Bovada
Prediction:
Mike Kaye: Eagles Reporter, NJ.com Advance Media, Rams 30, Eagles 24
"The Eagles' playoff hopes are hanging on by a thread at this point. They'll need to finish strong to have a shot at a wild-card berth. However, the Rams are looking to bounce back from a rough loss to the Bears and Philadelphia will fall into their crosshairs without Wentz."